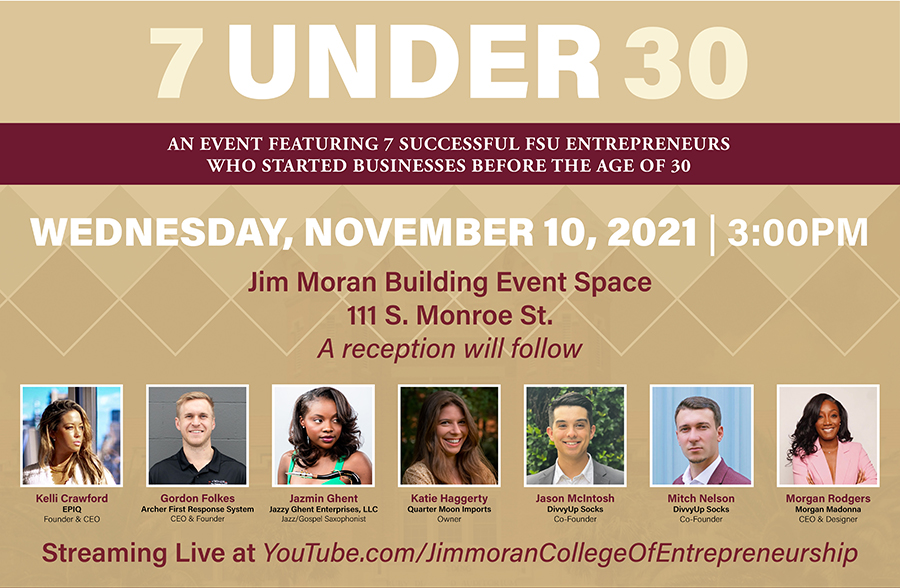 The Jim Moran College of Entrepreneurship at Florida State University will honor seven graduates who are making their mark as entrepreneurs at its 10th annual "7 Under 30" event. 
The event is being held in conjunction with Tallahassee Startup Week and will spotlight seven successful FSU alumni entrepreneurs who started businesses before the age of 30. It will be held at 3 p.m. Wednesday, Nov. 10, at the Jim Moran Building.  
Each of the seven honorees is scheduled to speak and offer their thoughts on starting and growing their business. Their talks will be followed by a Q&A session.
Those interested in viewing the festivities are invited to visit jimmorancollege.fsu.edu/student-engagement/7-under-30.
This year's 7 Under 30 honorees are: 
Gordon Folkes
Orlando, FL
Founder & CEO Archer First Response System
B.S. Economics (2016)
Organizations: InNOLEvation Center Business Incubator, Founding Member FSU's Unmanned Air Systems Student Organization, FSU Wakeboard team
Kellie Crawford
New York, NY
Founder & CEO, EPIQ
B.S. Retail Merchandising and Product Development (2009)
Organizations: Vice President Delta Gamma and Chairman of the Board, Delta Gamma
Katie Haggerty
Tallahassee, FL
Owner Quarter Moon
B.S. Retail Merchandising and Product Development, Minor in Business (2013)
Organizations: Treasurer for FSU Habitat for Humanity
Mitch Nelson
Tallahassee, FL
Co-Founder DivvyUp Socks
B.S. Entrepreneurship (2016)
Jason McIntosh
Tallahassee, FL
Co-Founder DivvyUp Socks
B.S. Entrepreneurship (2016)
Organizations: Young Entrepreneurship Society, Technole, and National Society of Collegiate Scholars
Morgan Rodgers
Tallahassee, FL
CEO & Designer, Cool Silk by Morgan Madonna
M.S. Textiles & Apparel Retail Entrepreneurship (2020), B.S. Retail Entrepreneurship (2014)
Organizations: Alpha Kappa Alpha
Jazmin Ghent
Tampa, FL
Jazzy Ghent Enterprises, LLC
B.A. Music Education, Jazz Studies (2013)
Organizations: Board of Advisors for the College of Music and Resident Assistant Cawthon Hall