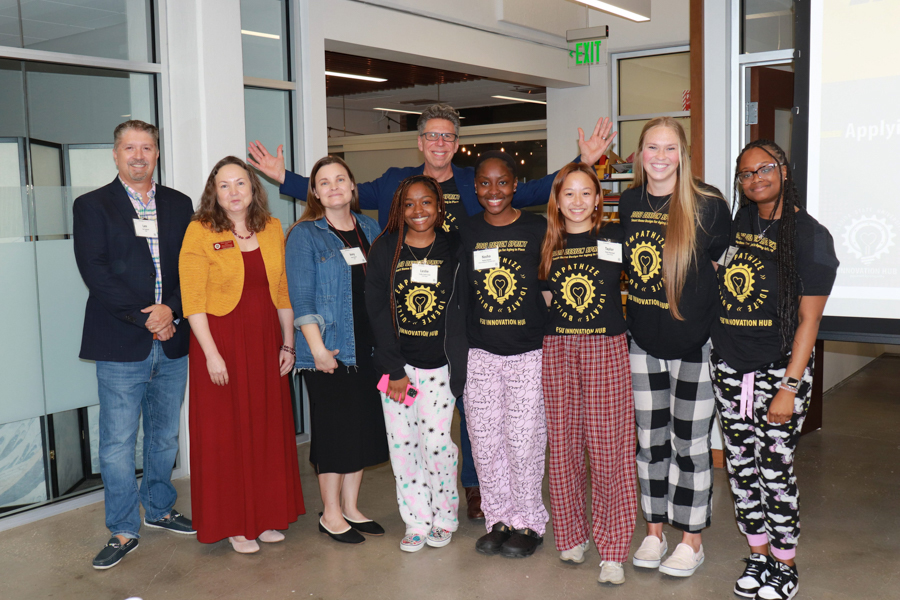 Florida State University students from over 30 different disciplines gathered in the Innovation Hub Friday, April 14, and Saturday, April 15, for the 24-hour Design Sprint, an intensive problem-solving session where students work in teams to develop solutions to real-world problems.
This year's challenge was "Smart Home Design for Aging in Place." Through teamwork and "design thinking," a process taught by the FSU Innovation Hub, students created innovative solutions to help aging individuals live safely, independently and comfortably at home.
"The design thinking process includes many of the practices that we hope to instill in students at FSU: empathy-driven problem-solving, a respect for the value of diverse opinions and perspectives, collaborating across disciplines, asking the right questions and setting aside bias when working to understand and solve problems," said Ken Baldauf, director of the Innovation Hub. "The students that participated in this design sprint experienced these practices firsthand as they worked to address serious issues around aging."
At the beginning of the challenge, Dr. Lisa Hightow-Weidman, Distinguished and Endowed McKenzie Professor and founding director of the Institute on Digital Health and Innovation in the College of Nursing, introduced the topic of "Smart Home Design for Aging in Place."
Participants learned further about the design thinking process by exploring the challenge of aging through an expert panel discussion led by Jing Wang, dean of the FSU College of Nursing.
"Innovation is critical to nursing and health care," Wang said. "Florida's large retiree population and the critical nursing shortage will require innovative solutions and critical thinking to navigate. Our hope is to continue to position Florida State as leaders in this space by embedding concepts into student opportunities like the Design Sprint and other major research initiatives."
One major research initiative is the College of Nursing's Institute on Digital Health and Innovation, which promotes individual and public health through synergistic partnerships for the development, evaluation and dissemination of digital health tools, technologies and innovations.
"Aging is something that we all will face, so understanding and addressing some of the common challenges that come with aging through the use of smart home technologies is an exciting area for both research and practice," said Dr. Hightow-Weidman. "It was inspiring to see students from across FSU come together and harness their enthusiasm, creativity and innovation to tackle this challenge."
The assigned teams spent the rest of the evening planning and creating a solution and presentation to "Aging in Place." Teams were permitted to continue working in the Innovation Hub or elsewhere until midnight.
The teams reconvened Saturday morning to resume their ideation work. Students used the afternoon to prototype, test and prepare their pitches. Because of the creative freedom allotted for the challenge, students created unique solutions, ranging from "Platinum Services," a personal caregiver service focused on human connection, to "Ageless Adventures," a monthly box subscription that offers engaging activities and accessible newspapers.
"It was really rewarding to work with people from different majors to solve the same problem," said Sarah Tavares, interior design student. "We're all bringing a unique skillset to the table."
The judges selected the winners after their pitches. For the first-place team, each member received a $400 gift card. The second-place team received a $250 gift card per member and the third-place team received a $200 gift card per member.
Team 7 won first-place for their solution "Guardian Angel," a smart bed that tracks vitals and enhances REM sleep with vibration therapy and temperature regulation. Team 6 won second place for "Cacti Connect," an LED cactus and TV app that prompts users with important reminders to develop daily routines. Team 1 won third place for "Ageless Adventures."
"I loved the problem-solving aspect of the challenge," said Alexis Steinberger, who won second place for "Cacti Connect." "There's no other place on campus where I can come together with other students, put my best foot forward and tackle a problem I never even considered."
The event was sponsored by the Institute on Digital Health and Innovation, Innovation Hub and the College of Nursing and in partnership with the Department of Interior Architecture and Design.
"We are thankful to the College of Nursing and the Institute on Digital Health and Innovation for partnering to bring these skills not only to their own students, but to students from across 30 different majors," Baldauf said.
For more information, visit innovation.fsu.edu/events/aging-in-place.