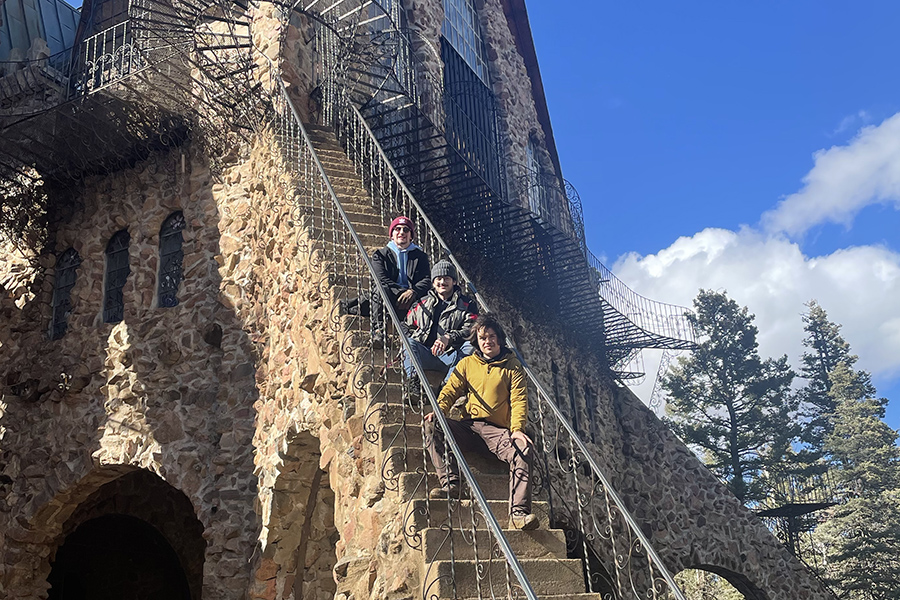 Florida State University College of Motion Picture Arts students Thomas McDonald and Tristan Owen have been nominated for the Television Academy Foundation's 41st College Television Awards for their film "The Castle Builder."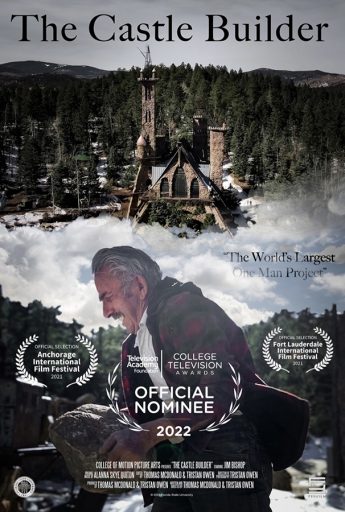 Nominated in the Nonfiction or Reality Series category, "The Castle Builder" focuses on a castle nestled in the Colorado mountains and its devoted builder, 77-year-old Jim Bishop.
"It has been gratifying to see both Tristan and Thomas harness their talents to create this impactful documentary," said Valerie Scoon, FSU College of Motion Pictures Arts filmmaker-in-residence. "I am proud of both of them and happy to see their development as filmmakers be rewarded by this nomination."
A total of 54 students have been nominated for the awards, selected from a pool of 185 works submitted by 58 colleges across the nation. If McDonald and Owen win, they'll receive a $3,000 award and unparalleled career exposure.
"It was amazing to hear that we were nominated considering so much work gets put into these documentaries," Owen said. "Our crew only consisted of three people, so we all put a lot of hard work into making this project the best it could be."
McDonald and Owen began the documentary as part of a class project.
"In the beginning of the semester, both students tossed about ideas for their documentaries, listened to feedback and kept searching until they landed on the Castle Builder," Scoon said. "They always displayed a passion for their subject as well as doggedness to tell his story — two critical assets for any filmmaker."
The film chronicles more than 50-years of Bishop's life, beginning with his inspiration to build the castle and ending with his plans for the castle's future. Through breathtaking camera shots of the 160-foot-tall castle and poignant interviews with his family, "The Castle Builder" examines Bishop's unwavering dream and remarkable vision that has made an undeniable mark on the Wet Mountains of the Rye, Colorado community.
"Jim Bishop is an extremely perplexing anomaly of a man who is oftentimes misunderstood and misrepresented in the media," McDonald said. "With hundreds of tourists visiting the castle every day, only few know much truth about the castle builder himself. We made it our duty to do Jim Bishop's story justice."
McDonald and Owen are elated to be nominated for a film that means so much to them, and both credit FSU for inspiring them to seek out unique topics and innovative storytelling methods.
"I will be eternally grateful that I was allotted the golden opportunity to experience not only this monument of resiliency and hard work but also to experience the castle builder behind it all," McDonald said. "It is in my best confidence that Jim Bishop and 'The Castle Builder' is a story that will be heard worldwide for generations to come."
The awards ceremony will be held in conjunction with the Foundation's College Television Summit, a three-day, educational event featuring panel discussions with media-industry leaders. The Summit is made available virtually and free of charge to college media arts students nationwide. The 2022 College Television Awards ceremony and the Summit will be held March 24-26.
"The College Television Awards showcases exceptional young content creators from across the country to leaders in the entertainment industry giving aspiring students career exposure," said Cris Abrego, chair of the Television Academy Foundation.
"The Castle Builder" is currently on the festival circuit and will be released to YouTube in Summer 2022. For more information, visit https://film.fsu.edu/.
---
About the Television Academy Foundation 
Established in 1959 as the charitable arm of the Television Academy, the Television Academy Foundation is dedicated to preserving the legacy of television while educating and inspiring those who will shape its future. Through renowned educational and outreach programs, such as The Interviews: An Oral History of Television Project, College Television Awards and Summit, Student Internship and Fellowship Programs and the Faculty Conference, the Foundation seeks to widen the circle of voices our industry represents and to create more opportunities for television to reflect all of society.
For more information on the Foundation, please visit TelevisionAcademy.com/Foundation.