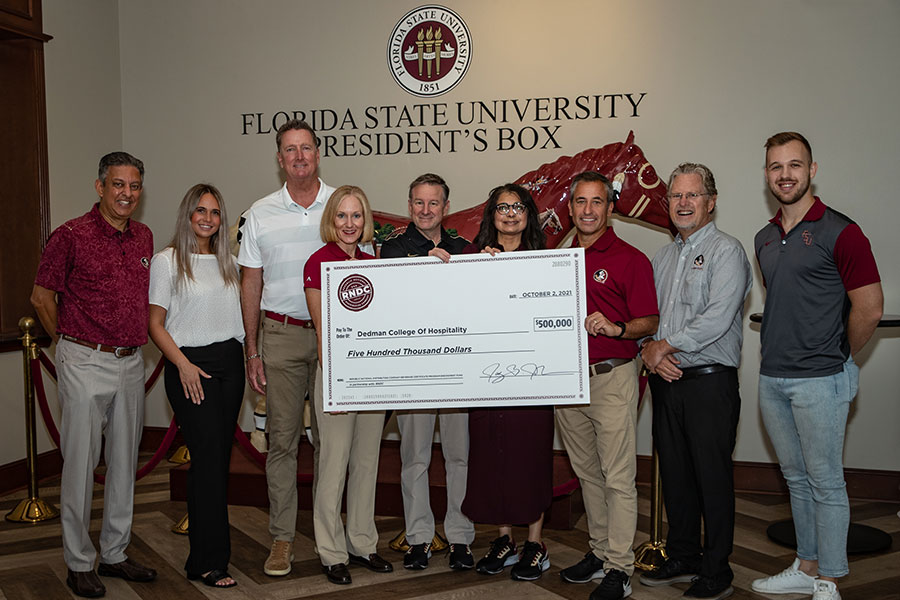 The Florida State University Dedman College of Hospitality has launched a new beverage certificate program in partnership with Republic National Distributing Company (RNDC), one of the nation's leading wholesale beverage alcohol distributors.
RNDC pledged $500,000 to establish the RNDC Certificate in Beverage Management program for individuals pursuing careers involving beverage management, with a primary emphasis on sales and service in the hospitality and tourism industries.
FSU President Richard McCullough thanked RNDC and praised the new certificate program.
"Dedman College is one of the top-ranked colleges of hospitality in the United States and the world," he said. "Corporate partnerships and investment from industry leaders like RNDC are crucial factors in building upon our global reputation and preparing our students for successful careers."
Don Farr, dean of the Dedman College, said the timing is perfect for the college to offer the program.
"Understanding beverage management is a highly sought-after skill, and RNDC's generosity will allow the college to provide numerous students with the opportunity to add this valuable credential to their resume," Farr said. "RNDC's support ensures our students will have the expertise needed to set themselves apart competitively as professionals."
RNDC's gift will create an endowment to maintain comprehensive, high-level programming with an emphasis on lagers, ales, wines, distilled spirits and coffees and teas. It also will provide much-needed support to the recruitment and retention of excellent faculty, international education opportunities (including study aboard programs), internships focused on the beverage sector and other scholarly activities, such as a guest lecture series and conference travel.
"RNDC is proud to support the Florida State University Dedman College of Hospitality," said Bob Hendrickson, RNDC's chief operating officer. "RNDC employs many FSU alumni who now support a myriad of suppliers and customers. We believe this donation will help more individuals become aware of the opportunities in the wine and spirits industry."
The FSU Dedman College of Hospitality and RNDC celebrated the partnership with an Oct. 2 event on campus. Hospitality and Tourism seniors Amanda Manning and Brandon Smith were excited to join FSU President Richard McCullough to express their gratitude for the gift and their enthusiasm for the impact the RNDC Certificate in Beverage Management would have on Dedman students.
The Dedman College of Hospitality is  ranked No. 14 in the world and No. 7 in the U.S. by the Academic Ranking of World Universities for 2021. Offering a variety of undergraduate, graduate and certificate programs, Dedman's faculty and staff work with industry leaders and alumni to provide students with a valuable education, one-of-a-kind internships and opportunities to network or mentor.
To learn more about the RNDC Certificate in Beverage Management and how to support the FSU Dedman College of Hospitality, visit dedman.fsu.edu or contact Alex Douglas, director of development, at (850) 518-9001.