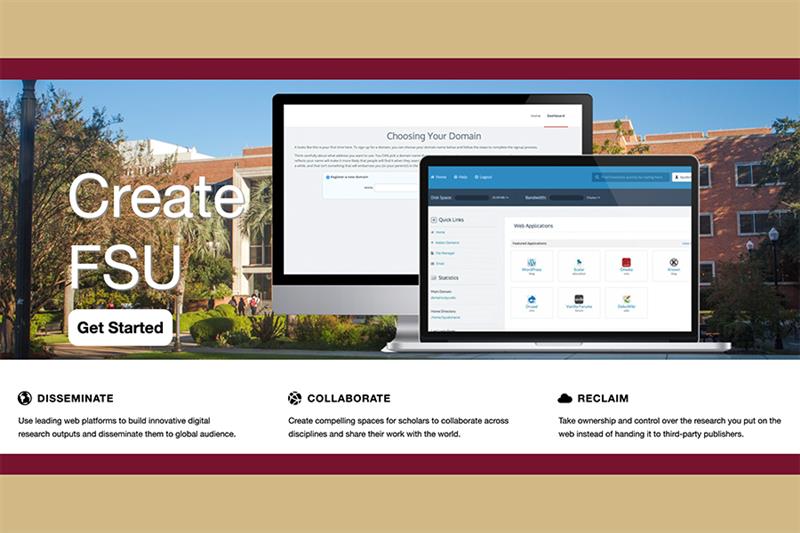 Florida State University Libraries announces the launch of CreateFSU, a new web-hosting service for digital research projects.
CreateFSU allows faculty, students and staff to host and publish websites related to their digital research and pedagogy projects using cutting-edge and industry-standard web publishing tools. Created to supplement FSU's existing web-hosting services for faculty, students and departments, CreateFSU provides researchers and instructors with the ability to build a digital presence for projects spanning from interactive maps and visualizations to collaborative course blogs and digital museum exhibits.
"I am thrilled that FSU Libraries is expanding their support for digital projects through web-hosting services," said Peggy-Wright Cleveland, director of Faculty Development. "As a researcher who has an always-developing website for my international work, I am excited to see how FSU faculty will use this service to build innovative digital research outputs that amplify the impact of our work, break down disciplinary boundaries and engage with a global audience."
Each user is provided with a unique domain name and given access to a dashboard with several different applications, including WordPress, MediaWiki, Scalar, Omeka (digital library) and Drupal. Once installed, these applications give users the freedom to create blogs, publish videos, author books and share research data.
During the two-year pilot implementation, CreateFSU will be offered to faculty, staff and graduate students to develop digital project websites. Undergraduate students writing Honors in the Major theses or developing Undergraduate Research Opportunity Program projects also will be provided accounts in consultation with their program supervisors.
Regardless of the scope of their work, CreateFSU welcomes projects from all disciplines, languages and eligible FSU-affiliated creators. Founded on principles of inclusivity and diversity, the program is particularly interested in hosting scholarship by or about underrepresented groups. CreateFSU sites are hosted with flexible copyright licenses that allow authors to retain their copyrights, enabling authors to share their work with colleagues and research communities and reuse their work in innovative ways.
In addition, FSU Libraries announces the revival of the Project Enhancement Network & Incubator ("PEN & Inc") digital project incubator program for the 2021-2022 academic year. This program provides limited funding for new digitally inflected projects and an active-participant incubator/mentorship program to assist projects in their development. Incubator participants will have access to dedicated training and support from the Office of Digital Research and Scholarship as well as the ability to develop and disseminate their projects on the new CreateFSU platform. Finalized details for the 2021-2022 cohort and a formal CFP are available here.
For more details about CreateFSU's scope, services and suite of digital tools, visit create.fsu.edu or contact the FSU Libraries Office of Digital Research and Scholarship at lib-digischol@fsu.edu.