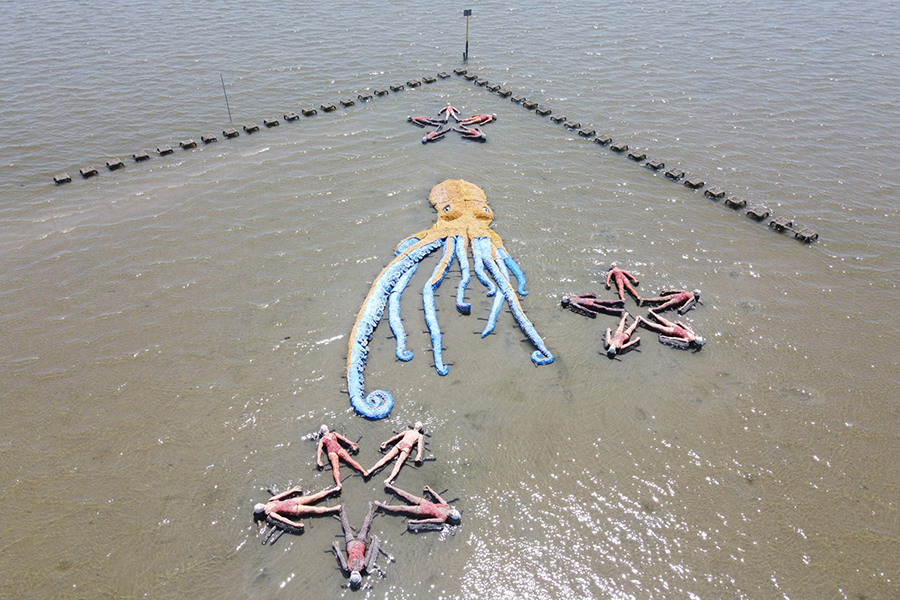 A Florida State University art professor has created a 10,000-square-foot sculpture on a sandbar in the Newport River in North Carolina that will attract oyster larvae and ultimately transform into an oyster reef.
Professor of Art Carolyn Henne created "Sea Stars," a sculpture made of biodegradable materials that will become a vibrant living oyster reef providing shelter and foraging habitats to fish, crabs and shorebirds acting as a sustainable source of food for people.
"Making art via aquaculture allows me to address a broad swath of toxicities in our environment and deliver a call to action in cheeky disguise as the sculptures yield to the oysters," Henne said. "As such, the oysters co-fabricate the work by additively manufacturing an exoskeleton."
Henne collaborated on the sculpture with Niels Lindquist, a marine ecologist from the UNC Institute of Marine Sciences, and David Cessna, a commercial fisherman from North Carolina.
"This project is a prime example of the capacity of art to help address societal challenges in conceptual and tangible ways," said James Frazier, dean of the College of Fine Arts. "With 'Sea Stars,' Henne assists in tackling serious environmental issues with a sense of whimsy."
Henne began fabricating the project last fall and installed it in May 2021.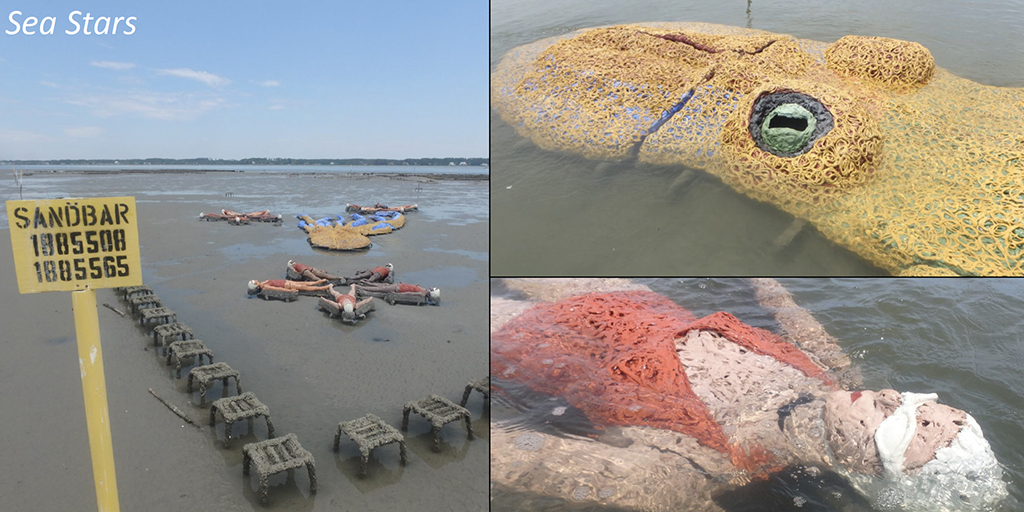 The sculptural installation comprises 13 female and two male life-size sculptures of synchronized swimmers cast from a mold of the artist and a 50-foot octopus, based on a photo (by Ned DeLoach) of a 1-inch paralarva octopus.
Lindquist and Cessna's company, Sandbar Oyster Company, developed a one-of-a-kind biodegradable material named Oyster Catcher™, a uniquely successful substrate for attracting wild native oyster larvae. Henne used this material, pigmented in a range of bright colors, to build all the works in the installation.
The installation is designed for shallow intertidal waters. It is revealed at low tide and covered at high tide when oyster larvae can settle on the biodegradable material.
Cessna said that coastal economies depend on two things to thrive: healthy water and a stable surrounding coastline. With these conditions, human populations and activity increase, as does the need for private and civil infrastructure.
"'Sea Stars' speaks to the 'coastal condition' epitomized by the entanglement of human and natural communities, sustainable exploitation of nature and change," Lindquist said.
"Sea Stars" is the second of two projects stemming from Henne's collaboration with Lindquist and Cessna. The first was a Sculpture class project done in November 2019 in which students made sculptures with Oyster Catcher™ to be deployed for oyster settlement at the FSU Coastal and Marine Lab.
Also, last year, Henne and FSU's Department of Art sculpture students collaborated virtually with Sandra Brooke, a coral ecologist at the FSU Coastal and Marine Laboratory, to build a coral reefscape on the facility's grounds. The reefscape will serve as an educational tool to physically show and demonstrate the nature of a living coral reef.
"Artists can work with scientists to make tools for the future to grow, build and coexist with nature," Henne said. "'Sea Stars' challenges the methods currently used in aquaculture, shoreline protection and resource enhancement by using material designed as an environmentally positive alternative."
Visitors can see "Sea Stars" by boat, kayak, paddleboard or through local eco-tour groups.
For additional information, visit https://www.carolynhenne.com/sea-stars/.