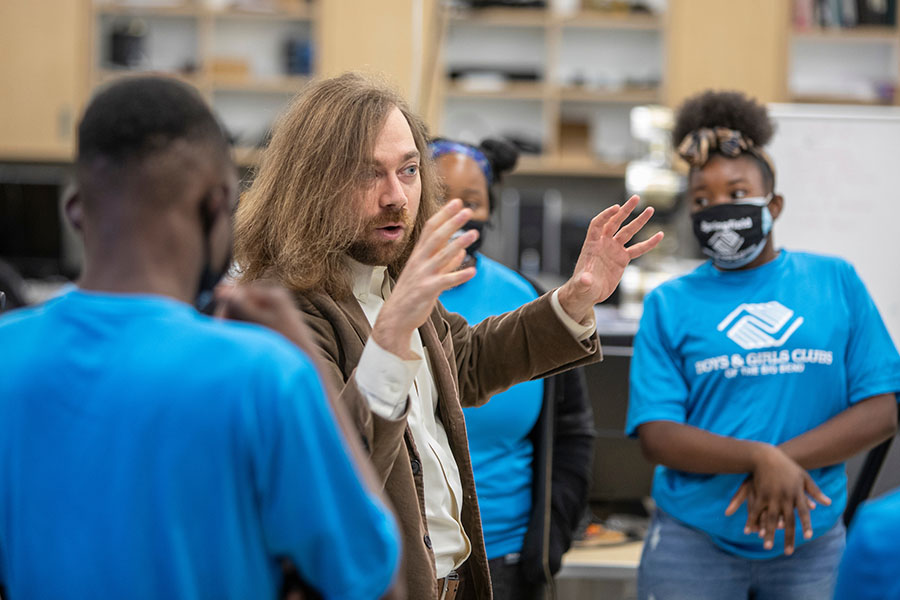 More than 30 members of Boys & Girls Clubs of the Big Bend got a behind-the-scenes tour of unique facilities at the FAMU-FSU College of Engineering as part of a partnership between Prime Meridian Bank, FSU's Opening Nights and the college.
The middle and high school students toured a polysonic wind tunnel and robotics labs at the college's Aero-Propulsion, Mechatronics and Energy (AME) Building. Leading the tour was Assistant Professor of Mechanical Engineering Christian Hubicki, a robotics researcher who gained a national following after starring on the CBS reality show, Survivor.
"Our students benefit greatly by seeing what's happening on college campuses in our community," said Kacy Dennis, Director of Operations for the Boys & Girls Club of the Big Bend. "This kind of in-person educational programming enables our students to see how what they are learning in school can be applied to careers. It shows them what's possible and motivates them to keep learning to achieve their dreams."
The tour and lunch were sponsored by Prime Meridian Bank, a supporter of Opening Nights.  As part of its mission, Opening Nights helps provide educational experiences for students of all ages.
"Key to Prime Meridian Bank's commitment to improving lives in our community is nurturing partnerships that offer experiences that inspire students," said Sammie Dixon, vice chairman, president and CEO of the bank. "Education in the classroom is critical. Giving students exposure to what they can do with that education provides them with even more options for a bright future."
The AME building was formed to meet the needs of rapidly evolving and competitive fields in engineering. The building boasts multiple wind tunnels, including one that reaches Mach 5, that allow researchers to develop new aerospace technologies.
The facility is also home to the Center for Intelligent Systems, Control and Robotics (CISCOR). This center uses state-of-the-art technology to develop solutions to problems in systems, control and robotics. CISCOR researchers are developing robots that can maneuver over different types of terrain and even climb walls.
Michael Blachly, director of Opening Nights, said the organization was proud to provide educational opportunities for students in the Big Bend area.
"Opening Nights is pleased to partner with our sponsor Prime Meridian Bank and FAMU-FSU College of Engineering to provide in-person educational programming for the Boys and Girls Clubs," he said. "The magic of offering both arts and science programming helps students think creatively, strengthens their imaginations and develops different skillsets to become well-rounded individuals."
About Opening Nights at Florida State University 
Opening Nights at Florida State University is the university's official performing arts presenter, bringing world-class talent to campus and the surrounding region. The organization's mission is to present compelling and distinguished artists who provide extraordinary experiences that educate, inspire and connect diverse audiences on and off campus. For more information, visit openingnights.fsu.edu.
About Prime Meridian Bank
Prime Meridian Bank is headquartered in Tallahassee, Florida's State Capital, and offers a broad range of banking services to the Tallahassee and Lakeland/Winter Haven Metropolitan Statistical Areas (MSA). The Bank serves clients in North and Central Florida as well as South Georgia and South Alabama and currently has four locations: two in Tallahassee, Florida, one in Crawfordville, Florida, and one in Lakeland, Florida. The Bank's motto: "Let's think of a few good reasons why it CAN be done." Learn more at http://www.TryMyBank.com.
About Boys & Girls Club of the Big Bend 
The mission of the Boys & Girls Clubs of the Big Bend is, "To inspire and enable all young people, especially those who need us most, to reach their full potential as productive, caring and responsible citizens." By providing club members with academic support, extracurricular opportunities, and positive adult role models, they aim to break the cycle of poverty for future generations of North Floridians. At each of their 7 Clubs, children are given the confidence needed to stay out of trouble, make good decisions and to work toward a healthy adulthood. For more information, visit bgcbb.org.