When the COVID-19 pandemic canceled the Little Dinner Series last spring, rebooting the student-run slate of elegant dinners became a goal of administrators, faculty and students at Florida State University's Dedman College of Hospitality. 
On March 23, that wait was over as the 2021 season of the Little Dinner Series got under
way with some significant changes to ensure the safety of guests, students and staff. 
Since it first launched in 1957, "Little Dinner" has been a mainstay of the curriculum for hospitality and tourism management students. Today, students taking HFT 4802 Catering Management, participate in the series as part of their coursework.
Reviving the series was important in providing students the hands-on experience they've come to expect at Dedman, said Zach Weston, the series chef and teaching faculty at the college.
Weston said the college made some major modifications to provide an environment that met the lofty expectations of the series — and FSU and CDC safety guidelines.
Masks, social distancing and reducing the capacity to 50 percent at each event were among the biggest changes, said Weston.
"It took a year of planning and working to get the right things done at the right time to get the green light," he said. "So far, we are getting great feedback from guests. Everyone understands what we are trying to do and that we love providing our guests the highest quality food and beverage service in a nice atmosphere. We are just having to do it a bit differently." 
In addition to reducing the number of attendees by half, tickets were sold by the table to ensure the guests at a given table were part of a group and to limit intermingling.
While safety underpins each element of the events, Weston said students are still striving to create the elegant atmosphere the Little Dinner Series is known for.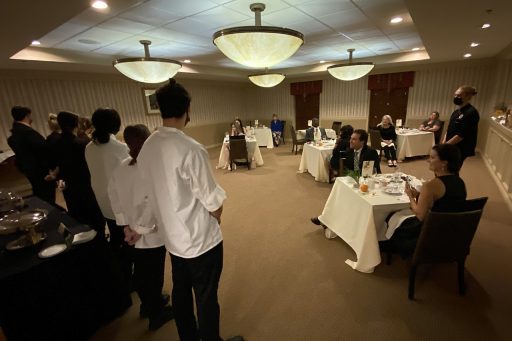 As in years past, the dinners feature a theme, cocktails, appetizers, four-plated courses and dessert. The season's first dinner was "Sunshine State of Mind" and included a Key West Rum Runner cocktail, Gulf red snapper and sweet potato ceviche, among its hors d'oeuvres and dry rubbed and cold smoked pork chop as an entrée.
Weston said, when it comes to gaining experience in the hospitality industry, hands-on work like what students experience in the Little Dinner Series is invaluable.
"In so many industries you can learn concepts in a textbook but, in order to learn this, you have to do it — there is no substitute for getting in there and getting your hands dirty," he said. 
Jamie Miyagawa, a senior from Navarre Florida, agreed and said the series is a crucial step in her degree in hospitality and tourism management. 
"I've been looking forward to taking this class since I first became a student of the Dedman College," she said. "You want hands–on opportunities and going through the process is the best learning experience I could have had."
Weston said the first couple dinners have been a success for both students and guests.
"Just like the real world with real, paying customers, the students have been getting instantaneous feedback," he said, before noting that the feedback has been overwhelmingly positive. "At the end of the night they've gotten standing ovations."