With heavy hearts and a near-empty stage, the world's live-performance pause has brought more questions than answers. At Florida State University, home to some of the best performing arts programs in the country, one thing is for certain — the show must go on.
Now, a year after the COVID-19 pandemic shuttered in-person performances and created logistical hurdles for rehearsals, FSU students and faculty continue to create and inspire.
While reimagining how to provide quality education and training that has launched the careers of legions of performing arts professionals, faculty also needed to predict how the industry would change post-COVID-19 and what coursework and training opportunities they should consider.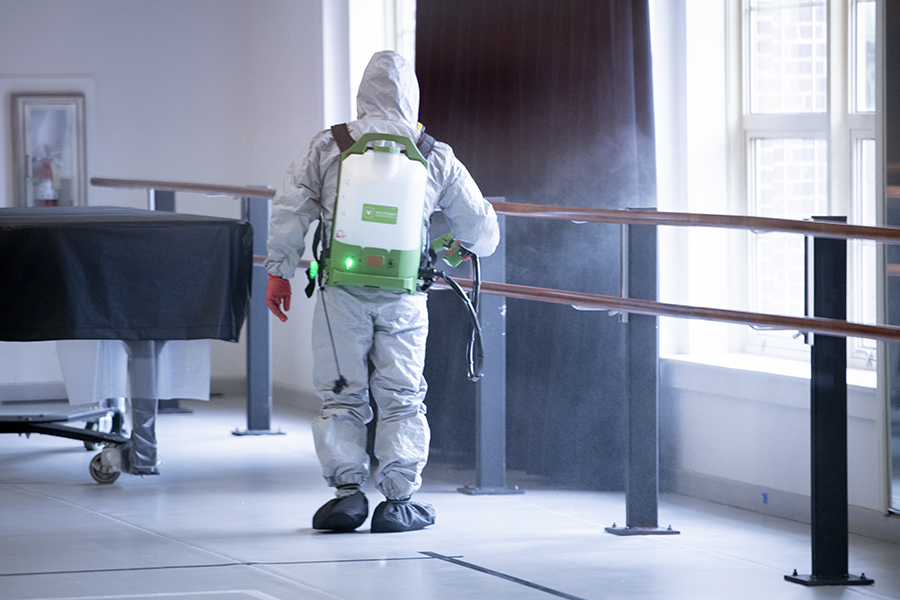 "We have learned many things during this time that will be useful for the performing arts going forward," said James Frazier, dean of the College of Fine Arts. "We will continue to endeavor, to prepare students for live performances and more, in all the ways that we can."
Faculty from the College of Music and College of Fine Arts – which includes the School of Dance, School of Theatre and the FSU/Asolo Conservatory for Actor Training — quickly moved to determine what type of virtual and hybrid classes could fit their requirements during the pandemic. They also investigated outdoor venues that could accommodate performances and instituted live-streaming of events.
"World events, typically disastrous, but sometimes triumphant and celebratory, always leave a positive and negative impact. They reset our mentalities, cultures and economies. In other words, they bring challenges and opportunities to build a better world."

— Kris Salata, chair of the School of Theatre
"At FSU, we have been engaged in preparing students to be successful 21st-century artists for years now," said Todd Queen, dean of the College of Music. "Part of that training is being flexible and adaptable. The COVID-19 pandemic has forced us to be creative in our solutions and to find new ways to disseminate our art."
The College of Music has been nationally recognized as one of the most comprehensive schools of its kind among public institutions by the U.S. News and World Report and has offered a high level of professional education in music for more than 80 years.
Each year, the College of Music offers more than 500 performances, including choral ensembles, jazz bands, concert bands, chamber music, music theatre, opera, orchestras and various special ensembles.
---
This year, the college successfully continued its programming despite social distancing challenges and expanded its innovative educational approach by utilizing live-streaming and outdoor venues to allow its students to meet their performance requirements.
"As the professional performance career field is tremendously competitive, students in this program are accustomed to facing challenges," said Gregory Jones, associate dean of the College of Music. "The contemplation of a hybrid of performances in the future is a reality that students are preparing for in that spirit of amazing dedication and creativity."
Live-streaming, recorded concerts and outdoor venues will continue to be a part of the performance experience over the next few years.
"We are not contemplating a world without live performances, but we are working to integrate experience in sharing music using video, audio and various types of software and technology," Jones said.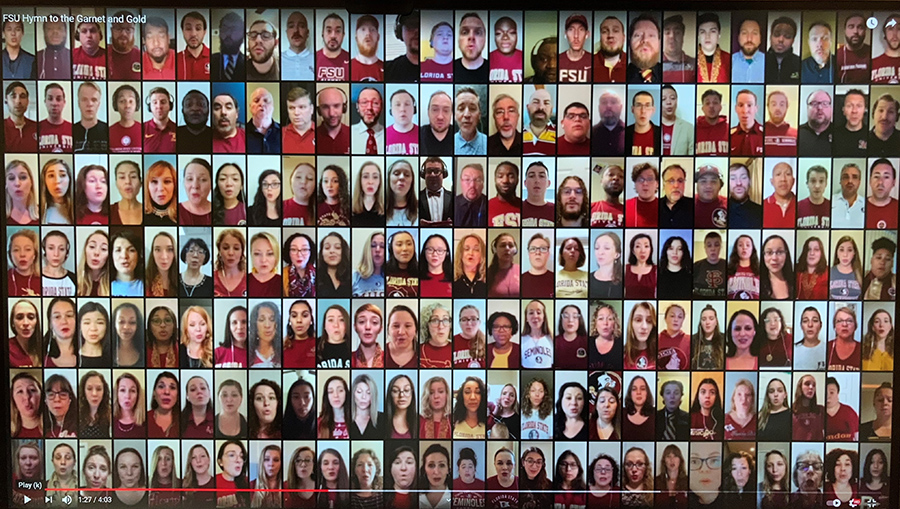 Through technology, students have successfully transitioned to virtual coursework and focused their artistic energy to grow in ways they were not expecting.
Students have discovered cutting-edge applications and software that allow them to compose as well as record, mix and match music to video — new skills that will increase their marketability as professional performers.
"The quality of the recording is paramount, and the listening skills and production skills that are needed to edit their music are significant," Queen said.
The FSU/Asolo Conservatory for Actor Training in Sarasota moved some students to Tallahassee for the Spring 2021 semester to work with students from FSU's College of Motion Picture Arts. This allowed them to make up for the loss of the live production season at The Asolo Repertory Theatre.
---
They also used virtual spaces for performances like "TWILIGHT: LOS ANGELES, 1992," which worked well with the Zoom format because it is a monologue series. This semester, they are performing Shakespeare's "Julius Caesar," which has proven to be more of a challenge.
As with the music students, theater students were forced to learn how to use technology to their advantage and create performances that still engaged an audience, even if that audience was on the other side of a computer.
"Our director, Jonny Epstein, and our second-year class of actors have embraced the difficulties and are learning the skills needed to perform this poetic text while discovering a whole new medium in which to demonstrate their skills," said Greg Leaming, director of the FSU/Asolo Conservatory for Actor Training.
The School of Dance faculty is already thinking about what dance performances will look like in the years to come.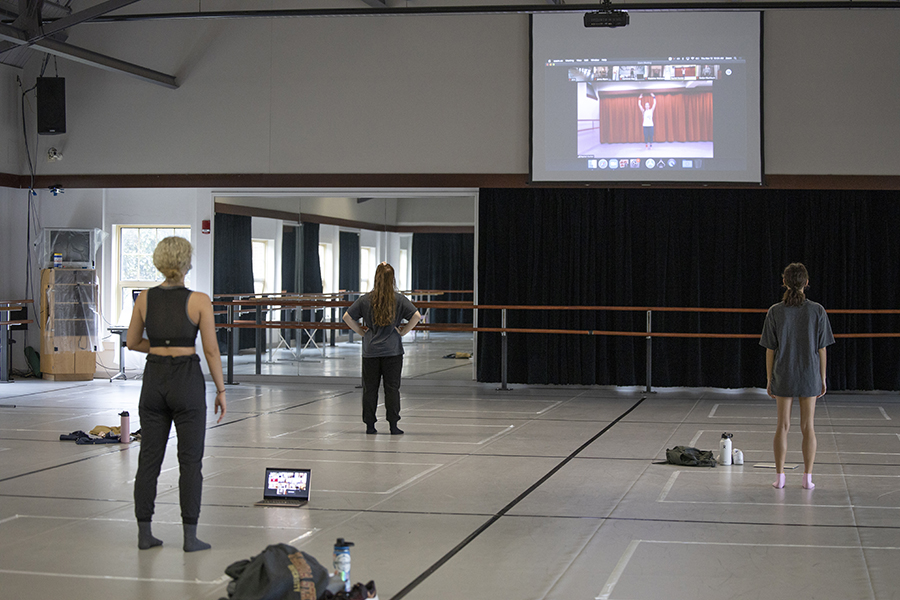 "The School of Dance anticipates smaller ensemble works or cast pieces in the future," said Anjali Austin, chair of the School of Dance. "Shows will need to be planned to reach a smaller audience, and theaters might run multiple versions of the same show so that more audience members have an opportunity to see the performance."
Though some frustrations are inevitable, students have found a way to motivate each other and adapt.
"Students are telling movement stories and using digital platforms to reach audiences in sizes that probably would not have occurred before," Austin said. "We have all had to become better at learning how to connect when a physical connection is not available."
By exploring online tools for theatre performances, students and faculty at FSU found many new opportunities for sharing their work.
The School of Theatre typically makes headlines in the theatre news website Broadway World for being a training ground for numerous Broadway performers and is currently ranked in the top 25 for Best College Drama Programs by the Hollywood Reporter.
"Our season, which we converted into a virtual one without missing a beat, shows how creative and ingenious our faculty, staff and students are in overcoming the challenges brought to us by the pandemic," said Kris Salata, chair of the School of Theatre.
Performing arts students have always been taught to adapt and prepare for the unexpected.
"There is nothing new in the way we prepare our students today," Salata said. "We have always stressed the exclusiveness of the theatre as a profession and prepared our students for a life of creative applications of their skills in other fields."
Though challenging, many positives have come out of this past year. Communication and connection between groups of individuals that may not have been possible pre-pandemic are emerging everywhere. For the arts, a growing appreciation is blooming.
"World events, typically disastrous, but sometimes triumphant and celebratory, always leave a positive and negative impact," Salata said. "They reset our mentalities, cultures and economies. In other words, they bring challenges and opportunities to build a better world."
For more information, visit music.fsu.edu, cfa.fsu.edu, dance.fsu.edu, theatre.fsu.edu and asolorep.org/conservatory.