Florida State University is paying tribute to the dynamic cultural practices and contemporary lived experiences of Native Americans with two events this November to mark Native American Indian Heritage Month.
The FSU Department of Art History will host a film festival celebrating Indigenous filmmakers and showcasing the resurgence and resilience of cultural practices in the wake of settler colonialism. The FSU Honors Program will screen the film "Gather," which explores how Native American communities are using traditional foodways to combat the traumas of colonialism and preserve their vibrant cultures.
The Department of Art History's Virtual Global Indigenous Cinema Film Showcase is a film festival curated and organized by graduate students. It runs Nov. 16-23. The department is also hosting a live Q&A with "Miss Navajo" director Billy Luther from 6-6:30 p.m. on Nov. 19.
The films presented in this series emphasize Indigenous narratives that navigate centuries of colonial erasure of cultural practices and efforts to force assimilation into colonial society.
"This month, and every month, we should lift up and celebrate Native American and Indigenous peoples and their stories," said Kristin Dowell, director of Museum and Cultural Heritage Studies. "These films reflect the beauty, humor, strength and resilience of Indigenous identity in the 21st century."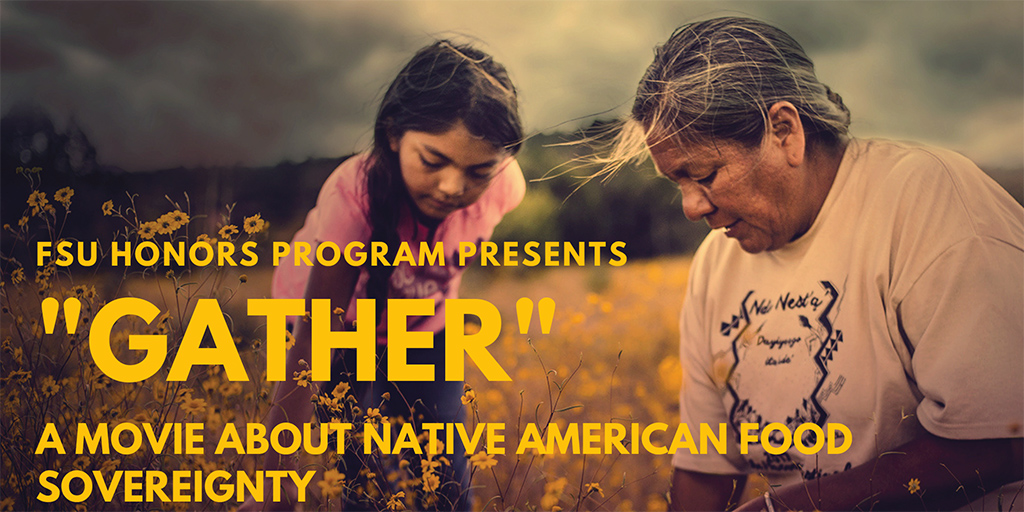 "Gather" is available to stream throughout the month. A panel discussion with FSU faculty from four different departments and representatives of the Seminole Tribe will take place at 3 p.m. Monday, Nov. 30.
"The intersection of my work with Honors students and with the Biology Diversity Equity and Inclusion committee made it clear to me that this film is important for our campus to experience," said Nora Underwood, professor and associate chair for Graduate Studies in the Department of Biological Science. "The amazing environment of intellectual exploration and exchange among disciplines created by the Honors program gave me the idea for the screening, and their financial support made it possible."
Panelists for this event include Paul Backhouse, Seminole Tribal Historic Preservation Officer; Tyler McCreary, FSU Geography; Quenton Cypress, Seminole Tribal Community Engagement Manager; Andrew Frank, FSU History; Catherine McKinley, Tulane University School of Social Work; Jayur Mehta, FSU Anthropology; and Dan Okamoto, FSU Biology.
Both events are free and open to the public. Register for the Virtual Global Indigenous Cinema Film Showcase. Register for the "Gather" screening.