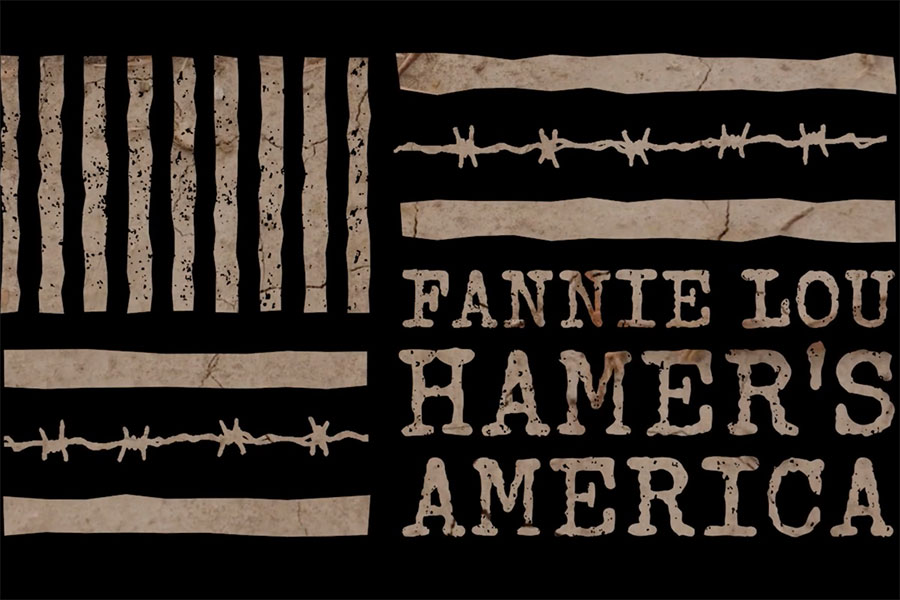 A new national fellowship will help a Florida State University alumna tell the story of Fannie Lou Hamer via documentary, an important addition to the growing body of work at Florida State aimed at shedding light on the civil rights activist.
Joy Elaine Davenport, a two-time graduate of the School of Communication, is one of only five recipients of the inaugural Better Angels/Lavine Fellowship, awarded to the winners of the Library of Congress Lavine/Ken Burns Prize. The award recognizes history documentary filmmakers and comes with a stipend and consultation opportunities.
Davenport's selection for the fellowship is based on her work on the film, "Fannie Lou Hamer's America."
"Being selected for this fellowship is a huge honor and a pleasant surprise," Davenport said. "In this year of toxic politics, racial violence and a rampant pandemic, we are all learning what it's like to be sick and tired of being sick and tired. It's my hope that this fellowship will make it possible for us to bring Fannie Lou Hamer's voice to an American public who desperately needs to hear from her."
Davis Houck, FSU's Fannie Lou Hamer Professor of Rhetorical Studies in the College of Communication and Information, has served as a researcher and consultant for the documentary. Pablo Correa, a graduate of FSU's School of Communication, is a videographer and producer on the film. Davenport and Correa were both Houck's students at FSU.
"The Better Angels/Lavine Fellowship is a big honor for our team and for Florida State University," Houck said. "Coming from Ken Burns, his affiliates and the Library of Congress, we are thrilled to be in such esteemed company."
Known for declaring that she was "sick and tired of being sick and tired," Fannie Lou Hamer has become an iconic figure in the civil rights movement. Her life as a Mississippi sharecropper propelled her to enter politics, and she traveled throughout the nation urging Black men and women to register to vote.
Hamer argued forcefully for equal rights in her heartfelt speeches and moving songs, her voice playing an instrumental role in the creation of the 1964 Mississippi Freedom Democratic Party and the passing of the Voting Rights Act of 1965. When the Act was re-authorized in 2006, President George W. Bush signed it as the Fannie Lou Hamer, Rosa Parks and Coretta Scott King Voting Rights Reauthorization Act.
Hamer tells her story in her own words in "Fannie Lou Hamer's America," a 68-minute film featuring archival audio recordings and rarely seen video footage. Instead of relying on secondary sources and experts, the team of filmmakers and academics wanted Hamer to narrate her own story from beginning to end.
The financial support Davenport and the team will receive from the fellowship will facilitate the film's use of archival materials as the project moves toward a national premiere.
"When working on a film, especially in the edit, it's very easy to end up in a silo and forget that there's a larger world out there full of folks who are doing the same thing in their own silos," Davenport said. "I think the biggest thing I'm looking forward to is engaging with people who have been through the process, comparing notes and learning as much as possible."
The documentary is just one part of a larger project to share Hamer's inspiring story. In collaboration with the film's other research consultant, Maegan Parker Brooks, associate professor at Willamette University, Houck has helped develop an extensive K-12 curriculum based on Hamer's life. Working with Mississippi public school teachers and supported by a grant from the W. K. Kellogg Foundation, the Hamer curriculum and lesson plans are available for download, supported by scores of primary source materials.
"The curriculum includes historical documents that Dr. Brooks and I have collected over many years, and we have leveraged those historical resources to create more than 30 lesson plans across all grades," Houck said. "We have worked closely with Hamer's great niece Monica Land, the producer on the project. Being able to work with the family and to have their imprimatur on our work has been vital to our project."
FSU Libraries hosts this project with an all-encompassing online resource titled "Find Your Voice," previously curated by Willamette University. In addition to the extensive lesson plans for the curriculum, the site includes a virtual tour of notable places in Hamer's life and news about project updates. The site will eventually host the documentary.
Houck and the project team are hopeful that the support of the Better Angels/Lavine Fellowship will take "Find Your Voice" and "Fannie Lou Hamer's America" to the national stage.
"The Library of Congress and Better Angel Society's support of this fellowship speaks to their commitment to telling our nation's hard stories that remain to be told," Houck said. "Mrs. Hamer's story of battling white supremacy, police brutality, hunger, a lack of healthcare and access to the ballot will resonate with new and diverse audiences still fighting for many of the same things."