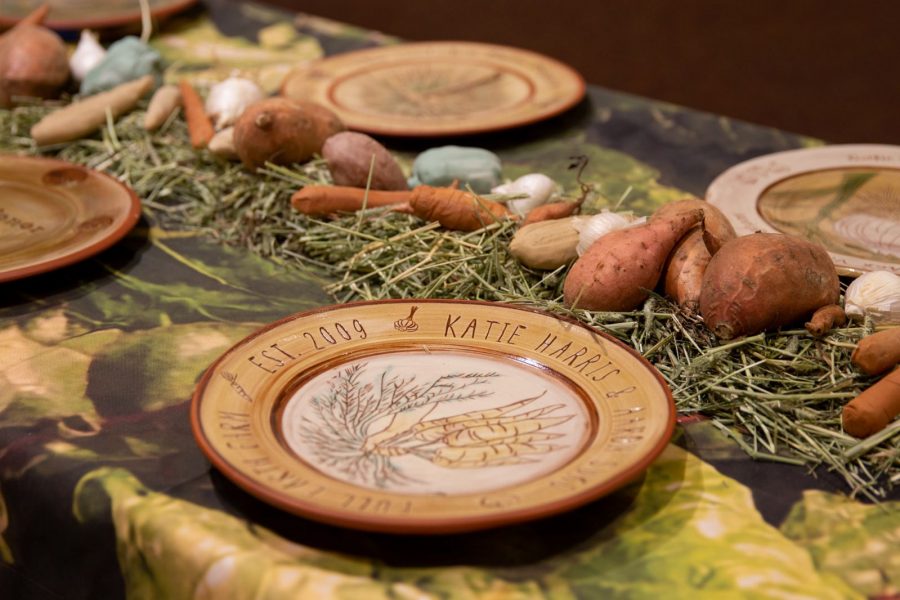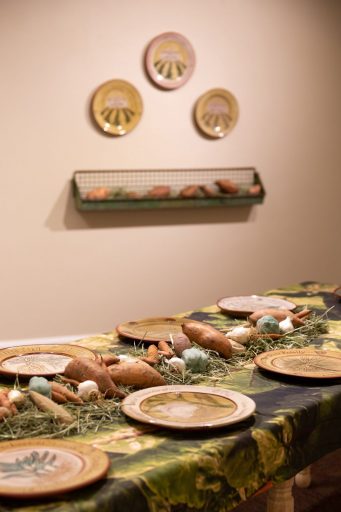 Florida State University Department of Art Professor Holly Hanessian is helping connect art with the agricultural history of Gadsden County.
Hanessian, a ceramics artist, recently worked alongside interdisciplinary artist and designer and FSU alumnus Michael Austin Diaz to create "New Histories: Gadsden Farm Project."
The mixed media exhibit is part of a larger project collaborating with Gadsden County farmers, Florida Agricultural and Mechanical University and the State of Florida to raise awareness about rural farming communities. The exhibit runs through Oct. 24 at the Gadsden Arts Center & Museum.
College of Fine Arts Dean James Frazier said the endeavor is an inspiration.
"To some, it might seem an unlikely pairing – art and farming, but we know that couldn't be further from the truth," Frazier said. "Using art to document the human experience is not new, and art as commentary is something we expect. However, this exhibit is like using a lens that allows one to zoom in to see in detail what one might miss looking at the big picture."
Through photographs, videography and sculptural works, the project highlights local history through the lens of structural racism and the role it has played in Gadsden County's agricultural history.
Hanessian and Diaz spent eight months meeting people in the agricultural community and persuading Gadsden County farmers to trust them to tell their history.
"On the surface, we have very little in common with a lot of the people we work with, but at the same time you realize we have so much in common."

— Michael Austin Diaz, interdisciplinary artist, designer and FSU alumnus
"A few farmers in the African American community felt saddened that the next generation had little desire to farm in Gadsden County," Hanessian said. "This project will live as a historical archive of the moment and will be a way for families to look back and retrieve their archived history and feel honored that they were part of something like this."
Hanessian also presented the farmers they met with a special gift to break the ice. She created a series of sweet potato pie plates to give them along with a slice of homemade sweet potato pie. She said they wanted them to know they were truly invested in their stories.
"Just by eating off handmade pottery — as people have done since ancient times — it is a way of communing and sharing a community with each other," Hanessian said. "Sitting down and eating a meal off ceramics is probably the oldest way of having this sort of social practice."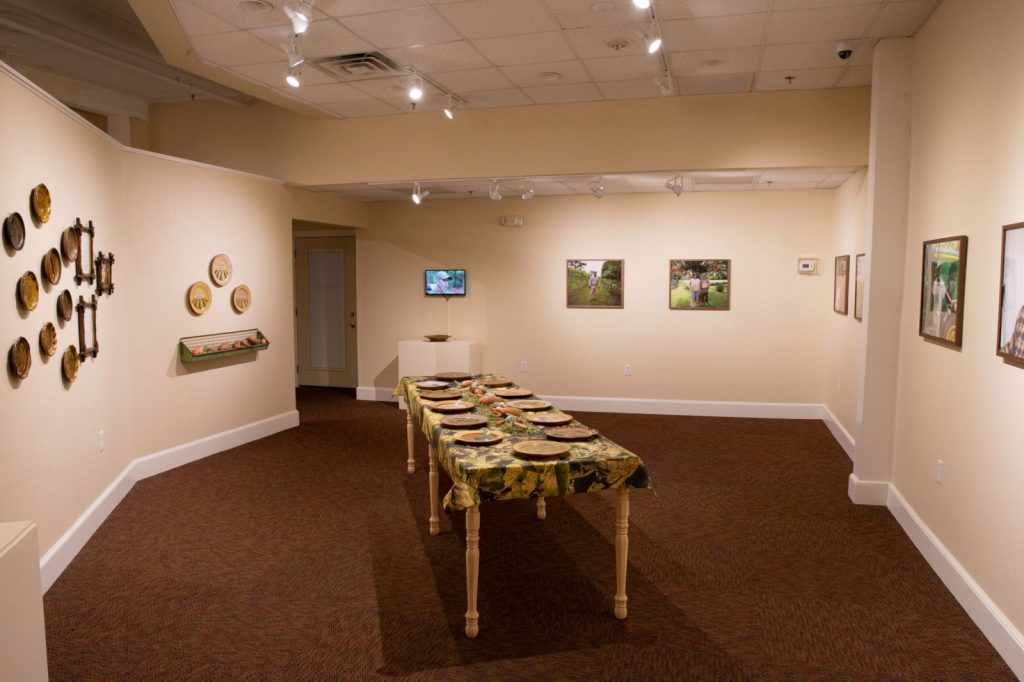 The project demonstrates the combined power of community and contemporary practice, and features interviews and photographs of the farmers along with a table with commemorative ceramic plates that were given to the farmers.
The artists worked with State of Florida folklorist Amanda Hardeman and photographer Adam Watson to interview and document the agricultural histories of 12 people from Gadsden County.
"The importance of this project was to represent the demographics equally and give each person a voice," Hanessian said. "Their perspective is not always the same perspective that is historically documented."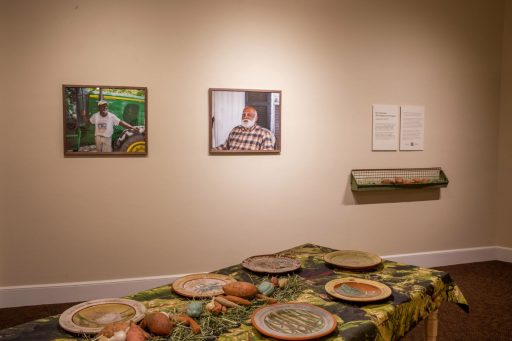 Though an unintended outcome, the project also highlights local history in terms of structural racism and how that's played out in the agricultural story of Gadsden County.
"This engagement with the community serves to document under-told stories, to enliven history, to connect people and to inform how a community moves forward," Frazier said. "There is a richness here, like fertile soil."
Because of Hurricane Michael and COVID-19, this is the first time many of the participants have been able to see the exhibition.
"It is a real joy and pleasure to be able to see the pride that this project brings them," Diaz said.
While in graduate school at Florida State, Diaz focused his research on "socially engaged art" or "social practice," a mode of working that came out of the history of performance art and social activism.
"It seeks to engage the human-to-human relationship and highlight and develop that as the work of art itself," Diaz said.
During the two-year project, both artists developed relationships that initially seemed impossible.
"On the surface, we have very little in common with a lot of the people we work with, but at the same time you realize we have so much in common," Diaz said. "That was everything to me with this project and shows how poetic and beautiful life can be."
For more information, visit https://gadsdenarts.org/exhibitions/Munroe-Gallery.
---