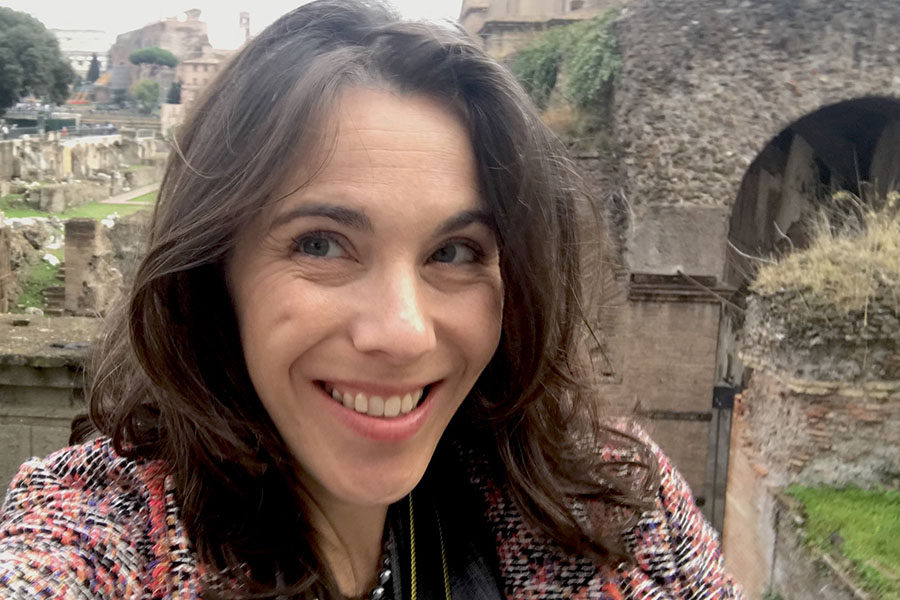 A Florida State University faculty member has been awarded a fellowship from the Loeb Classical Library Foundation. 
Jessica Clark, associate professor in FSU's Department of Classics in the College of Arts and Sciences, will receive the fellowship for the 2020-21 academic year. Clark, a Princeton graduate and faculty member at Florida State University since 2013, specializes in the history of the Roman Republic. 
"This fellowship is a vote of confidence in my project, and it's hard to put the value of that into words," Clark said. "As a historian, I spend most of my research time with books and documents, and it's easy to lose sight of the big picture when you're exploring the minutiae of a problem or question. A fellowship like this functions like a 'note-to-self' – I should probably say an imprimatur – that there are relevant and rewarding results on the horizon." 
The foundation's namesake, American banker and philanthropist James Loeb, founded the Loeb Classical Library in 1911. Upon his death in 1933, Loeb left the library and $300,000 to his alma mater, Harvard University. In his will, Loeb requested that profits from the library be used "for the encouragement of special research at home and abroad in the province of Archaeology and of Greek and Latin Literature." The Loeb Classical Library Foundation was established and today, the foundation awards fellowships to scholars to support research, publication and other projects in the area of classical studies. 
Clark will use the $35,000 fellowship to continue her research on military tribunes, or junior officers, in the Roman army, and expects the results to form the basis of her forthcoming book on the same topic. 
"Unlike almost every modern military, Rome didn't use a 'rank-based' chain of military command, so the duties and experiences of these officers depended on their individual reputations, abilities and circumstances — a poorly regarded tribune might not be given the authority to tell a soldier to tie his sandals; a competent one might find himself commanding a thousand men on a mission of key strategic importance." 
Clark penned her first book, "Triumph in Defeat: Military Loss and the Roman Republic," in 2014 and served as co-editor on "Brill's Companion to Military Defeat in Ancient Mediterranean Society" (2018) with Brian Turner of Portland State University. Clark said she was inspired to write her latest book on the Roman military tribunes after finding a lack of literature on the subject. 
"There's never been a book written about them, which I still find hard to believe, so there's a lot we don't understand about how this incredibly ad-hoc system could function without impeding the operational capacity of Rome's legions — since we know they did pretty well for themselves," she said. 
John Marincola, interim chair for the Department of Classics, said Clark is an internationally recognized rising star in military history and has developed new approaches and integrated older ones. The fellowship also solidifies the department's profile as an excellent place to study classics — Clark is the fifth FSU Classics faculty member to receive the Loeb fellowship in the past 12 years. 
"This award is a recognition both of her already considerable achievements and the promise of her future work," Marincola said. "It is always gratifying when external funding bodies recognize the value of the people we have in our department. Dr. Clark's award continues the long-standing tradition in Classics of winning prestigious national and international grants." 
For Clark, the fellowship is especially meaningful during this unprecedented time in history, where terms like "social distancing" and "self-isolation" are now part of everyday vernacular and nearly all academic conferences and meetings have been postponed or canceled outright.  
"These days, it means more than it might usually," she said. "Like so many professional gatherings, the Society for Military History Annual Meeting was canceled this spring — I was scheduled to present on this work and meet up with colleagues there, and so receiving this fellowship now helps affirm the sense of intellectual community that gets lost when we're isolated."