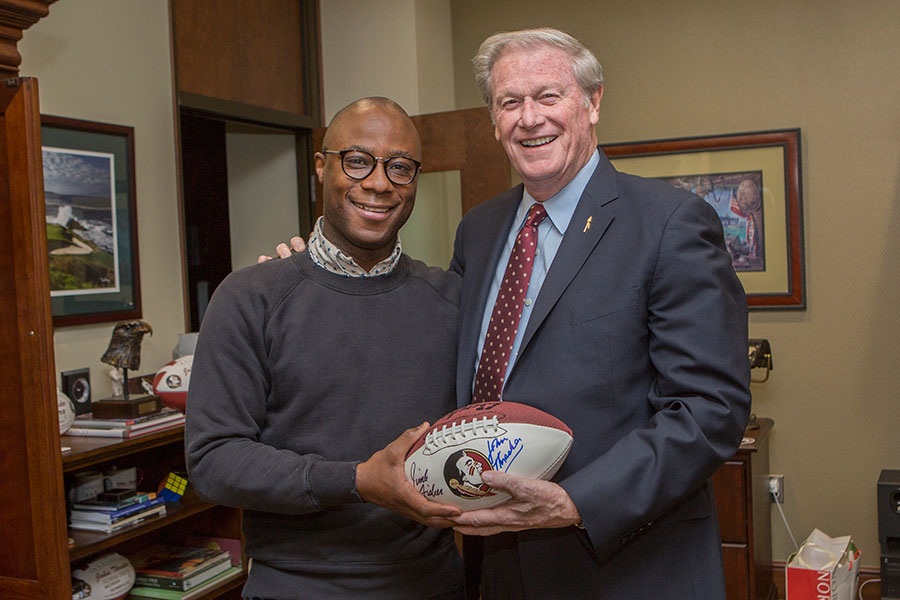 Florida State University rolled out the red carpet for Barry Jenkins' triumphant return to his alma mater capped off with a sold-out crowd at Ruby Diamond Concert Hall March 31.
Tickets to Friday's screening of Jenkins' Oscar-winning film "Moonlight" had sold out in less than two hours. The event was hosted by the Florida State University Golden Tribe Lecture Series.
As the film credits concluded, the lights returned and former FSU Film School dean Frank Patterson welcomed the Academy Award winner to the stage.
The entire crowd rose to their feet to which Jenkins said, "That's pretty damn cool."
Jenkins had kicked off his visit at Florida State with breakfast with President John Thrasher. Then, he returned to his old stomping grounds, FSU's College of Motion Picture Arts, to teach a master class to film students and had a chance to meet football head coach Jimbo Fisher.
Jenkins' "Moonlight" is a coming-of-age story that follows an African-American boy through his difficult childhood in a drug-plagued Miami neighborhood and into his early adult life. He has said the film and its characters are similar to what he experienced growing up in Miami's Liberty City neighborhood.
"I went to Brussels and wrote this in 10 days" Jenkins said.
He wrote the screenplay based on the play, "In Moonlight Black Boys Look Blue," by Tarell McCraney.
"I had this list of film ideas I wanted to create and one of them was about growing up with my mom," Jenkins said. "I wanted to do it, but it was too personal. So, when I was sent this piece and saw so much of myself in it, I said, 'oh, that's not personal, that's about him.'"
At Ruby Diamond Friday night, Jenkins responded to questions from students who were trying to follow his in footsteps and even just attendees who were inspired by the film.
Jenkins was asked about the production of "Moonlight" and his path to success, as well as his favorite spots to eat and hang out in Tallahassee as a student. He also was asked about what it felt like to return to his alma mater and receive the royal treatment as now a famous alumnus.
"What's happened in the last six months is not a dream I allowed myself to have, so I could never imagine myself sitting on this stage talking to people who were in the program that I was in. I was trying to just get through the day."
One of the final questions on everyone's mind was about how he felt the night "Moonlight" took home the Oscar for Best Picture.
"I remember it very vividly," Jenkins said.
In a very confusing and crazy conclusion to the 89th annual Academy Awards, "La La Land" was initially named Best Picture. But after members of that film came onstage and delivered speeches, they were told the announcement was a mistake and the real winner of the top award at the Oscars 2017 was actually "Moonlight."
"When they said 'LaLa Land' I was cool, bruh," Jenkins said. "The beautiful thing about it is I had the kind of experience very few people have. For two minutes I did not win Best Picture and I felt damn fine with it. I was already on the phone texting my folks like 'where is my champagne'?"
Jenkins said winning or losing the award would not change the content of his film. It would still be the same movie, and he hoped he would still be invited to FSU to share his story, and that the sold-out crowd would still show up en masse to which Patterson and the audience applauded enthusiastically.
"When it switched… y'all saw my face I can't tell you what the hell I was thinking," Jenkins said. "There was no thought, I was molecules and that's it. I felt bad for 'La La Land.' My first thing was to hug everybody… and then it was time to get that champagne. It was cool man. I got to experience something very few people get to experience, it's a very beautiful thing."
A total of seven Florida State graduates worked together on the project to make the best movie of the year. "Moonlight" won three Oscars: Best Picture, FSU alumna Adele Romanski, producer; Best Adapted Screenplay, Jenkins and writer Tarell McCrany; and Best Supporting Actor, Mahershala Ali.