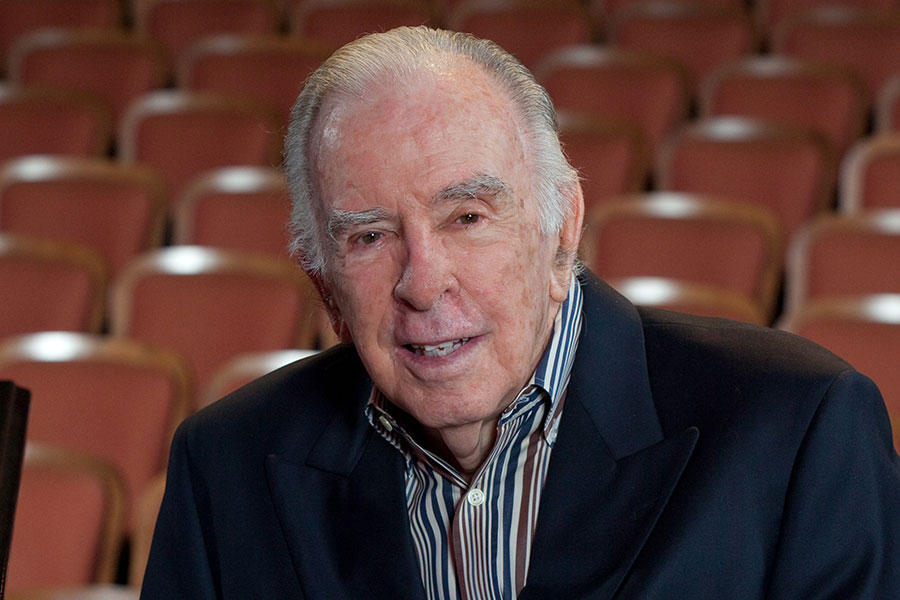 One of America's greatest opera composers is looking forward to a very sweet homecoming at Florida State University.
The return of world-renowned, former FSU Professor Carlisle Floyd, 90, has been a long time coming.
Sixty-two years ago, Floyd's opera "Susannah" premiered at Florida State's Ruby Diamond Auditorium, as it was known then. The show was an instant hit and went on to become an internationally famous, iconic American opera glimpsing rural Appalachian life.
Now, Floyd's new opera, "Prince of Players," makes its collegiate premiere at FSU's Opperman Music Hall from March 30 to April 2. The show has played in Houston and New York City, but Floyd is especially eager to see the performance by Florida State Opera students.
"I wouldn't miss it," Floyd said. "I'm very pleased to see it happen at Florida State. It's a throwback to the first time it happened."
The first time one of Floyd's operas was performed at Florida State, the experience was life changing. "Susannah" launched his one-of-a-kind composing career in 1955 and made him world famous.
The opera premiered Feb. 24, a cloudy Thursday in Tallahassee, and Floyd's parents were in town to see the show. It was superb. His father, the Rev. Carlisle Sessions Floyd Sr., a Methodist minister, later wrote of the experience, "Watched and heard 'Susannah' and was made to feel most proud of my boy. It was wonderful," as recounted in the biography: "Falling Up: The Days and Nights of Carlisle Floyd."
At the time of the sudden success of "Susannah," Floyd was a music teacher at FSU. He arrived in Tallahassee in 1947 at the age of 21, fresh out of Syracuse University with a bachelor's degree in music. Big changes were underway: The Florida State College for Women had been renamed Florida State University and returned to coeducational status. Large numbers of World War II veterans were streaming onto campus. Floyd taught many of them piano lessons.
"It was a very different place than it is now. It was full of returning GIs," Floyd said. "I lived on what was then called 'West Campus' because that's where the Army barracks were located. Vestiges of the war were everywhere.
"I came here thinking I was coming to a women's college, but I learned very quickly from the GIs who let me know it was a man's college, as well as a women's," he said with a laugh as he savored the memory. "It was a very exciting time."
Seventy years later, Floyd still appreciates the excitement that comes with a new show and the opportunity to work with students.
FSU College of Music student James Schmid, who plays the lead role in "Prince of Players," appreciates the chance to work with the venerable composer. Floyd recently invited the show's cast to his Tallahassee home and made a lasting impression.
"It was a really wondrous process getting to perform this new work for the man who wrote it and knew the intention behind the piece," said Schmid, who was struck by Floyd's generous and gracious style. "To be welcomed by such a legend of opera is astounding to me, and it's astounding to get this opportunity at FSU through the Opera Department."
Student Lauren Feider laughed when she remembered that initial meeting with Floyd at his home. She admitted that finding herself face to face with the esteemed composer was a thrill.
"I had a bit of a star-struck moment," Feider said. "He's so hugely influential in American opera and to be in his presence was awesome. I was really honored. He was so willing to give feedback and to work with us. During the coaching and run-throughs, he seemed to be very pleased with what we were doing and hearing his words of encouragement was really cool."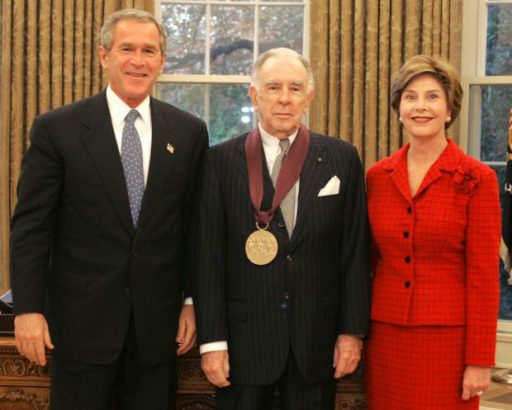 Floyd has proven to be prolific, perceptive and persistent in his career. With "Prince of Players," his 13th opera, he earns the record for creating operas over the lengthiest timespan — 67 years. The National Endowment for the Arts has described Floyd as "the most important American opera composer and librettist (text writer) in the nation's history."
While he has earned much acclaim and commercial success as a composer, Floyd also treasures his half-century of work as an educator.
He taught at Florida State for nearly 30 years before heading to Houston in 1977 to create a development program for young opera singers, and he taught at the University of Houston. Nurturing the young talents of the future has always been a joy for Floyd.
"It's a very exciting process. I just came from Phoenix where a student of mine from Houston was having his first opera performed by the Phoenix Opera," Floyd said. "That was an example of the creative relationship between a student and teacher."
Remarkably he's still at it, forging those special creative connections between student and teacher 70 years after he accepted that first teaching job at Florida State in 1947. In 2017, Floyd is still influencing another generation of talented performers and composers, eager to learn from him.
"It's been a privilege to work to find and develop my character Peg's voice and to have Carlisle Floyd, who wrote the words and music, in the room giving feedback," said Feider, who plays the character "Margaret Hughes" in Floyd's newest opera. "It has been a really unique and enlightening experience."
Schmid said preparing for "Prince of Players" with Floyd's feedback has helped him tune in more closely to a composer's original intentions, and that approach has taught him to be a more versatile performer.
"It's such an amazing opportunity to get the time to spend with this composer," Schmid said. "I feel like I am becoming a better singer by singing this music and having the opportunity to see how the composer wants it sung."
Floyd has attended some run-throughs leading up to the premiere. He has gauged students' performances, offered advice and enjoyed it all. Ever the teacher, he is always mindful of students' needs, strengths and, yes, weaknesses, and discerning how to turn those factors into a special performance on stage.
With these shows, Florida State celebrates the homecoming of a favorite son who has made the university proud just as his dad described more than 60 years ago after watching his son's exceptional work in "Susannah."
"Seems like I am in a fairyland," wrote Rev. Floyd in 1955 following the premiere of "Susannah" in Ruby Diamond. "Cannot get used to so much ovation!"
Bravo, Carlisle Floyd. Welcome home.
Tickets for the "Prince of Players" are available through the FSU College of Music Box Office at (850) 645-7949.