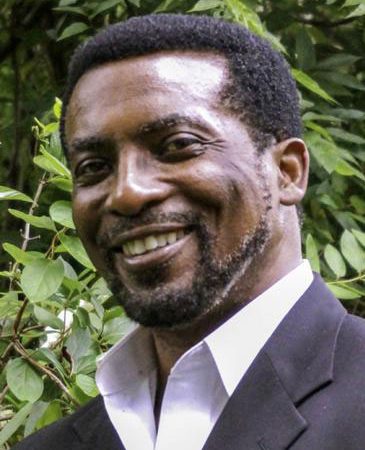 A Florida State University music professor has received the highest award conferred by the American Choral Directors Association (ACDA).
André J. Thomas, Owen F. Sellers Professor of Music in the FSU College of Music, was recognized as the association's 2017 Robert Shaw Choral Award winner at the ACDA National Conference earlier this month.
The Robert Shaw Choral Award is presented every two years to a choral leader who has made unusual contributions to the art of choral music.
"It was with deep humility that I accepted this award to join an esteemed group of people who had been mentors and role models throughout my professional career," Thomas said. "Through years of preparing the FSU choruses for performances with Mr. Shaw, I got to know him and his musical mind. With each encounter, I grew as a musician and conductor. No one will ever come close to achieving all he achieved and to accept an award named after him was a tremendous honor."
Members of the ACDA Past Presidents' Council canvas the opinions of choral association officers and choral conductors worldwide to determine the award recipient.
During presentation of the award, Tim Sharp, president of ACDA, stated that Thomas's name was mentioned frequently not only by choral professionals in the United States but also by those in Europe and Asia.
"The presentation of the Robert Shaw Choral Award to Dr. André Thomas was a magical moment as generations of FSU alumni attended the ACDA meeting in Minneapolis to honor one of the College of Music's most distinguished professors," said Patricia Flowers, dean of the College of Music. "Dr. Thomas's lifetime achievements as a conductor, composer and educator have elevated the performance of choral music internationally. It is a privilege to count Dr. Thomas among FSU faculty and to see him recognized for his contributions."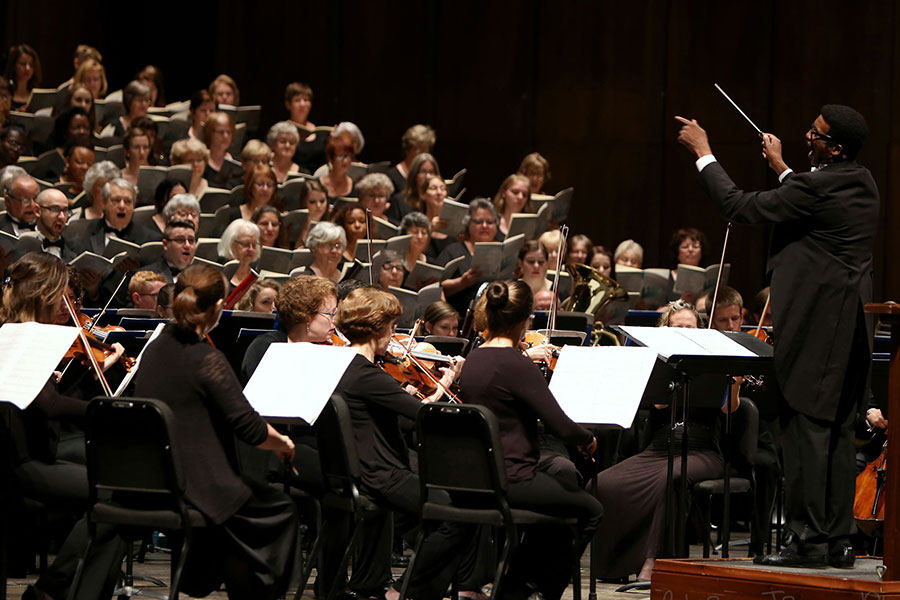 Thomas conducts the Tallahassee Community Chorus during a spring 2016 performance. (Claire Timm Photography)Thomas serves as director of choral activities and professor of choral music education at Florida State, and he is the artistic director of the Tallahassee Community Chorus. He is in demand as a choral adjudicator, clinician and director of honor and all-state choirs throughout the United States, Europe, Asia, New Zealand and Australia.
Thomas has conducted choirs at state, division and national conventions. His international conducting credits are extensive and include conductor/clinician for the International Federation of Choral Musicians. He has been the guest conductor of renowned orchestras and choirs such as the Birmingham Symphony Orchestra in England, the Berlin Radio Choir and the Netherlands Radio Choir.
A distinguished composer and arranger, Thomas has produced two instructional videos: "What They See Is What You Get" on choral conducting with Rodney Eichenberger and "Body, Mind, Spirit, Voice" on adolescent voices with Anton Armstrong. In addition, he has authored a book, "Way Over in Beulah Lan': Understanding and Performing the Negro Spiritual." He is the past president of the Florida ACDA, and the past president of the Southern Division of the ACDA.
Thomas is now the second choral director from FSU to have received the Robert Shaw Choral Award. In 2001, the ACDA recognized Colleen J. Kirk, who had served at the FSU College of Music from 1970 until her retirement in 1990. Past recipients also include such choral luminaries as Charles Hirt, Howard Swan, Harold A. Decker, Weston Noble, Paul Salamunovich, Dale Warland and Gene Brooks.