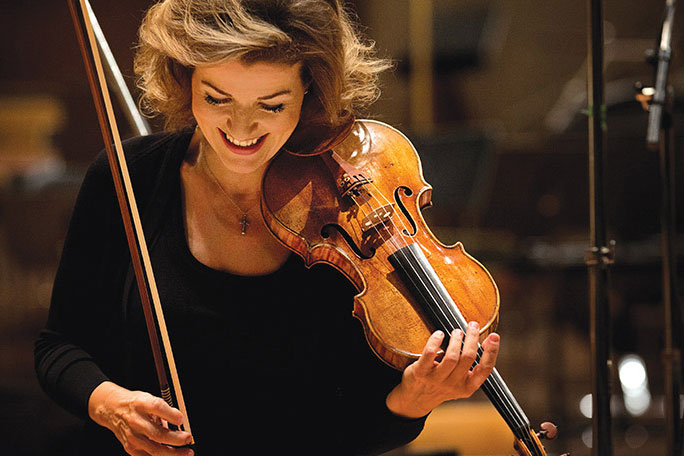 Concert is One of an Exclusive Seven-City U.S. Tour 
Florida State University's Opening Nights Performing Arts will present violin virtuoso Anne-Sophie Mutter at 7:30 p.m. Tuesday, April 4, at Ruby Diamond Concert Hall. Mutter's performance, her first in Tallahassee, will be part of an exclusive seven-city U.S. recital tour. 
"We are fortunate to have Anne-Sophie Mutter, one of the world's most famous classical violinists, perform in Tallahassee at FSU's Opening Nights Performing Arts," said Christopher Heacox, director of Opening Nights Performing Arts. "This once-in-a-lifetime opportunity will be an evening to remember." 
Mutter, accompanied by pianist Lambert Orkis, will perform works by Currier, Mozart, Respighi and Saint-Saëns. These selections reflect Mutter's musical versatility and illustrate her unparalleled rank in the world of classical music. 
The four-time GRAMMY® Award winner made her debut in 1977 as a 13-year-old soloist at the Salzburg Whitsun Concerts under conductor Herbert von Karajan. Since that time, Mutter has distinguished herself as one of the most acclaimed violin virtuosos of our time, playing both traditional and modern works. 
Dedicated to developing young, talented musicians, Mutter and Orkis will present a master class with violin and piano students at FSU.
"I am thrilled that we are able to collaborate with Opening Nights Performing Arts and provide our students an incredible opportunity to work with and hear Anne-Sophie Mutter and Lambert Orkis," said Shannon Thomas, assistant professor of violin at FSU's College of Music. "Not many individuals have the chance to see them perform live, much less work and study with two of the most influential musicians performing today."
Mutter was awarded the 2017 Crystal Award by the World Economic Forum for her service to music education and young artists. She founded the Friends of the Anne-Sophie Mutter Foundation whose objective is the global support of young, highly talented violin, viola, cello and contrabass soloists.
Tickets are available for Mutter's performance at openingnights.fsu.edu.
About Opening Nights Performing Arts
Opening Nights Performing Arts is Florida State University's official performing arts presenter, bringing world-class talent to campus and the capital region. Opening Nights Performing Arts' mission is to provide our campus, local, and global communities with educational and entertaining experiences – and to make Tallahassee a destination where one can engage in meaningful artistic and cultural activities.