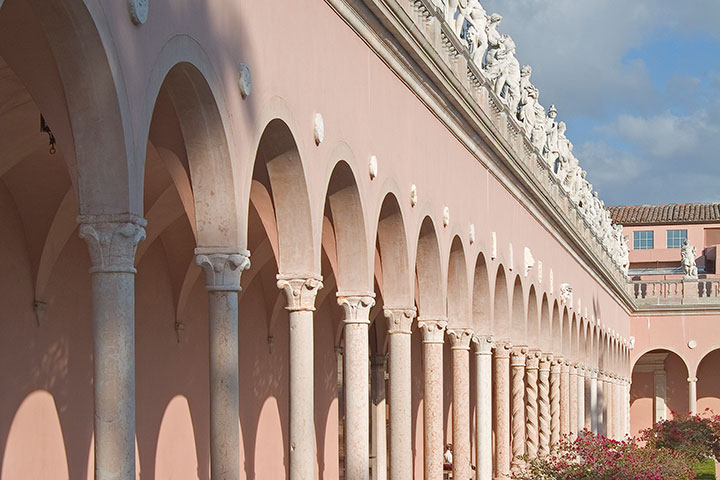 The Ringling announced two major gifts to the Kotler-Coville Glass Pavilion from Charlotte and Charles Perret and Willis Smith Construction.
Opening in the fall of 2017, the Kotler-Coville Glass Pavilion will not only house The Ringling's growing collection of studio glass but also serve as the formal entrance to the Historic Asolo Theater and provide a new rehearsal and performance space. The Perret family has generously donated toward the building of the latter space, which will now be named the Charlotte and Charles Perret Family Performance Studio Space.
"Thanks to these steadfast and forward-looking philanthropists, and our ongoing partnership with Florida State University, The Ringling will be able to expand and enhance our Art of Performance programming in even more innovative directions," said Ringling Executive Director Steven High. "Charlotte and Charles Perret are devoted patrons of The Ringling and Willis Smith has worked on the majority of the build-out of our growing campus."
The Perrets have been longstanding supporters of the Art of Performance program, which seeks to present new works that exemplify and explore the rich diversity of ideas and forms at play in the world today. The new studio space will allow The Ringling to push the boundaries of this initiative and further develop its artist-in-residency program. 
"It is our great honor to support The Ringling in its commitment to performers engaged in the art of our time," said Charlotte Perret.
"Our passion for performing arts aligns wonderfully with The Ringling's efforts to present and commission original work by emerging and established artists," Charles Perret added. "We are grateful for this opportunity to be part of the heart of arts and culture in Sarasota."
Additionally, Willis Smith Construction contributed a generous gift toward the project. In honor of the donation the new box office will be named the Willis A. Smith Construction Ticket Desk. The company has been involved with The Ringling since 2003 and has constructed most of the building projects and all the campus infrastructure since that time. Willis Smith continues to be enthusiastically dedicated to furthering the full mission of The Ringling.
"The generosity of the Perrets and Willis Smith Construction allow The Ringling to push the envelope in performance arts and provide innovative offerings for the benefit of our larger community," said Tom Jennings, Florida State University's vice president for University Advancement and president of the FSU Foundation. "This support, from two long-time friends of The Ringling, is testament to the trust and confidence they have in the exceptional programs of this wonderful organization."
"I am overwhelmed by and deeply grateful for the generosity of these members of the community," Dwight Currie, curator of performance said. "Their devotion to our performing arts program will open new doors and opportunities for The Ringling."