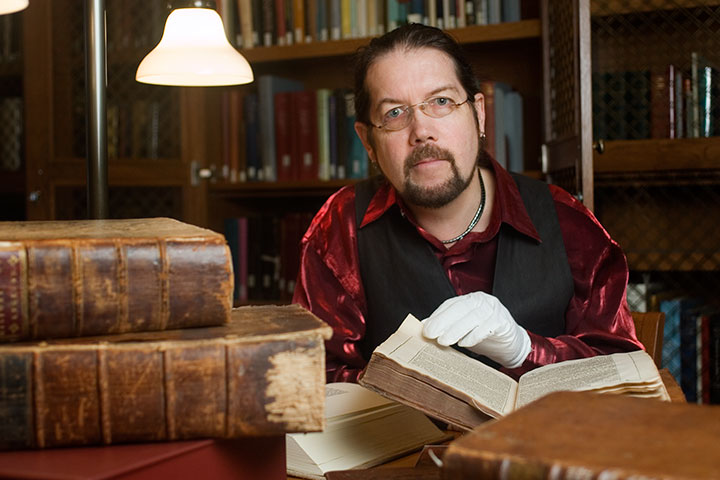 It's been a crazy few weeks for Gary Taylor, a Distinguished Research Professor at Florida State University, after his hand-picked team of New Oxford Shakespeare researchers decided 16th-century playwright Christopher Marlowe should get credit for co-writing William Shakespeare's "Henry VI" plays.
The decision is historic. It's the first time Marlowe has been officially recognized as a co-author of the three plays, which are believed to have been written around 1591.
Now, everyone wants to talk with Taylor about the decision to credit Marlowe as a collaborator on the plays. Taylor has willingly, even eagerly, stepped into the international media whirlwind swirling around the groundbreaking news. He knows it's a chance to teach people why Shakespeare matters, why literature matters, why the past matters, and that window of opportunity in the news will be fleeting.
"You seize the opportunity when it is available," Taylor said. "I think it will mean (the plays) will be more studied by scholars and critics, and they will be more likely to be featured in college classrooms and graduate seminars."
A "Crazy Schedule"
Taylor's phone has been ringing with calls from news outlets all over the world: Germany, Australia, New Zealand, the United Kingdom. In the U.S., he has talked with The New York Times, Washington Post, The Associated Press and others. Even Popular Mechanics published the original story by the British newspaper The Guardian, which was first to break the news.
"I have a crazy schedule this week," Taylor joked as he juggled interview requests from his New Oxford Shakespeare office in Indianapolis. The research team has been based on the joint campus of Indiana University and Purdue University since 2009.
"We've done a lot of work deciding what exactly are Shakespeare's complete works," Taylor said. "We've done a lot of work on these questions, more than previous editions, because we now have more resources to do this kind of work in an empirical way that simply weren't available 30 years ago."
Plowing Through Millions of Words
Taylor's voice comes alive as he starts talking about the research that he's dedicated much of his life to over the past 30 years. He sounds like he's in a kind of "literary zone" of peak focus on the topic he loves so much.
Taylor lays out a compelling narrative explaining how more than 20 scholars have painstakingly worked since 2009, analyzing all of Shakespeare's surviving works and the works of every major playwright in that era. That meant plowing through millions of words written approximately between 1560 and 1640.
The New Oxford Shakespeare researchers combed through massive digital databases containing all the plays, poems and prose of Elizabethan-era writers. The searches, or text analyses, tracked word patterns embedded in those millions of words. The patterns revealed distinctive characteristics, like a DNA signature, for every writer.
"We don't set out to prove that it's Marlowe or anybody in particular," Taylor explained. "We look at the entire database of all the playwrights of the period and we say, 'Which one does this pattern look most like?'"
The patterns must be specific to a certain author — not to a time or place, or to a specific genre of writing — and multiple tests must produce the same results.
The Proof
New research techniques, which Taylor likes to call "Big Data," clearly spotted the unique characteristics of Marlowe's writing in Shakespeare's "Henry VI," parts one, two and three.
Marlowe — born outside London just two months before Shakespeare in 1564, and about 170 miles southeast of the baby Bard — has long been suspected as a co-author of the plays.
But there was no scientific proof.
Now, Taylor believes he has that proof. Many tests confirmed people's intuitions that Marlowe wrote sections of "Henry VI." And in another play, "Arden of Faversham," the same tests disprove lingering speculation that Marlowe wrote the play.
"You've had people who have suspected Marlowe in 'Henry VI' and a bunch of new statistical and quantitative evidence shows that that is true. We've also had people suggesting he (wrote/co-wrote) 'Arden of Faversham' and that intuition was proven to be false. So clearly intuition is not enough."
Taylor talks with passion and patience as he offers a tutorial on the 7-year research project. Text analysis focuses on common "function" words — "the," "a," "and," "of," "by," — instead of "content" words to discover a writer's unique, and often unconscious, language patterns.
"The way we each use all those little words is very personal and distinctive," Taylor said. "The advantage of those words is there are so many of them. They provide good statistical data very amenable to statistical analysis."
Friends? Rivals?
Taylor says collaboration was common among the 20 or so major playwrights of that era, and while it's clear Marlowe and Shakespeare worked together on "Henry VI," it is still unclear what kind of relationship they had. Friends? Rivals?
"It's very common to say that Marlowe and Shakespeare were rivals," Taylor said. "We don't actually have any contemporary evidence of that. That's just a story."
He added: "What we can say is that Shakespeare wrote most of his plays by himself. But he, like other writers in the period, wrote a significant fraction of his work in collaboration with other playwrights."
Taylor predicts the New Oxford Shakespeare project will boost interest in "Henry VI," Shakespeare and Marlowe, who was a rock star in his own right. Marlowe was the most famous, most successful, preeminent playwright in England in the 1580s. The toast of the town. Until, that is, Shakespeare started doing, what Taylor calls, that special Shakespeare thing.
"I think we will read them differently and appreciate them better now," Taylor predicted. "Now, we can look at the interaction between these two great poets and great playwrights and that, I think, makes these three plays more interesting."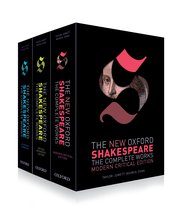 Opportunity of a Lifetime
Florida State graduate student John Nance had the opportunity of a lifetime to work with Taylor and the New Oxford Shakespeare team. They compiled a new edition of Shakespeare's complete works, along with two other reference volumes.
Nance says he has been inspired by Taylor's curiosity, enthusiasm and ability to transform the global discussion.
"Like the best artists and thinkers, Gary creates conditions for originality," Nance wrote in an email. "He embraces unplanned outcomes and encourages ways of thinking about texts and about the period that encourage new approaches to protracted and recalcitrant problems in the field. Working with Gary is inspiring and I'm grateful for the opportunity to have learned (and continue to learn) from him."
Nance just earned a doctorate in English from Florida State last summer. He worked on his degree at the same time as the New Oxford Shakespeare project.
Taylor greatly values Nance's contribution to the research.
"He had ideas and ways to modify the techniques to make them more reliable that have been teaching me and teaching the other senior scholars on the field," Taylor noted. "So he has gone from being a student to being someone who is teaching older, very experienced scholars in the field new things and new techniques."
A Terrific Graduate Program
Taylor says Nance's FSU experience also offers an example of a terrific graduate program that gives students meaningful opportunities to make a valuable impact.
"That is what a good graduate program in any field should be doing," Taylor stated. "It should not only teach students what's already known, but also give them the opportunity to expand what we know. He is an outstanding demonstration of what the literature program and English department at FSU can offer to graduate students."
Foundation for the Future
The New Oxford Shakespeare includes four publications: The Complete Works, the Critical Reference Edition, a companion volume on authorship and an online version of all three. Taylor hopes The Complete Works will be available in the U.S. in December with the other volumes coming soon afterward.
Taylor's long scholarly journey with Shakespeare's work started in the late 1970s. He marked his first major milestone in 1986 with the publication of Shakespeare's Complete Works by Oxford University Press — a project he worked on for eight years at the University of Oxford.
Now 30 years later, he gets the chance to revisit, refresh and rejuvenate that work with an international, inter-generational team of scholars. They are creating the framework for future research and discussion about arguably the best writer in modern history.
And in 2016 — the 400th anniversary of Shakespeare's death — The Bard seems more alive than ever.
"Science marches on," Taylor said. "There will be more research on these subjects. There are a number of plays we know that Shakespeare wrote a part of the play, but we don't know who his collaborator was. There's much more work to be done, but we're trying to create the foundation that will allow that work to be done constructively in the coming decades."
Save