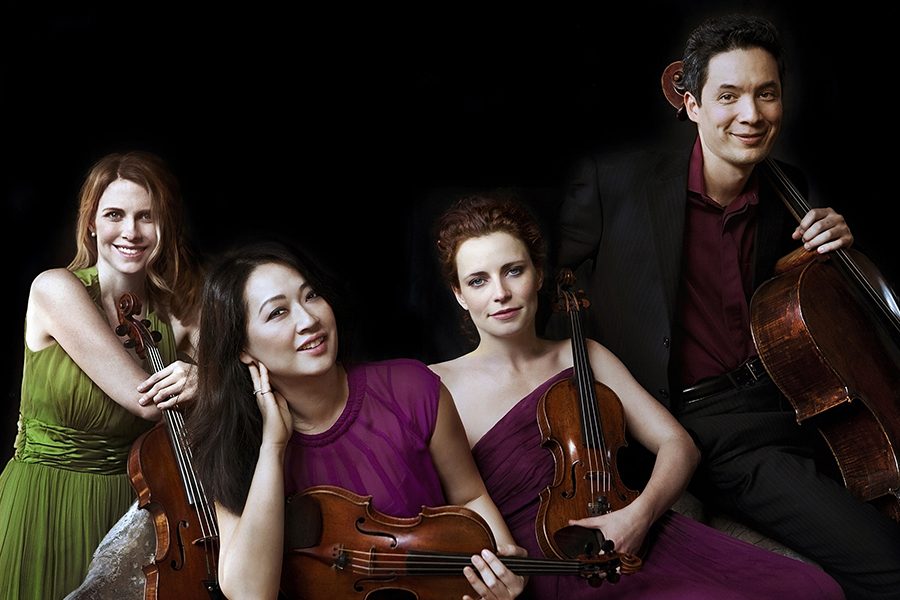 The Florida State University College of Music and community partner the Artist Series of Tallahassee will come together to present one of the nation's largest classical music outreach efforts.
Acclaimed classical chamber music ensemble the Daedalus Quartet will lead a range of initiatives to increase student participation with classical music and encourage arts experiences for non-music majors from Wednesday, Oct. 5, to Sunday, Oct. 9, on the FSU campus.
"The College of Music is committed to finding innovative ways to reach new audience members," said Stan Pelkey, associate dean of Engagement and Entrepreneurship for the college. "We present over 500 performances and events annually, the majority of which are free for FSU students. Passively inviting attendance doesn't have the impact needed to change how students use their free time.
Daedalus Quartet will perform four short "pop up" concerts Thursday and Friday at unexpected locations outside of FSU's College of Music. This approach will deliver classical music directly to students, who will be able to come and go, interact with the musicians and learn more about the college and its concerts in settings that are a natural part of their daily campus experience.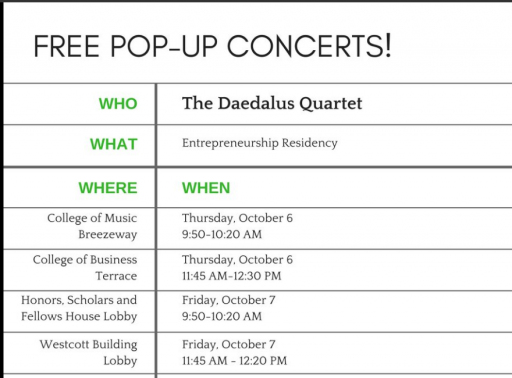 "By taking great music out of the concert hall and into unexpected places around campus, we can proactively share our music while raising awareness of the many musical experiences available to students," Pelkey said.
The outreach program concludes at 4 p.m. Sunday, Oct. 9, at FSU's Opperman Music Hall with a ticketed public concert by the Daedalus Quartet presented by the Artist Series. Tickets for students are $5 and are available at theartistseries.org.
Praised by The New Yorker as "a fresh and vital young participant in what is a golden age of American string quartets," the Daedalus Quartet has established itself as a leader among the new generation of string ensembles and has impressed critics and listeners with the security, technical finish, interpretive unity and sheer gusto of its performances.
The Daedalus Quartet has extensive experience working with college-age students throughout the United States. The ensemble is the resident quartet at Columbia University (since 2005) and the University of Pennsylvania (since 2006). During its FSU residency, the quartet will perform on campus, lead master classes and give presentations about launching and sustaining careers in the arts.
The series of events with the Daedalus Quartet is part of the College of Music's Entrepreneurship Residencies program. Like the college's Carnegie Hall Student Recital Competition, the residency program is part of its expanding commitment to provide formal training in arts entrepreneurship, innovation, self-marketing and leadership for FSU students.
"We want our graduates to be able to respond even more effectively to challenges and opportunities and strike out in new directions in the ever-changing arts environment," Pelkey said. "The Daedalus Quartet's residency creates an opportunity for our music students to observe, participate in and discuss innovative ways to increase community awareness of classical music and to build audiences on a campus with many thousands of students outside of our music programs."
The FSU College of Music is widely recognized as a top tier university-based music program with a long tradition of excellence in both the undergraduate and graduate levels. The Entrepreneurship Residencies in Music bring leading figures in arts management and advocacy, musical entrepreneurship education and music business to campus to consult with faculty and students on a range of arts management and career development topics.
The Artist Series of Tallahassee promotes and encourage an appreciation of classical chamber music in North Florida by presenting an annual five-concert season featuring performances by a diverse selection of outstanding chamber music ensembles and soloists. The Artist Series also presents a nationally recognized Artist-in-Residence program featuring free music outreach workshops for underserved or marginalized populations in Leon, Gadsden and Wakulla counties.