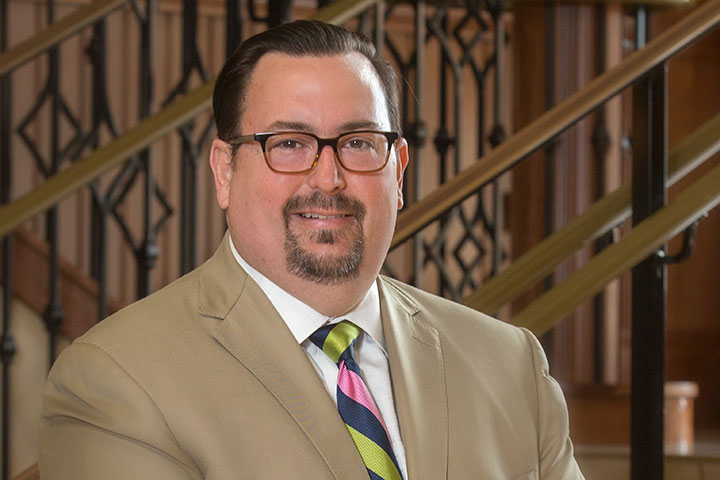 The director of Florida State University's Opening Nights Performing Arts has been recognized as a leader of the Leon County tourism industry.
Christopher Heacox was honored as one of two recipients of the 2016 Thomas A. Waits Distinguished Leadership Awards during the Leon County Division of Tourism Development's annual Marketing Rollout held Sept. 22 at the Champions Club at FSU's Doak Campbell Stadium.
The annual "Tommy Awards" recognize an individual and a company or organization for excellence in tourism marketing, community initiatives, innovation and developing partnerships on behalf of the tourism and hospitality industry in Leon County. A panel of past recipients evaluates nominations from the tourism community and selects award winners.
Heacox recently celebrated his fifth anniversary with Opening Nights Performing Arts, which showcases Tallahassee as a cultural tourism destination. Since joining the organization, he has secured acclaimed artists for the series —including Tony Bennett and Patti LaBelle last season and Smokey Robinson and Lily Tomlin this season — and has expanded ticket sales to 26 states, 132 Florida cities and more than 2,000 patrons living outside the area.
The awards have been presented annually since 2002. In 2003, the award was officially named "The Thomas A. Waits Distinguished Leadership Award" to honor this prominent resident and former executive director of the Florida Hotel & Motel Association. Waits dedicated his career to economic development through tourism in Florida. In 2010, the award expanded to recognize one individual and one organization that made a significant impact on tourism in Tallahassee-Leon County and reflected the ideals and leadership of tourism excellence.