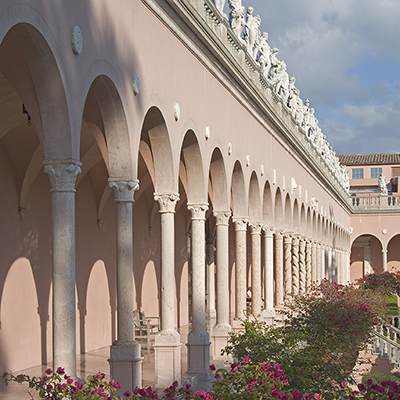 The Institute of Museum and Library Services (IMLS) has chosen The Ringling as a recipient of its highly competitive Museums for America grant program. Each year, top-tier institutions from around the country compete for these funds, with applications undergoing a strict peer review process. The grant awarded to The Ringling will be used to renovate onsite storage space, thereby allowing the entirety of the paintings collection to be housed on museum property.
In 2006, the Johnson-Blalock Education Building was constructed with a state-of-the-art storage facility intended to house all paintings not on view. However, due to budget and space constraints, part of the storage area was needed for works on paper and small objects. This made it impossible to properly house the entirety of the paintings collection, and 160 pieces were subsequently moved offsite. In 2016, with the opening of the Center for Asian Art in the Dr. Helga Wall-Apelt Gallery of Asian Art, new storage space was created, allowing works on paper and small objects to be removed from onsite storage in the Johnson-Blalock Building.
The IMLS grant will allow for the purchase and installation of 36 custom painting storage screens in the vault and conservation lab. "We are thrilled to be bringing these paintings home and to realize the vision of the original 2006 construction," said executive director Steven High. He continued, "Having these works onsite will allow for easier access on the part of curators, conservators and visiting scholars, thereby facilitating research on the collection."
The majority of the paintings currently residing offsite were created prior to 1800 and many require further study and conservation. Some are believed to be later copies of works by known masters, but additional scholarship is needed to determine the precise dating and artists. By having these pieces onsite, work will be expedited as viewing sessions by museum staff will be both faster and safer.
"This grant award illustrates the cultural importance of The Ringling in the state of Florida as well as nationally and internationally," said Tom Jennings, Ph.D., Florida State University's vice president for University Advancement and president of the FSU Foundation. "Over the years, The Ringling has expanded its reach and grown its collections. It is gratifying to see their hard work recognized by organizations like the Institute of Museum and Library Services."