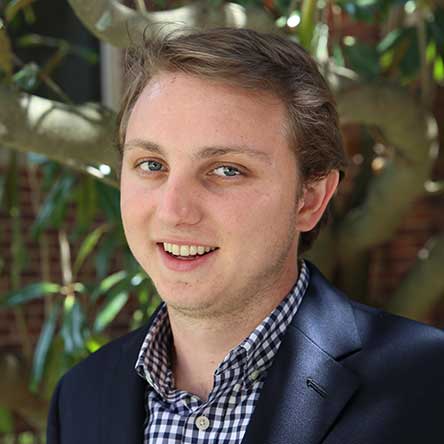 Florida State University student Micah Friedman has been named a 2016 fellow by Humanity in Action, an educational organization that brings together international groups of university students and recent graduates to explore past and present examples of resistance to intolerance.
The fellowship program's goal is to encourage future leaders to be engaged citizens and responsible decision makers.
Friedman, 21, a rising senior from Temple Terrace, Fla., is majoring in religion with minors in psychology and Middle Eastern studies. He will travel to Berlin May 27 to June 26 to study the development of the model of human rights since the Holocaust and contemporary human rights issues with a focus on Berlin and Germany.
"I expect to learn a lot about how minority groups in Europe have been systematically denied rights and how the paradigm of human rights has been subsequently applied to defend those rights," said Friedman, who said he was excited and honored to have been selected as a fellow.
Studying along with other Humanity in Action fellows at various locations throughout the city, Friedman will meet with professors, researchers, activists and government officials who are experts the subject area to be focused on during a given day.
"I expect that visiting historical sites connected to the Shoah (the Holocaust) will be personally provocative as an American Jew who has not traveled to Germany before," he said. "I am particularly interested to learn in depth about the impact of Germany bearing much of the weight of the current global refugee crisis."
At the end of the program, Friedman will attend the Humanity in Action International Conference in Athens. A key component of the fellowship is performing an action project that focuses on minority rights within his community once he returns from the summer program.
"I'm looking forward to finding a meaningful project that can contribute to communities in Tallahassee," he said.
Humanity in Action selected 48 students and recent graduates for the 2016 Fellowship program out of an extremely competitive pool of 513 applicants from universities and colleges across the United States. Friedman will join fellows from Bosnia and Herzegovina, Denmark, France, Germany, Greece, the Netherlands, Poland and Ukraine to participate in the Humanity in Action Fellowship summer programs.