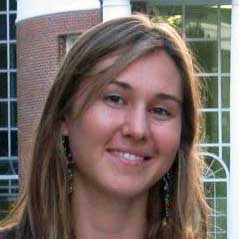 A Florida State University doctoral candidate has been recognized by Sigma Delta Pi, the National Collegiate Hispanic Honor Society.
Elena Vogel, a native of Columbus, Ohio, is one of 11 students nationally to receive the prestigious Gabriela Mistral Award, which is presented annually to outstanding graduate or undergraduate students of Spanish who are active members of Sigma Delta Pi.
"It is a great honor to receive this award," Vogel said. "The Spanish-speaking world has enriched my life in so many ways, and so I have always felt that it is important for me to return that sentiment in any way that I can. I feel overjoyed and very fortunate to be recognized as a devoted member of Sigma Delta Pi."
FSU Department of Modern Languages and Linguistics faculty members Carolina González and Anel Brandl, who are the advisers of FSU's Alpha Delta Chapter of Sigma Delta Pi, nominated Vogel for the award.
Vogel will defend her dissertation in Spanish linguistics in December 2016. Her research specialization is in applied linguistics, more specifically second language acquisition. She is studying second language development through psycholinguistic methodologies.
Vogel has taught Spanish at the university level for six years and enjoys motivating and facilitating student learning.
"I hope to continue to teach and research at a college or university after graduation," Vogel said. "Sharing my passion through teaching and research is the most enjoyable profession that I can imagine."
She received her bachelor's degree in Spanish and master's degree in foreign language education at Ohio State University, and a master's in teaching Spanish at Northern Arizona University.
With 611 chapters nationwide and its national office at the College of Charleston in South Carolina, Sigma Delta Pi is a member of the Association of College Honor Societies, the nation's only certifying agency for college and university honor societies.