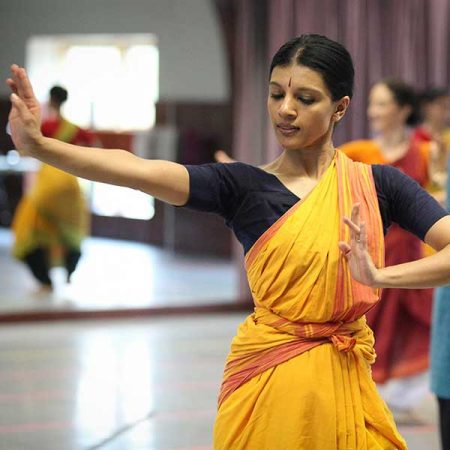 Five outstanding Maggie Allesee National Center for Choreography artists were recently presented with the Doris Duke Performing Artist Award, a major award for artists working in the performing arts in the United States. Categories included contemporary dance, theatre, jazz and related interdisciplinary work.
MANCC artists, as part of Florida State University and the School of Dance, have been well represented since the Doris Duke Performing Artist Awards program was launched in 2011. This year, five of the seven artist awardees in contemporary dance have been MANCC artists — Kyle Abraham, Faye Driscoll, Miguel Gutierrez, Aparna Ramaswamy and Morgan Thorson.
Overall, 21 performing artists will each receive $275,000 in flexible, multi-year funding as an investment in and celebration of their ongoing contributions to the fields of contemporary dance, theatre, jazz and interdisciplinary work. In addition to their funds, awardees get the opportunity to participate in professional development activities, financial and legal counseling, and regional gatherings—all designed to help maximize the use of their grants. With this year's class, the program will have awarded $27.7 million to 101 Doris Duke Artists since 2012.
MANCC's relationship with the Florida State University campus as well as within the national field is one of a kind. Each of these artists engage students, faculty, scholars and local Tallahassee residents in a variety of activities that support their creative research, including in-progress showings of work. These works by these artists have premiered in venues around the U.S. including Whitney Museum of American Art, Danspace Project, Walker Art Center, The Kitchen, Weisman Art Museum (University of Minnesota), P.S.122 and On the Boards (Seattle), among others. Miguel Gutierrez also continues to tour several of the works he developed, in part, at MANCC, throughout Europe.
About the Doris Duke Performing Artist Awards
The Doris Duke Performing Artist Awards (DDPAA) was a program undertaken by the Doris Duke Charitable Foundation (DDCF), in partnership with Creative Capital, to empower, invest in, and celebrate artists by offering flexible, multi-year funding as a response to financial and funding challenges unique both to the performing arts and to each grantee. Grants are not tied to any specific project but are intended as deepened investments in the artists' personal and professional development and future work.