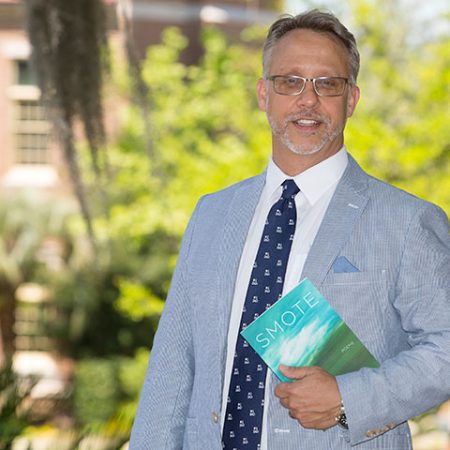 Florida State University English Professor James "Jimmy" Kimbrell has received a highly competitive Guggenheim Fellowship for 2016 from the John Simon Guggenheim Memorial Foundation.
Kimbrell, who specializes in poetry, will use the fellowship to work on a new collection of poems. He characterized receiving the award as "truly humbling."
"It is a great honor to represent FSU as a Guggenheim Fellow," said Kimbrell, who joined FSU's faculty in 2000. "I have been proud of my program, my department and my university for years now, so it feels especially rewarding to help spotlight what a truly vibrant and supportive community we have here at FSU.
"We are, it's true, a pretty competitive and ambitious bunch, but we are also nurturing and attentive toward each other as artists and scholars," he said. "I count myself very fortunate to be a part of our community, and I look forward to witnessing the success of our students and faculty in the coming years."
Sam Huckaba, dean of the College of Arts and Sciences at Florida State, called the Guggenheim a "tremendous honor for Jimmy and one that we can all celebrate."
"The fierceness of the Guggenheim Fellowship competition speaks to the exceptionally high quality of its winners," Huckaba said. "Jimmy has been contributing for many years to the Creative Writing Program and the Department of English, and we are proud that he has added this prestigious recognition to an already rich portfolio." 
Eric Walker, professor and chair of the Department of English, called Kimbrell's Guggenheim Fellowship — one of only three awarded in Florida this year — a huge honor not only for him but Florida State as well.
"These awards are one of the major national markers of academic accomplishment and are very difficult to get," Walker said. "It certifies the stature of Jimmy's work and is an excellent indication of great promises ahead."
Kimbrell joins his English department colleagues Barbara Hamby, David Kirby, Robert Olen Butler and Gary Taylor as a Guggenheim Fellowship recipient.
"We are extraordinarily proud to be able to point to Jimmy and the other members of the department who have been Guggenheim fellows," Walker said.
Kimbrell's new collection of poetry is tentatively titled "Flea Trap."
"These poems will focus on the ways in which we cope, and often do not cope, with a wide range of circumstances, including grief in its many forms, and the overarching need for love and belonging to a community, tradition and mission that hopes to address and relieve the parameters of our geographical, cultural and emotional isolation," he said.
Kimbrell is a past recipient of the Whiting Writer's Award, the Ruth Lilly Fellowship, the "Discovery"/The Nation Award, a Ford Foundation Fellowship and has twice received the Academy of American Poets Prize. In addition, he has received a National Endowment for the Arts Individual Artist Fellowship in Literature for poetry.
Kimbrell has written three collections of poetry: "Smote" (Sarabande Books, 2015); "My Psychic" (Sarabande Books, 2006); and "The Gatehouse Heaven" (Sarabande Books, 1998).
In addition to his three volumes of poetry, Kimbrell has co-authored "Three Poets of Modern Korea" (Sarabande Books, 2002), a translation of leading representatives of three generations of Korean poets.
Kimbrell's poems, reviews and translations have appeared in magazines and anthologies, including Poetry, Field, Fence, The Nation, Prairie Schooner, The Boston Book Review, American Poetry: The Next Generation (Carnegie Mellon University Press) and The Bread Loaf Anthology of New American Poets (University Press of New England).
Kimbrell earned a doctorate from the University of Missouri in 1998. He earned a Master of Fine Arts degree from the University of Virginia in 1994 and a Master of Arts degree from the University of Southern Mississippi in 1992. A native of Mississippi, he is a member of the Academy of American Poets, the Poetry Society of America and the Mississippi Institute of Arts and Letters.
This year's 178 fellows were chosen from a group of nearly 3,000 applicants from throughout the United States and Canada in the foundation's 92nd competition. The fellowships, awarded on the basis of prior achievement and exceptional promise, represent a wide range of academic backgrounds and fields of study.
"These artists and writers, scholars and scientists, represent the best of the best," said Edward Hirsch, president of the foundation. "Each year since 1925, the Guggenheim Foundation has bet everything on the individual, and we're thrilled to continue to do so with this wonderfully talented and diverse group."
The Guggenheim Fellowship program remains an important source of support for artists, scholars in the humanities and social sciences, and scientific researchers.
To view a list of the Class of 2016, click here.