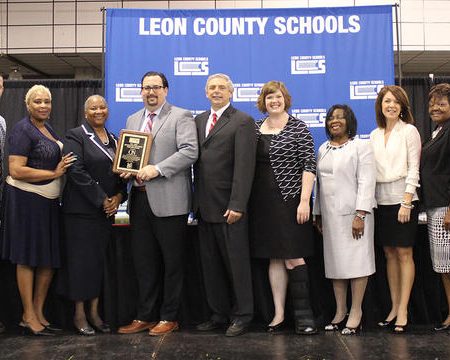 Florida State University's Opening Nights Performing Arts has been selected as the Leon County School District'sPartners for Excellence – Outstanding District Partner of the YearAward Winner in the Nonprofit Business Category in recognition of its partnership with ApalacheeTapestry Magnet School of the Artsduring the 2014-2015 school year.
"We're extremely honored to accept such a distinguished award, and we're thrilled to continue to bolster our relationship with Apalachee and the rest ofLeon County Schools," said Opening Nights Director Christopher Heacox. "Each season produces further enrichment and expansion of our collaboration with the school district, and we can't wait to see what the future holds."
Last year's partnership between Opening Nights and ApalacheeTapestry Magnet School of the Artsfeatured six free professional development workshopsled for Leon County School District teachers by Kennedy Center Teaching Artists.These workshops focus on Arts Integration,an approach to teaching in which students construct and demonstrate understanding through an art form.
Students engage in a creative process that connects an art form and another subject and meets evolving objectives in both.The workshops were developed in association with the John F. Kennedy Center for the Performing Arts and participating teachers were offered the opportunity to receive recertification or professional development credit.
The collaboration also included a performance by musician Billy Jonas who presented his"Everybody's in the Band" concert. The program featured sing-a-longs,"bang-a-longs,"and more, and Apalachee students enjoyed participating and learning about their own musical talents.After the performance, students created artwork of the performance and made their own instruments using recycled and found objects.
Since the formalization of its' K-12 education program in 2011, Opening Nights has provided free arts experiences to more than 5,000 students annually in Leon County. Opening Nights continues to provide arts experiences to students and teachers with the Kennedy CenterPartners in Education Programand the North Florida School Tour for the 2015-2016 season.