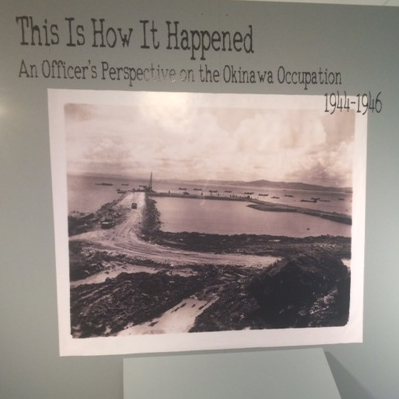 Florida State University students are taking a journey back through time with the art exhibition "This is How it Happened: An Officer's Perspective on the Okinawa Occupation 1944-1946," which is on display in the William Johnston Building Gallery from Wednesday, Nov. 18, through Friday, Dec. 4.
The exhibition was put together by a group of 15 undergraduate students in the Department of Art History's fall 2015 Museum Object class. Doctoral student Alison Reilly, who is writing her dissertation on 20th century American exhibition design, teaches the class.
A true collaboration between departments across campus, the exhibition features photographs and historic objects from FSU's Institute on World War II and the Human Experience. Reilly and her class worked with the institute to research the objects and investigate their context.
"The institute was thrilled to work with the Museum Object class in order to showcase its extensive collection," Reilly said. "They have historic artifacts from all theaters of World War II, including combat photography from the soldiers themselves."
Reilly and her students selected historic artifacts, including draft letters and photographs from the archive of one American naval officer, Donald Kupfer. The installation chronicles Kupfer's experience from being drafted in 1944 through being stationed in Okinawa in 1945-46. Kupfer's family graciously donated all objects from this collection.
The exhibition opens with a period room representing a 1940s-era American home.
"We recreated a living room from 1944 so people would feel transported," Reilly
said.
The exhibition also features a mural-sized image of Buckner Bay and a timeline composed of Kupfer's photographs.
During months of work and preparation, the students researched the show, carefully combing through artifacts and raising more than $1,800 through a SparkFSU campaign. The students also created a lesson plan for local elementary schools to offer area students the chance to learn about World War II, the Okinawa Occupation and exhibition design in a gallery setting.
The exhibition will officially open to the public at 6 p.m. Wednesday, Nov. 18. Kurt Piehler, director of the Institute on World War II and the Human Experience, is scheduled to speak at the opening. The exhibition will be open to the public weekdays from 8 a.m. to 1 p.m. until Dec. 4.
For more information, visit http://cfa.fsu.edu/museum-object-students-developing-exhibition-with-wwii-institute/.