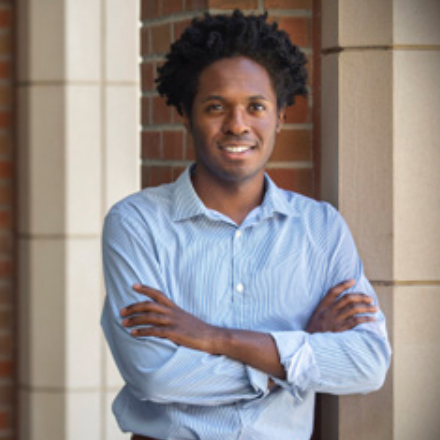 Florida State University student Drexston Redway highlighted the connection between race, poverty and gender equality by displaying research data in an artistic manner.
Redway, a junior studying studio art and marketing, reflected the link between poverty and being a minority through personal and local experiences, and how it affects young women in those situations.
His research project embraced the idea that statistics and data can be represented through art and spark critical thinking about the community and gender issues.
The native of West Palm Beach Fla., examined data visualizations — colored maps that display statistics — and the experiences of students at the PACE Center for Girls in Tallahassee, a nonprofit school that provides education and support services for at-risk girls.
In the final project, Redway layered cork on plywood to display areas of Tallahassee suffering from large amounts of poverty. The higher the cork, the more poverty was in that area. He also studied the city's racial diversity to find the link between poverty and race.
"I used the information on racial diversity and poverty to create both aspects of the map," Redway said. "If the map tends to break up a lot, then there's a lot of diversity. If the map gets high, then there's a lot of poverty, and if it's both then it's an intersection of the two. I found that highly diverse areas were also highly impoverished areas."
Redway used these two factors to establish a common ground with the girls, then interviewed them about being minorities in poverty, as well as being a student at PACE.
"I talked to the academic adviser at PACE to see what the girls have gone through," Redway said. "I asked them questions to get their perspective on life. 'Where do you see yourself in five years?' and 'What are some outside perceptions of PACE students?' I wanted to break the stereotypes about the school."
The cork and plywood map he created incorporated the interviews with the girls. Redway photographed the map and broke the photo down into postcards. On the back of each postcard he printed thoughts and experiences from the girls.
The postcard map was presented at the annual President's Showcase for Undergraduate Research Excellence in September—an event held to honor undergraduate researchers like Redway.
"I invited people at the President's Showcase to pick up the postcards and read them," Redway said. "I wanted to create a silent dialogue between the reader and the girls. I didn't want the art to just show people something — I wanted it to make them more aware of what was going on in their community and give the girls a platform to share their stories."
Some of the cards said the girls believed people thought they were "loud and misbehaved" because they attended PACE, even though that's an unsupported stereotype.
The idea for his project came from a trip to PACE with FSU faculty member Joelle Dietrick, who supervised his work on the project.
"It was an honor to supervise Drexston's research project for the Public Service Research Fellowship grant," Dietrick said. "His project — with its critical perspective on contemporary ideas about gender and race — is aligned with the intellectual rigor of contemporary art and is a unique contribution to the field."
Seeing poverty affect youth and being a minority himself inspired Redway's to research these social problems and create a public dialogue for these underprivileged groups
"It's a clever way to represent both their collective and individual voices," Dietrick said. "It takes our classroom discussions about critical theory as manifested in recent dialogical art practices and merges it with recent experimentation in generative art and 3D printing."
Redway aims to teach at the college level and continue to research, and advance conversations about minorities and poverty.
His research was funded by FSU's Public Service Research Fellowship, which supports research of a community problem that directly benefits community-based organizations, programs, and/or specific community groups in a domestic or international setting.
In addition to his involvement with Undergraduate Research Opportunity Program, Redway is a graphic designer for Campus Recreation, a creative director for Swatch Magazine and is a member of Alpha Kappa Psi.