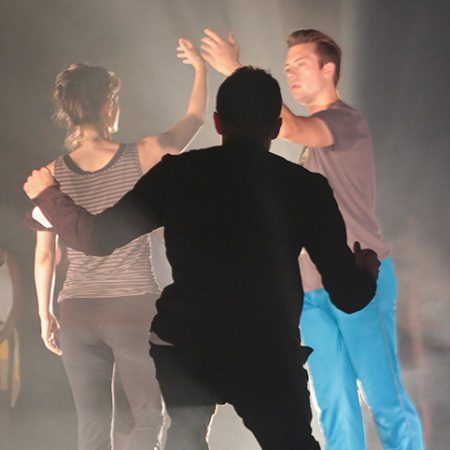 Scientists aren't the only ones who conduct experiments as a part of their research at Florida State University. Artists are constantly experimenting, too — their research is commonly known as the creative process.
FSU's Maggie Allesee National Center for Choreography (MANCC) has championed research and experimentation by artists for the past decade.
MANCC regularly invites regionally and nationally acclaimed choreographers and dancemakers to develop new contemporary dance works as a part of the center's multiple residency programs. The center creates a haven for artists where the creative process is both nurtured and propelled forward.
"What we do is give artists the necessary time, space, financial means and connections to salient academic and community resources in order to support and catalyze experimentation," said Carla Peterson, director of MANCC. "What's especially great about MANCC and unique in the country is that it is a research program for artists housed within a major research university."
A third round of funding from The Andrew W. Mellon Foundation will enable MANCC to remain a premier residency site that promotes the creative process in dance. With the $325,000 award from The Mellon Foundation, MANCC again will be able to provide three years of residency opportunities to nationally respected choreographers. 
"Multiple years of support, which are very rare in the dance field, allow the choreographer to keep focused on their creative process," said Ansje Burdick, managing director of MANCC. "One residency doesn't produce a finished piece. It may take a year — or even three."
In addition to multiple-year residencies, MANCC's unique emphasis on research and experimentation means that the artist is not required to produce a finished work by the end of the residency. Through the program, seasoned artists receive a financial subsidy, essential residency time in the studio with their collaborators, and facilitated access to academic and communitywide resources in support of their research.
The grant also supports a part-time research associate at MANCC, who connects artists with scholars and community experts and gathers specific audiences to view works in progress.
"Many traditional residency programs in dance at universities bring in an outside choreographer to work with the students for two weeks," Burdick said. "At the end of the two weeks the students have a dance work from the choreographer's repertory that they perform later on for the university population. MANCC is anything but traditional."
Instead, the center focuses on the creative process — or the research that comes with making a new work — rather than the outcome.
"The dancemakers who come to MANCC test out a lot of ideas and concepts like any scientist does in the research lab," Peterson said.
Over the past 10 years, MANCC has supported such luminaries as Liz Lerman, Ralph Lemon and Ann Carlson. Established artists such as Yanira Castro, Miguel Gutierrez and Emily Johnson have benefited from the center's capacity to offer multiple residencies. Rising choreographers such as Bessie Award-winning artists Beth Gill and Okwui Okpokwasili have also been in residence.
Along with protecting the creative process for visiting artists, MANCC works to make relevant connections between artists and students. MANCC listens to the artists and their needs while in residence, and listens to the students with whom they are interested in working — and then, the center tries to make a connection between the two.
"MANCC facilitates relationships between the students and the artists that are really deep and broad," says School of Dance chair Joséphine Garibaldi. "Not just a single class, but an experience for the student that forms lifetime connections in the field."
Students Shamar Watt, Yeman Brown, Heather Boni and Emily Wolfe all strengthened their connections to the dance field through their work with MANCC artists. After serving as rehearsal and research assistants, Boni and Wolfe were asked by AXIS Dance Company and Liz Lerman, respectively, to continue their work with the artists and their companies, which are based in Oakland, Calif., and Washington, D.C.
"Being immersed in the rehearsal process taught me a lot about the professional life in ways that cannot be taught through a classroom setting," said Wolfe (BFA, 2014). "Simply seeing how the dancers prepared for rehearsal, ready to do anything Liz challenged them with, was inspirational and influential in the way that I have begun to treat myself as a professional."
Watt and Brown worked closely with MANCC artists Nora Chipaumire and Reggie Wilson and were subsequently asked to serve as understudies. Brown eventually became a member of Wilson's nationally prominent Fist and Heel performance group, and Watt was asked to perform with Chipaumire in Senegal this past June.
Brown, who graduated with a bachelor's of fine arts from FSU in 2014, described his experience as "…absolutely magical."
"Working with Reggie Wilson at MANCC I learned what it took to make the transition from being a student to being a professional," Brown said.
That's one of the reasons why the grant from The Mellon Foundation is so important.
"With this prestigious grant, MANCC can continue to bring some of the most innovative artists working today to our FSU campus to be in residence," Peterson said. "Adding value to such support is that we connect the dots between student ambition and real working artists lives, and that's exciting!"