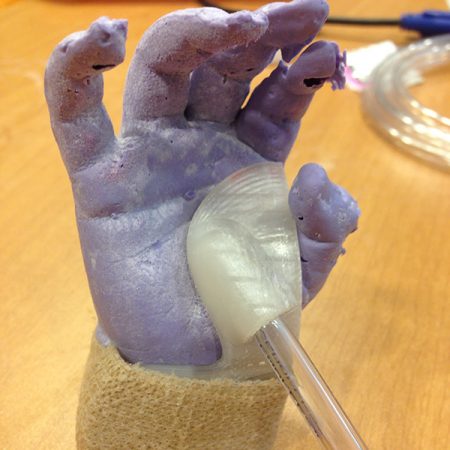 There is an art to everything — even in science.
That's exactly what faculty and students from Florida State University's Department of Art are trying to demonstrate through their work at the Facility for Arts Research (FAR).
In its most recent project, faculty and students at FAR collaborated with scientists to design a device — a haptic air tester — that will safely and accurately test the neurological response time for children ages 12 to 36 months with cerebral palsy.
"We're constantly looking for projects that show what art students can offer outside of what is commonly understood as art," said Robert Duarte, assistant professor in the Department of Art. "While this project is in the realm of biomedical engineering, there is something different that artists can offer to the process of making a product or, in this case, designing a medical device."
Under Duarte's direction, graduate student Noah Brock and undergraduates Anne Haines and Holly Weinrauch were tasked with developing a prototype that would help better administer medical tests on toddlers who are patients at the Maitre Lab at the Perinatal Research Institute at Nationwide Children's Hospital. The hospital is partnered with the Department of Pediatrics at The Ohio State University College of Medicine.
Duarte specifically chose the students to work on the project because of their prior experience with technology. The project — a paid summer internship — provided an opportunity for the students to hone their design skills while using various materials to obtain a suitable project design.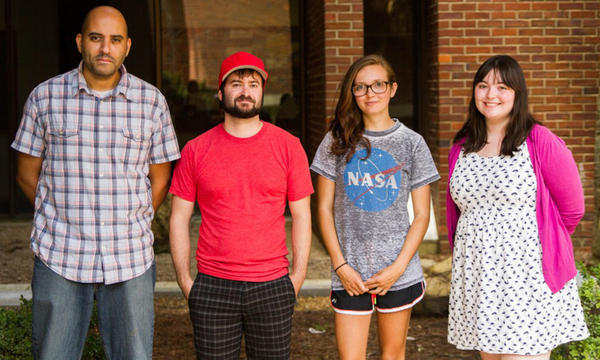 The students began the five-week project by gathering information from the clinic's researchers —Dr. Nathalie L. Maitre and Olena Chorna, who is a graduate of Florida State's musical therapy program. They spent a full week brainstorming how to design a device that would administer a puff of air to a child's palm and be within two millimeters of the child's skin at all times.
The device also had to be sustainable, easily cleaned, replicable and utilized in different situations during the test.
Because toddlers have short attention spans and tend to be very mobile, working with them posed numerous challenges for the project.
"The researchers had done testing with children younger than this and older than this, but the children in this age range are the hardest to deal with," Brock said. "They will not sit still long enough."
The three students were basically charged with reinventing what the lab had been doing because of the different factors involved.
"They got the idea really quickly that this problem wasn't just going to be solved by sitting in front of a computer and 3D modeling something," Duarte said. "That was part of it, of course, but not the big part of the challenge."
During the design process, students worked with toddlers to make molds of their hands and test child-friendly designs. While there was a lot of trial and error with a lot of different materials, they printed their final 3D prototype in ABS plastic.
"I think the most important thing I learned was figuring out how to adapt to a real-world situation," Brock said. "A lot of times we are designing projects and we don't see the outcome."
Researchers will now test the prototypes in experimental trials that check and monitor the children's response times.
"The whole motivation of the project is to show what art, in general, can lend to a project that seems like it is more in the realm of engineering," Duarte said.
The Facility for Arts Researchwas created with the mission of supporting rigorous investigation across artistic media and disciplines with a focus on technological innovation.
"We hope that this project and many others will serve to illustrate what artists can contribute to research investigations across a wide range of disciplines," said Carolyn Henne, director of FAR and associate dean of the College of Fine Arts. "Oftentimes, FAR is approached toward the end of a research project with the idea that artists will figure out the aesthetics —such as a housing for a robot or an illustration. The haptic air tester serves as an excellent example of artists as productive collaborators throughout the research process."
Read more about the project at http://cfa.fsu.edu/far-provides-innovative-project-design-to-neonatal-research/.