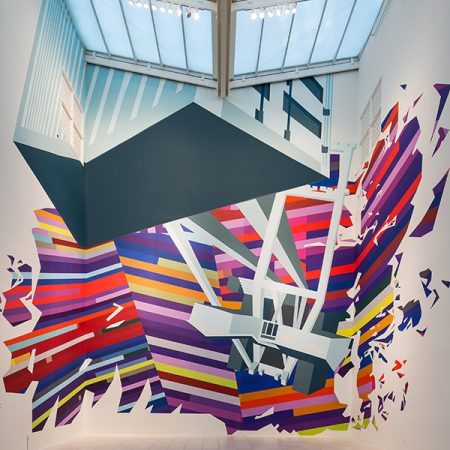 A new site-specific work by Joelle Dietrick, an assistant teaching professor in Florida State University's Department of Art and a Tallahassee-based painter, is currently on display at the Museum of Contemporary Art Jacksonville as a part of the venue's "Project Atrium" series.
Dietrick's "Cargomobilities" is a multilayered mural of paint and adhesive fabric to present a modern daycommentary about the interconnectedness of macro economies and micro systems.
Fascinated with geolocation data for cargo ships and shipping containers, the Dietrick employs a glitch art aesthetic that allows her to analyze, recode, manipulate and visualizedata into a pulsating scene of cranes, cargo ships and houses. Like the frenzied paceof information flow at the Jacksonville Port Authority (JaxPort), "Cargomobilities" is acontinuous, rapid, networked and energy-dense temporary painting.
Dietrick's paintings, drawings, and animations explore contemporary nesting instincts and their manipulation by global economic systems. Her recent artworks and research considers housing trends that complicate relationships to place. Her work has been shown at Transitio_MX in Mexico City, TINA B Festival in Prague and Venice, Museum of Contemporary Art (MCA) Chicago, MCA San Diego, Long March Space Beijing, ARC Gallery Chicago, Soho20 New York, MPG Contemporary Boston, Temporary Home in Kassel during Documenta (13), Flashpoint Gallery in Washington D.C., and as a permanent public art work at the University of Florida.
"Cargomobilities" will be on display through Oct. 25. For more information, visit the College of Fine Arts' blog post and photo gallery.