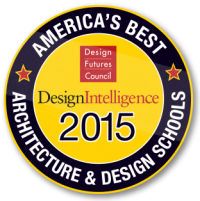 For the third consecutive year, the graduate program in the Department of Interior Design at Florida State University has been named the most admired program of its kind in the country, according to a national survey of deans and department chairs.
The undergraduate program was ranked No. 2 in the same survey, moving up from No. 5 in last year's poll. Professor Jill Pable also was recognized as one of the 30 most admired educators of interior design, architecture, landscape architecture and industrial design based on feedback from fellow educators and practitioners.
DesignIntelligence, the respected industry journal of the Design Futures Council, lauded Florida State in its annual "America's Best Architectural and Design Schools 2015" rankings. The rankings have served for 15 years as the definitive analysis of architecture, landscape architecture, industrial design and interior design programs nationwide.
Florida State's was cited for its excellence in both applied and theoretical work as well as its innovative student projects and highly admired faculty.
"I am so pleased with this recognition, which showcases the expertise, dedication and creativity of our faculty and students," said Lisa Waxman, chair of the Department of Interior Design. "We are also proud of Jill Pable, who brings tremendous knowledge and commitment to her teaching, research and service."
The Department of Interior Design is a part of Florida State's College of Visual Arts, Theatre and Dance. There are 180 students in the department's programs, which are accredited by the National Association of Schools of Art and Design (NASAD) and Council for Interior Design Accreditation (CIDA).
Alumni work in architecture and interior design firms across the nation, and alumni of the graduate programs teach and conduct research in colleges and universities in the United States and abroad. Faculty members provide significant personal attention to students, seeking to set them up for success both in their academic activities and their eventual careers in practice and teaching.
The Department of Interior Design offers a bachelor's degree as well as three master's degrees. Graduates of these programs enter professional practice in interior design or architectural firms upon graduation. Master of Fine Arts students are also highly sought after for college and university teaching positions across the nation and world.