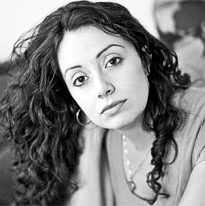 Jennine Capó Crucet, an assistant professor of creative writing at Florida State University, will be honored for her contributions to Southern literature with the 2015 Hillsdale Award for Fiction from the Fellowship of Southern Writers.
Crucet will receive the award during the Southern Lit Alliance's Celebration of Southern Literature, April 16 to 19 in Chattanooga, Tenn.
"This came as a huge surprise, partly because it's the kind of honor you can't really go after — you're just contacted out of the blue with this wonderful news," Crucet said. "I'm so, so grateful to the Fellowship of Southern Writers for this recognition. It's tremendously encouraging, and it's more fuel to keep working hard on my craft as a short story writer."
James Kimbrell, director of Florida State University's Creative Writing Program in the Department of English, said Crucet has continued to surprise and delight her readers since the publication of her first story collection, "How to Leave Hialeah."
"I imagine her forthcoming novel, 'Make Your Home Among Strangers,' will further solidify her reputation as a rising star on the national and international stage," Kimbrell said. "Of course, here at FSU, we've known she was a star all along! She is a passionate and dedicated teacher and a terrific colleague. We couldn't be more proud of her recent honors."
Crucet is no stranger to garnering awards for writing. "How to Leave Hialeah" won the Iowa Short Fiction Prize, the John Gardner Book Award and the Devil's Kitchen Reading Award and was named a Best Book of the Year by the Miami Herald, the Miami New Times and the Latinidad List.
A winner of an O. Henry Prize and a Bread Loaf fellow, Crucet's work has appeared in magazines such as Guernica, Ploughshares, Epoch, the Rumpus and the Prairie Schooner. She was recently the Winter 2013-2014 Picador Guest Professor at the Institute for American Studies at the University of Leipzig, Germany.
Founded in 1987, the Fellowship of Southern Writers (FSW) is a nonprofit organization that recognizes and encourages excellence in Southern literature. It commemorates outstanding literary achievement, encourages young writers through awards, prizes and fellowships and recognizes distinction in writing by election to membership.
For more information about the Celebration of Southern Literature, visit http://www.southernlitalliance.org.