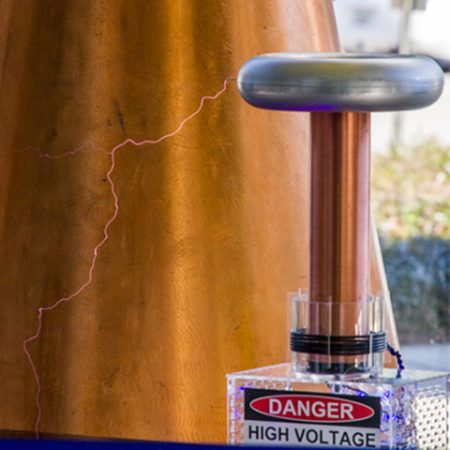 When art and science unite, the outcome has the potential to highlight the best of both fields —which is exactly what happened at Florida State University and the National High Magnetic Field Laboratory during the fall semester.
The only facility of its kind in the United States, the National MagLab not only attracts world-renowned scientists and researchers, but also welcomes thousands of curious visitors every year for tours, educational opportunities and the lab's big Open House event which attracted nearly 6,000 visitors this past February.
Headquartered nearFlorida State University, the MagLab is the largest and highest-powered magnet laboratory in the world, and while visitors always leave the lab in awe of the tremendous magnetic fields, administrators wanted to improve upon their guests' experience by redesigning and adding some interactive educational exhibits to the large lobby area of the facility.
"We've been thinking about how to capitalize off of the success of our hands-on Open House event and incorporate more interactivity into every visitor's experience at the MagLab, while also teaching about the high-field science we do here," said Eric Palm, deputy director of the MagLab.
Students from Florida State's College of Fine Arts were enlisted to jumpstart the creative process and assist with the project of crafting a fun, educational space for all ages.
Last week, MagLab officials were presented with the students' designs, ideas and prototypes of educational interactive exhibits that were the result of the semester-long project, which gave students invaluable first-hand experience in themed exhibit design.
Peter Weishar, dean of FSU's College of Fine Arts, charged Mk Haley —a Disney Imagineer who is an expert in themed exhibit design — with the task of leading the project through teaching a class. Haley is a recent addition to the faculty and the college's entrepreneur-in-residence, whose expertise includes digital media,digital technology, entertainment technology, experiential design and virtual reality.
Haley's class, Interaction and Advocacy for the National High Magnetic Field Laboratory,focuses on the interactive experiences that share the joy of creation and groundbreaking projects the lab is tackling every day.
The class was open to all FSU students for the fall semester, intending to draw the most talented individuals from the strongest specialty programs and have them collaborate ideas for hands-on science.
While Haley has worked on many science-education experiences throughout her career, taking on a project involving the MagLab was a bit more daunting.
"Knowing that high-field magnetics is either intimidating or terrifying, we wanted to make sure we created a place that put student guests at ease," Haley said. "We wanted to make sure they are comfortable and not think they couldn't possibly interact with what is happening at the MagLab."
Early in the semester, the class of 13 students met with MagLab officials to familiarize themselves with the space, tour the lab and learn what the priorities of the lab are in regard to outreach and education.
MagLab director Greg Boebinger compared visiting the lab to visiting a large telescope.
"He told us people don't go see a large telescope to learn about telescopes – they go there to look at the stars," Haley said. "So we needed to think of a magnet in the same way and what sorts of things can you learn or see with magnets. Any guest who leaves more interested in science — that's a win."
The class researched different educational venues and took a field trip to Walt Disney World as the guests of Walt Disney Imagineering to get a sense of what has to go into educational interactives —and yes, they spent a lot of time at Epcot.
"We learned about best practices for designing the types of experiences we will install, but also issues of accessibility and robustness," Haley said.
With undergraduate and graduate students from several different disciplines —rangingfrom studio art to technical theater production to computer science — a main focus of the class is on best practices forcollaborativeand cross-disciplinary teamwork.
"The collaboration between the students has been very rewarding because we all come from different walks of life and different academic backgrounds, but have really supported each other through a project that has been really trying and difficult at times," said Jeremy Toedter, a graduate student in technical theater production.
Equipped with their research and knowledge of best practices, the class started brainstorming and developed several of the ideas into proposals. Eventually, after taking into consideration the feasibility of production and cost of different interactives, they narrowed down the list to specific ideas that would be fabricated into prototypes.
"To come up with these ideas, we've done an incredible amount of research on things that we're not really aware of," Toedter said. "We've probably gotten more of a science education through this whole process than anything else. The knowledge we got from working on these projects is invaluable."
The class presented the prototypes to MagLab officials Dec. 4. Among the exhibits were the Tesla Coil, a device that can increase and project an electrical field; the Bitter Wind Tunnel, which demonstrated the strength of magnets using the force of air; the Electric Guitar, which showed how magnets make music; and a scavenger hunt involving compasses.
The Electric Guitar exhibit featured a playable guitar with sound-activated LED lights to educate visitors about Lenz's law, which states that an induced electric current will flow in such a way that it generates a magnetic field that opposes the change that generated it.
The Tesla Coil, which drew lots of attention at the presentation, makes musicby heating up air and creating pressure waves that you can hear as sound and see as lightning.
"These students have come up with wonderful ideas and with great enthusiasm," Palm said. "We're excited to turn these exhibits into things that will be durable for MagLab visitors to see and experience hands on."
MagLab officials plan to include several of the class's recommendations in a possible lobby redesign for the public to enjoy.
"The most rewarding and exciting part is that we were a part of the beginning process and came up with ideas to present to the MagLab," Toedter said. "The involvement and feedback we've gotten from the people at the MagLab has been incredible."
In addition to Haley's class, students from the Department of Interior Design also presented three formal design proposals to the MagLab Dec. 4. Interior design students participated in a weeklong charette to brainstorm about redesigns in October, and a class of seven graduate students taught by visiting assistant professor Tony Purvis culled the ideas to create their designs. The MagLab is already working with architects to incorporate some of the students' ideas into the redesign.