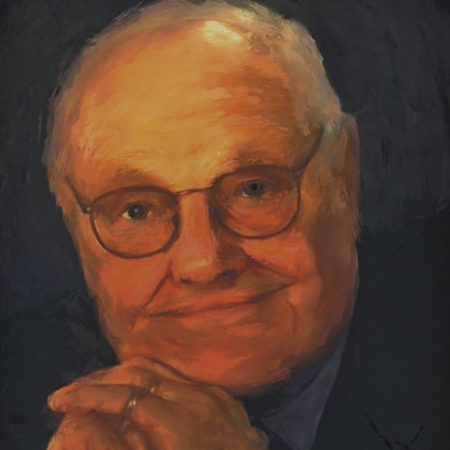 Richard G. Fallon, who played a major role in building Florida State University's School of Theatre into a nationally prominent program, died May 23 at 89.
A memorial service will be held Wednesday, May 29, from 4 to 6 p.m. in the Richard G. Fallon Theatre in the Fine Arts Building on the Florida State campus. A reception will follow in the lobby.
Fallon joined Florida State's faculty in 1957. He was named dean of the School of Theatre in 1973. He was named the 1975-1976 Robert O. Lawton Distinguished Professor, the highest honor the faculty bestows on one of its own. After his retirement in 1989, he was named a Distinguished Professor Emeritus.
Fallon was a teacher, administrator and an actor of radio and the stage.Born in White Plains, N.Y., in 1923, Fallon was exposed to theater at a young age thanks to the influence of his Irish father. After graduating from high school, he moved to New York City to learn the craft of radio drama in the 1930s. Some of his work includes radio dramas such as "Mr. District Attorney" and "Ma Perkins." He is best known for portraying the radio drama character, "Jack Armstrong, the All-American Boy" and having his face featured on boxes of Wheaties cereal. He also was working in theater at the time and met a large network of actors, producers, directors and playwrights, including lifelong friends Helen Hays and Eddie Dowling.
After working at the University of Maryland at Towson and the Jacksonville Community Theater in Florida, he accepted a position in Florida State's speech department in 1957. The university allowed Fallonto start a theater centered on performance. His aim was to combine academic training with the aid of professional actors, playwrights and producers from New York. He invited he Dowling to campus to workshop his new play, and thus began the Eddie Dowling New Play series. Because of Fallon's efforts, Florida State received statewide and national attention as a reputable university for the study of theater.
Over his career at Florida State, Fallon was a founder and director of the Asolo State Theatre in Sarasota. Through a partnership with Burt Reynolds, a $1 million chair was established at FSU and a theater would be built and handed over to the university. To complete the project, Fallon had to retire his deanship to devote all of his time to the project, knowing it would bring great esteem and prestige to the university. His sacrifice gave FSU its chair and the FSU Performing Arts Center in Sarasota, and a permanent home to the Asolo Theatre Company.
Fallon co-founded the Southern Shakespeare Festival and contributed to the establishment and growth of other state theaters, including theaters in Boca Raton, Miami and at the University of Florida in Gainesville. He founded the state theater board and FSU theater outreach programs such as the Asolo Conservatory, Jekyll Island Music Theatre and the Burt Reynolds Institute for Theatre Training in Jupiter. He served as president of the American Theatre Association and was a co-founder of the University/Resident Theatre Association (URTA).
Fallon was instrumental in building a theater in the Fine Arts Building on the Florida State campus, which is dedicated to and named after him. The opening was a star-studded event attended by Helen Hays, Tony Randall and Tennessee Williams, who became a good friend of Fallon.
The list of luminaries who worked with Fallon and his staff and students reads like a who's who of the American theater. His legacy will no doubt live on through the success of FSU School of Theatre and it's graduates.
Fallon's honors include a Gifted Teaching Award from the Danforth Foundation and election to fellow by the American Theatre and the National Theatre Conference. In addition, he has won awards from Florida's governor and secretary of state, among many others.
A separate event celebrating Fallon's life is being planned for Nov. 9. Details will be forthcoming from the School of Theatre.
The family has requested that in lieu of flowers, donations can be made to the Richard G. Fallon Scholarship Fund. To make a donation, make checks payable to FSU Foundation and mail to:
Fred Salancy
Attn: Fallon Scholarship Fund
FSU Foundation
3100A University Center
Florida State University
Tallahassee, FL 32306-2739