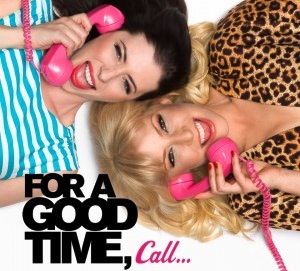 It's sassy.
It's sexy.
And it's based on the real-life experiences of two former Florida State University students who shared a dorm room — and a decidedly unladylike affinity for talking dirty.
"For a Good Time, Call . . ." opened in theaters nationally on Sept. 14 and has received accolades from top publications including The New York Times.
Lauren Miller, who graduated with a bachelor's degree from Florida State's College of Motion Picture Arts in 2003, co-wrote and starred in the highly acclaimed, low-budget indie movie. Katie Anne Naylon, who also graduated from Florida State in 2003 (her bachelor's is in creative writing and communications studies), was Miller's dorm roommate and co-wrote the script.
The adorable-yet-smart comedy is about two 20-something New York women who, in order to pay the rent on their rambling Gramercy Park apartment, devise a scheme to run a phone sex line: 1-900-MMM-HMMM.
Miller and Naylon co-wrote the script three years ago. The movie was shot in a breakneck 16 days (compared to the usual 45 days for a typical feature film), the women told the dozens of students who attended an August screening at the FSU Student Life Cinema. Miller's brother Dan, who works with a respected mutual fund, helped secure financing — about $1.3 million. The movie was filmed mostly in Los Angeles, with one day devoted to filming in New York.
The details of the script, directed by Jamie Travis and co-starring actress Ari Graynor, were worked out over Miller's dining room table.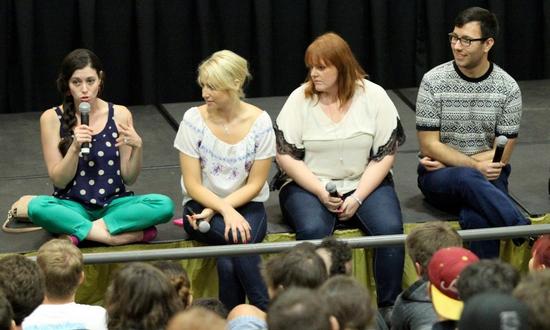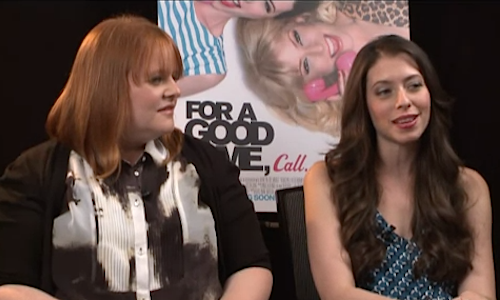 "It was a collaborative process," Miller said. "We all tried to work together."
Recalled Naylon: "We were an incredible unit."
The film, which also co-stars actor Justin Long as the girls' best friend, features cameo appearances by actress Mimi Rogers, as well as actor Seth Rogen, to whom Miller is married.
Travis, Miller, Naylon and Graynor, who were touring college campuses across the country to promote the film, perched casually on the edge of the FSU Student Life Cinema stage, their feet dangling. They took questions from students and chatted candidly about what it was like being college roommates at Florida State.
Naylon didn't care much for Miller initially, she recalled of their first meeting, which was the result of a "random roommate match."
"She was wearing a Dave Matthews T-shirt and, on cue, she walked in with a guitar," Naylon quipped, laughing, admitting that the two became fast friends.
Both credited director Jamie Travis for giving the film — which might have otherwise objectified women — just the right touch.
"The best thing about this movie," said Miller, "is that it's about a beautiful friendship between girls."