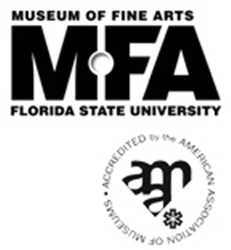 Only a tiny fraction of the 17,500 museums in the United States have earned the public recognition for excellence that comes with accreditation from the American Association of Museums (AAM). Now, Florida State University can boast that its Museum of Fine Arts (MoFA) has not only earned that recognition but was recently reaccredited by the AAM for another 14 years.
"The museum exceeded the highest national standards in all that it does — its governance, its collections stewardship, its public programs and its overall operations," said AAM president Ford W. Bell. "Our congratulations to director Dr. Allys Palladino-Craig and staff, as well as to the FSU community for nurturing and supporting such a fine institution."
Museum accreditation is a self-motivated process involving an extensive operational study and close peer review.As a nationally recognized "seal of approval," accreditation is awarded to museums with the highest professional standards and strong commitment to best practices. Just 4.5 percent of the nation's museums are accredited, according to the AAM.
After completing an exhaustive self-study, MoFA underwent a site evaluation by an AAM review committee in February. The review committee was impressed by the museum's "experimentation, commitment to social-issue projects and investigation of themes in highly original exhibitions and projects." MoFA was commended for its continued pursuit of institutional improvement and commitment to excellence.
MoFA was initially accredited in 2003 and launched the reapplication for accreditation in the summer of 2010. The process can take up to three years, and the museum completed it in two — another testament to the efficiency and professionalism of the museum's leadership and staff.
"This is simply a validation of what we already know. MoFA is a point of pride for FSU," said Lynn Hogan, interim dean of the College of Visual Arts, Theatre and Dance.
MoFA will remain accredited until the next review cycle in 2026.