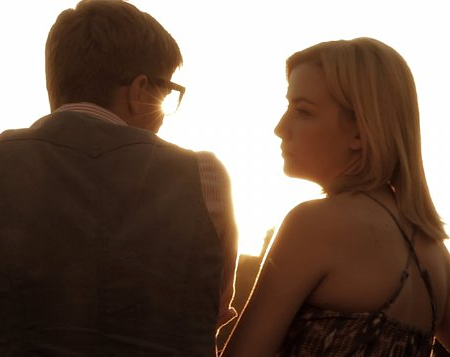 "Dead Dad," a comedic drama written, directed, produced and starring mostly Florida State University College of Motion Picture Arts graduates and Florida-grown talent, made its world premiere April 16 during the 2012 Florida Film Festival in Maitland, Fla.
"Dead Dad" was created by friends and former Florida State classmates who stuck together after graduation, heading to Hollywood, Calif., to immerse themselves in the film industry. With limited means and an abundance of passion, they devoted their free time to completing the film and bring "Dead Dad" to life. (A PDF version of the "Dead Dad" press kit is available here.)
The movie, which posits that "the perfect goodbye doesn't exist," is one of 167 Florida Film Festival films selected from 1,706 entries, representing 31 countries. It also is one of 27 films making world premieres at the festival, which runs April 13-22 in the Orlando area. In addition, "Dead Dad" is one of 20 feature-competition films eligible for up to three awards each: a Grand Jury Award for best film, a Special Jury Award given at the jury's discretion for exceptional achievements, and an Audience Award determined by audience votes.
Directed and co-written by talented newcomer Ken J. Adachi, "Dead Dad" tells the story of estranged siblings, Russell (Kyle Arrington), Jane (Jenni Melear) and their adopted brother, Alex (Lucas Peterson), who must deal with their father's remains after his unexpected death. Though a stubborn and proud group, they are able to agree on one thing: Nobody wants to keep the ashes. With little guidance and plenty of resentment among them, the three must work together to give their father a proper send-off. Ironically, the man who split the siblings apart brings them closer together as they discover what it means to be a family.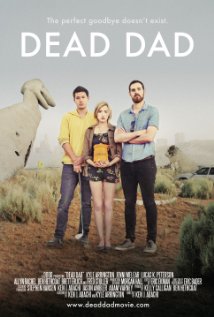 "Creatively, the goal was to tell a story about our generation and the inherent estrangement that often exists among family members," said Adachi, who graduated from the College of Motion Picture Arts in 2009 with a Master in Fine Arts degree in production. "Our hope was to touch upon those small and seemingly insignificant moments that make us love and hate our family members, those moments that make us wonder, 'How the hell did I come from this family?'"
Adachi's short film "Picture Day" won a prestigious College Television Award in 2010. He said that while working primarily in short formats, he developed an urge to complete a feature-length film. "Dead Dad" is his feature film debut.
Arrington, Adachi's co-writer and one of the film's stars, has written short films and plays seen across the country and was a finalist in the National Ten Minute Play Contest at Actor Theatre of Louisville (Ky.). He currently is a researcher for the television series "House, M.D." on Fox-TV.
Producer and "Dead Dad" actor Ben Hethcoat's collaborations have screened at more than 50 film festivals worldwide. At the 2011 Cannes International Film Festival, he was recognized as a rising filmmaker by the American Pavilion for his short "Waking Eloise," a zombie romantic comedy (or "zomb-rom-com," as he calls it.) Hethcoat also heads the media department for the Slamdance Film Festival.
Producer Kelly Calligan's professional experiences includes working with Penny Marshall and on such projects as Showtime's "The United States of Tara" and Warner Bros.' "The Dark Knight Rises."
Production was funded through private investments and a successful Kickstarter campaign and embodies the independent filmmaking spirit. It was shot in Los Angeles, San Diego and other locations in Southern California during nights and weekends over the course of a month.
FOR THOSE WISHING TO ATTEND:
While "Dead Dad" had its world premiere on April 16 at Maitland's Enzian Theater, a second showing has been scheduled. It will start at 9:15 p.m. on Thursday, April 19, at Regal Winter Park Village 20.
Florida State University College of Motion Picture Arts graduates:
Director/Writer: Ken Adachi (MFA, directing, film production, FSU '09)
Writer/Actor: Kyle Arrington (MFA, screenwriting and playwriting, FSU '09)
Producer/Actor: Ben Hethcoat (BFA, acting '10)
Cinematographer: Eric Bader (MFA, production, FSU '09)
Executive Producer: Adam Varney (MFA, film production, FSU '09)
Executive Producer: Jason Ambler (BFA, film production, FSU '09)
Production Designer: Morgan Hall (BFA, film production, FSU '09)
Other FSU alumni or former students who are members of the cast and crew:
Actor: Jenni Melear (BS, political science, FSU and University of North Florida, '07)
Editor: Eric Ekman (film production, Miami Dade College)
Casting Director: Lindsey Samilian (BS, telecommunications, University of Florida '07)
First Assistant Camera: Beth Napoli(MFA, FSU '10)
Second Assistant Camera: Madeline Eberhard (BFA, FSU '10)
Associate Producer/Production Coordinator: Monique McKellop (BS, economics, FSU '07)
Additional Camera Assistant: Ron Johnson (BFA, film production, FSU '10)
Grip/Electric: Eric Clark (MFA, FSU '09)
Grip/Electric: Thomas Lorne (MFA, FSU '09)
Still Photographer: Jessica Tosoc (BFA, studio art, FSU '07)
Website: www.deaddadmovie.com
The Internet Movie Database (IMDb): www.imdb.com/title/tt1971369
Facebook: www.facebook.com/deaddadmovie
Twitter: www.twitter.com/DeadDadMovie