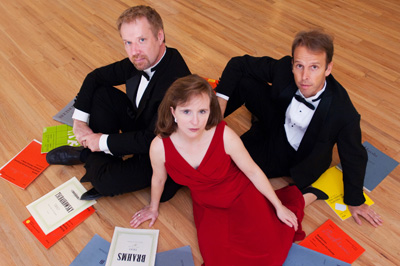 Each year, Trio Solis, a chamber music ensemble composed of faculty members from the Florida State University College of Music, hosts a "Building Bridges in the Big Bend" concert. The concerts benefit community organizations and feature collaborative performances with outstanding young musicians who are on the verge of their own careers.
This year's "Building Bridges" concert will benefit America's Second Harvest of the Big Bend, a food bank that distributes more than 2 million meals annually to people in need throughout an 11-country region in Northwest Florida. The concert will be held:
SUNDAY, APRIL 152 P.M.
UNITARIAN UNIVERSALIST CHURCH
2810 N. MERIDIAN ROAD
TALLAHASSEE, FLA.
The price of admission will be three to five nutritious, non-perishable canned or packaged foods. Monetary donations will also be accepted.
Trio Solis has invited selected students from the College of Music to perform with them in a program of Piazzolla tangos and selections from the Dvorak Piano Quintet. About 17 music students will be involved in the concert.
Trio Solis consists of violinist Corinne Stillwell, cellist Gregory Sauer and pianist Read Gainsford. Their first CD, "Diamonds in a Haystack," featuring works by Francaix, Schoenfield and Babajanian, was recently released.
For more information on the "Building Bridges" concert, contact Connie Sauer-Adams at (850) 241-3099 or csaueradams@gmail.com.
To learn more about Trio Solis, visit their website.