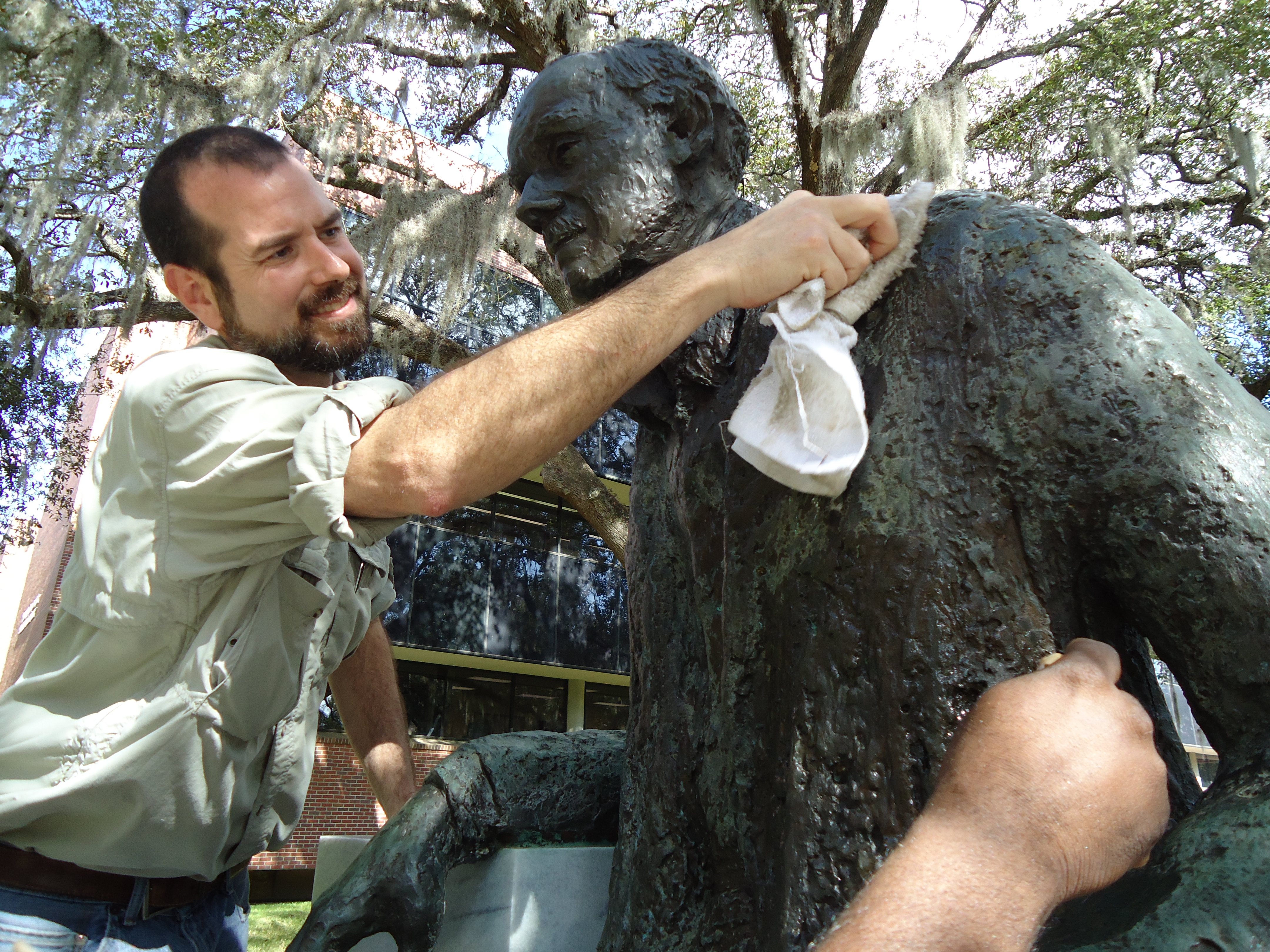 On a bright winter morning on the Florida State University campus, sculptor John Raulerson and a small crew of workers held a propane torch to one of the university's most prominent statues.
The goal was not to damage it, but rather restore its original beauty, a task that required a myriad of old-fashioned tricks that included Johnson's Paste Wax and a lot of elbow grease.
"Basically it's a lot like waxing your car — heating it opens the molecules up and drives the moisture out," Raulerson explained as he stood in front of "Integration," a bronze sculpture that depicts Maxwell Courtney, the first African-American student to graduate from FSU; Fred Flowers, the first African-American student to wear an FSU athletic uniform;and Doby Flowers, FSU's first African-American homecoming princess.
Raulerson, Florida State's outdoor amenities manager, is a serious sculptor himself. He has served on the university's art faculty and is clearly no novice: He holds bachelor's and master's degrees in fine arts and is highly skilled at environmental statuary restoration. (He and his wife, Sarah, recently refurbished sculpture at England's Iron Bridge Museum of Open Air Sculpture). Raulerson has also worked in the foundry business, modeling and casting bronze sculpture.
Located on Woodward Plaza near the center of the Florida State campus, "Integration" was created in 2003 by noted artist Sandy Proctor. Although less than a decade old, the statue is already in need of care because of damage from pollutants and the humid North Florida climate.The restoration is part of a larger effort to catalog Florida State's extensive outdoor sculpture collection, some of which is historic.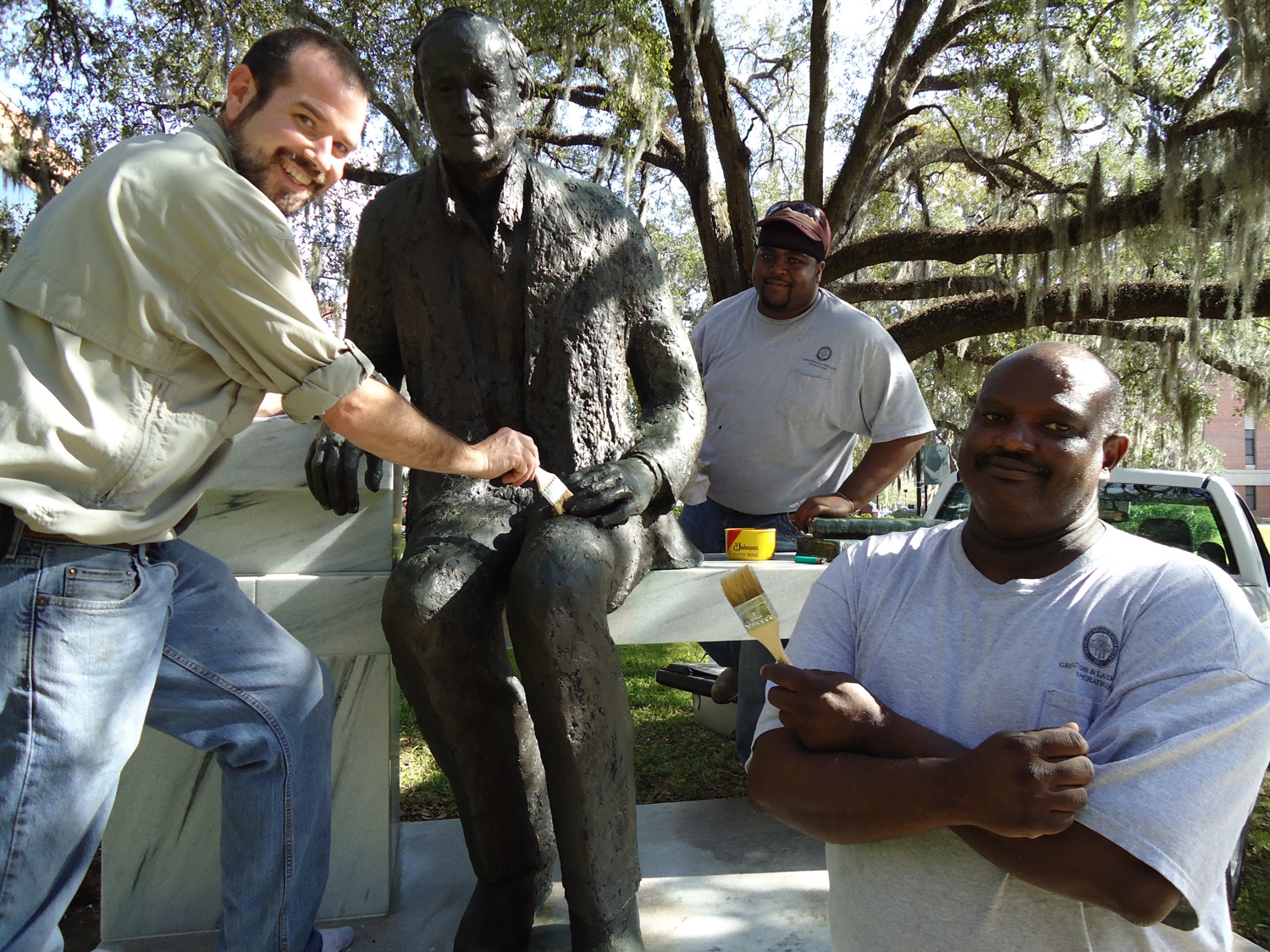 "We will be prioritizing the needs of each, and implementing the proper plan for making any necessary repairs," said Dennis Bailey, associate vice president of facilities at Florida State. "We will also be performing maintenance procedures to ensure that we are able to enjoy all of our statues and other outdoor amenities for a long time."
Recently, FSU's prized sculpture of Nobel-winning physicist Paul Dirac needed extensive restoration after feeder roots from a nearby tree began growing in the marble base.
Raulerson's work has also included research into long-lost public artwork on the university grounds. A marble and bronze sundial, given to the Florida State College for Women, FSU's predecessor, in 1917 by the freshman class (and dedicated in a touching ceremony in front of Bryan Hall) was nearly destroyed when it was thrown in a trash heap during a recent construction project.
"It had been let go to the point that it looked like a concrete pillar," Raulerson said. "Our crew (which includes Florida State employees Leroy Beverly and Carlin Hester) restored the marble and the bronze and welded the bronze back together."
The newly refurbished sundial includes plaques with an updated — and detailed — history of the piece, as well as the names of the students who gave it.
"It was given right after Woodrow Wilson entered World War I," explained Raulerson, who spent hours researching the history and significance of the piece, as well as its original inscription: "We will count none but our sunny hours."
The restoration of Florida State's outdoor sculpture will continue through 2012 and into 2013.
And then?
"We'll start all over again — it's an ongoing project," Raulerson said. "All of this sculpture represents our heritage and our campus as a place of education and history."
His hope is that a student might walk by the restored historic sundial and actually take time to look at the names of those generous students from long ago.
"Who knows?" Raulerson said. "Someone might recognize his or her great-grandmother."