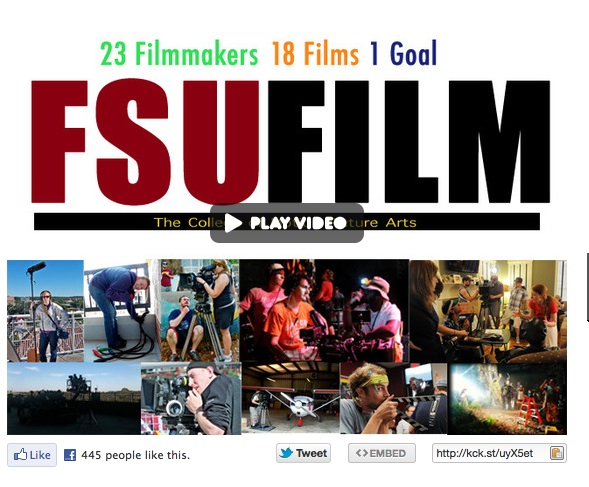 Graduate students from Florida State University's College of Motion Picture Arts can mark "raise $20,000 for thesis projects" off their to-do lists.
The unique film-financing endeavor undertaken by members of the Master of Fine Arts Class of 2012 ended on Monday, Jan. 16, with the final amount raised an impressive $23,700.
The College of Motion Picture Arts is the only film school in the country that provides production funding for every student film project; however, resources are limited. To augment those funds, students came up with the idea to develop a Kickstarter fundraising page that will help finance the production of their master's thesis films. Kickstarter.com, the world's largest online funding platform for creative projects, makes it possible for people located anywhere in the world to contribute to a specific project through the site.
The film industry requires the constant creation of new, unique ways of financing the production of films. In seeking funding via the Kickstarter page, the FSU students are acquiring skills that will be immediately applicable to their careers in the motion picture industry.
"These types of fundraising platforms are becoming quite popular," said College of Motion Picture Arts Dean Frank Patterson. "But it's unique to have a group of filmmakers entirely committed to each other's projects in this way."
At the College of Motion Picture Arts, no outside crews are hired to work on thesis films. That means that all 23 master's students are involved in every aspect of the filmmaking process. Kickstarter was originally conceptualized to fund individual projects, but in the collaborative spirit of the college, the students have used a single Kickstarter fund for all 18 of their thesis projects.
"The class is ecstatic that we reached our goal for many reasons. Not only does it help financially support our thesis films and show that our class is capable of fundraising at this magnitude, but it also opens the door for other projects around Florida State to try and accomplish the same exact thing," said MFA student Andrew Fairbank. "The overwhelming support from our donors shows that people deeply care about creativity. It all comes back to the donors, without whom we couldn't have accomplished this goal."
To learn more about the College of Motion Picture Arts, visit film.fsu.edu.