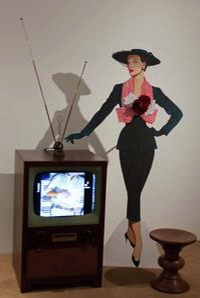 An award-winning exhibit of classic Herman Miller furniture on display at Florida State University through March 16 is revealing just how timeless good design can be.
Curated by the FSU Department of Interior Design, the "Classic Herman Miller" exhibition contains around 25 pieces of Herman Miller furniture from the 1940s, '50s and '60s. Among the vintage mid-century modern pieces are an Eames lounge chair and ottoman and a George Nelson marshmallow sofa.
This exhibit also comes with some interesting backstories.
For those of a certain age, the "Classic Herman Miller" exhibit offers an evocative stroll down an iconic, mid-century Memory Lane. For those a bit younger, it provides a fashionable peek into the living room or den that their parents or grandparents might have grown up in. And the very same designs can still be found today in furniture stores and living rooms worldwide –– proving that classic design and good taste never go out of style.
"Classic Herman Miller" is free and open to the public from 9 a.m. to 4 p.m. Monday through Friday through March 16 in the striking, 1,000-square-foot glass gallery of the William Johnston Building, located at 143 Honors Way on the Florida State University campus in Tallahassee, Fla.
Already captivated by the exhibition at Florida State is the American Society of Interior Designers. It recently awarded the exhibit's curator, Department of Interior Design Chairman Eric Wiedegreen, an Honorable Mention in the Commercial Category in the ASID Educator Design Excellence Competition. The annual, peer-reviewed and juried national design contest recognizes interior design excellence in both residential and commercial projects completed by ASID Educator members.
The "Classic Herman Miller" exhibit is underwritten by the Florida State University College of Visual Arts, Theatre and Dance and Herman Miller Inc. and supported by the Appleton Museum of Art.
To learn more:
· Go to the FSU video posted here on YouTube that features a brief preview of the exhibit with curator Wiedegreen.
· Visit the College of Visual Arts, Theatre and Dance website for additional information and selected images.