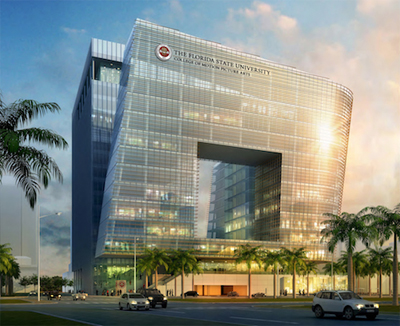 An innovative public-private collaboration between one of the world's top digital effects and computer animation companies, the Digital Domain Media Group, and one of the nation's finest film schools, Florida State University's College of Motion Picture Arts, has announced the development of a new digital media enterprise to be located in West Palm Beach, Fla.
Florida State and the Digital Domain Media Group are collaborating in the creation of a new facility, to include the Digital Domain Institute, and the development of a unique program that will result in new educational opportunities, high-tech research programs, high-paying jobs and an economic boost for the state of Florida. The City of West Palm Beach, including former Mayor Lois Frankel and City Commission President Kimberly Mitchell, played an integral role in this effort, providing land and funding to facilitate the development of the facility.
Representatives from the Digital Domain Media Group, composed of multiple digital production companies including the multi-Academy Award-winning Digital Domain, Florida State University and the City of West Palm Beach unveiled the future site of the Digital Domain Institute in downtown West Palm Beach.
The presence of Digital Domain Media Group's new headquarters in Port St. Lucie, as well as the Digital Domain Institute and an adjoining digital production studio in West Palm Beach, will lead to the creation of hundreds of high-paying jobs, as well as thousands of other jobs indirectly connected to Digital Domain Media Group operations. The establishment of a clean industry and state-of-the-art research programs yields the promise of even more economic growth for Florida.
"This agreement is an extraordinarily exciting development for the state of Florida and Florida State University," said Florida State University President Eric J. Barron. "This pioneering public-private collaboration could be a model for universities nationwide in a time of budget shortfalls."
For the Digital Domain Media Group, the decision to open a studio in Florida was an easy one, based on the unmatched quality of film-industry professionals produced by Florida State's College of Motion Picture Arts, and the support of the West Palm Beach community, said John Textor, chairman of the Digital Domain Media Group.
"Florida State's film school graduates are excellent storytellers, and story is the key to our business," said Textor. "Floridians just now seem to be learning what leading filmmakers already know — that the quality of Florida State film school graduates' creative work is among the very best in the country."
The creation of a jointly operated Digital Domain Institute in West Palm Beach will provide rare opportunities for undergraduate students enrolled in Florida State's College of Motion Picture Arts. Students will be able to work side-by-side with top industry professionals and become "Digital Domain Certified" in an area of professional specialization of their choice.
The college will establish a new Bachelor of Fine Arts major specifically related to digital media production and a new digital media research center that will focus on industry-sponsored applied research. Students will have the opportunity to work side by side with industry professionals on high-profile media projects — and even to conduct research on cutting-edge technologies that have possible applications in the film industry and in other fields. Like the college's innovative Torchlight Program, this new venture will provide in-depth, real-world experiences that match the college's unique curriculum.
"Imagine being a film student, and having the opportunity to work on a blockbuster film, like 'Tron: Legacy' before graduation alongside top digital artists in the world," Florida State College of Motion Picture Arts Dean Frank Patterson said. "These are the types of golden opportunities that educators like me absolutely dream about for their students."
The Digital Domain Media Group is a diverse holding company comprising Digital Domain, Mothership, In-Three, Tradition Studios and the Digital Domain Institute. Digital Domain is a multi-Academy Award-winning digital production company, and has created groundbreaking visuals for some of the most successful movies and commercials, including "Titanic," "The Curious Case of Benjamin Button" and "TRON: Legacy." The Digital Domain Media Group is focused on creating and producing entertainment and marketing content across all visual media platforms.
Florida State's College of Motion Picture Arts is one of the most highly ranked film schools in America. Its faculty of professional filmmakers provides hands-on training and a high-caliber education to prepare graduates to succeed in an extremely competitive industry. The Torchlight Program is a non-degree granting academic program designed to enhance the education of film students by providing instruction in current and emerging business practices of the motion picture industry. Recently recognized by The Directors Guild of America for its distinguished contribution to American culture, the college's students have won over 700 awards, prizes and featured screenings at national and international festivals, including those of the Cannes Film Festival, the Academy of Television Arts and Sciences, and the Academy of Motion Picture Arts and Sciences.