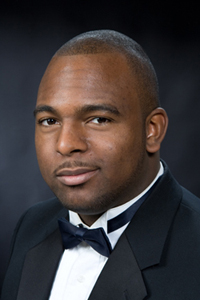 A recent graduate of The Florida State University College of Music has been selected as one of five winners in the 2011 Metropolitan Opera National Council Auditions, held on March 13 at the Metropolitan Opera House in New York City.
Music alumnus Ryan Speedo Green and his fellow winners were selected from a pool of more than 1,500 young voices from across the United States who participated in this year's competition. (See the New York Times coverage here.)
Green — who prefers to go by his middle name, Speedo — will receive a cash prize of $15,000. The bass-baritone was a student of voice Assistant Professor David Okerlund at Florida State University, from which he graduated in December 2010 with a Master of Music degree in Vocal Performance. Currently, Green works in Denver with the Opera Colorado Young Artist program.
While the cash prize is certainly welcome, winners of the Met's National Council Auditions benefit most from the tremendous amount of exposure associated with the high-profile, 58-year-old contest, which was designed to discover new talent amongst promising young opera singers and assist with their career development. Given the auditions' reach, long tradition and number of applicants, they are considered the most prestigious competitions in North America for singers seeking an operatic career. Participants get the chance to perform with the Metropolitan Opera Orchestra before an audience that includes opera company executives, artist managers, music critics, and other opinion-makers of the music world. As a direct result of those performances, participating singers often are invited to join some of the most prominent young artist programs in the United States.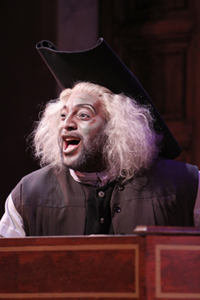 "Naturally, my College of Music colleagues and I are thrilled for Speedo," said Professor Douglas Fisher, the director of Opera Activities at Florida State. "It is always gratifying when a promising student shows such growth and development during his or her studies here, then goes on to enter the professional world. We are very proud of this young alumnus and everything that he has already accomplished, and expect to continue to hear great things about him in the future."
FSU College of Music Dean Don Gibson echoed Fisher's sentiments, and welcomed the attention that Speedo's triumph will bring to the college's already prominent Opera program.
"To be selected as a winner in the National Council Auditions presented annually by the Metropolitan Opera is recognition of the highest order for young artist-vocalists," Gibson said. "That Ryan Speedo Green has been chosen reflects his extraordinary talent and his dedication to his art. In addition, his win speaks directly to the high quality education he received during his Master's degree work here. We are delighted for him and for the recognition his selection brings to our top-tier program in Opera."
The annual Metropolitan Opera auditions are held in 14 regions in the United States and Canada. Singers advance through multiple auditions at district and regional levels before they appear in the final round at the Met itself, where the judges may choose as many — or as few — finalists as they like.
This year, only eight singers were advanced to the final round of competition — from which Green and the four other winners ultimately were chosen by this year's judges, including Sarah Billinghurst, Jonathan Friend and Gayletha Nichols (Metropolitan Opera); Jeremy Geffen (Carnegie Hall); and Gianna Rolandi (Ryan Opera Center at the Lyric Opera of Chicago).
"To be one of the winners of this distinguished competition not only was a dream of mine that became a reality but also has greatly changed the path my career would have taken otherwise," Green said.
"In fact, the two arias I sang in the competition for the Finals Concert were both arias I learned at Florida State University, including one, "La calumnia," that I had the pleasure of performing with the Florida State Opera. That opportunity in particular gave me a lot of the stage experience and confidence that enabled me to compete and win at the Met."
A video clip of Green singing "La calumnia" in his role as Don Basilio in Florida State Opera's November 2009 production of Rossini's "Il Barbiere di Siviglia" (The Barber of Seville) can be accessed here on the Florida State University news site (www.fsu.com).
Previous winners of the National Council Auditions include many of the world's foremost singers, including Renée Fleming; Susan Graham; Thomas Hampson; Ben Heppner; Jessye Norman; Samuel Ramey; Frederica von Stade; Deborah Voigt; and Dolora Zajick.
The Florida State University College of Music embraces all traditional areas of music and world music study from the baccalaureate to the doctoral level. One of the leading music institutions in the world, it is home to a former New York Philharmonic concertmaster, a Pulitzer prize-winning composer, two Grammy award winners, three Guggenheim Memorial Fellowship recipients, a former leading tenor of the Metropolitan Opera, and the world's preeminent scholar in medical music therapy. Learn more at www.music.fsu.edu.