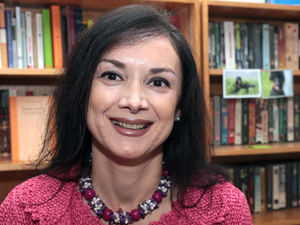 In the world of academia, winning a fellowship from the National Endowment for the Humanities (NEH) is widely recognized as one of the highest honors that exists for scholars in the humanities. This year, a researcher of Italian literature at The Florida State University is among those to lay claim to the prestigious award.
Irene Zanini-Cordi is an assistant professor in FSU's Department of Modern Languages and Linguistics. Her current research focuses on women's writing in 18th- and 19th- century Italy, especially in letters, diaries and early novels. The NEH fellowship, which includes funding in the amount of $50,400, will enable her to conduct research in her native Italy for her second book manuscript, titled "Fashioning Italian Women, Fashioning a Nation: Sociability and Women's Identity (1780s-1860s)."
"When I heard that I was awarded an NEH, my parents were visiting from Italy and, along with my husband, we celebrated joyously, Italian-style, in our kitchen," Zanini-Cordi said. "Very few scholars in Italian have won the NEH. Most of us give up hope as we watch our colleagues in other disciplines garner this award. But I persevered, and with the help and support of my colleagues in Modern Languages, my new family, 2010 was my lucky year. I am truly humbled by this honor."
Created in 1965 as an independent, grant-making federal agency, the National Endowment for the Humanities supports learning in history, literature, philosophy, and other areas of the humanities. The NEH recently announced $23 million in awards and offers for 371 humanities projects, including Zanini-Cordi's. (See a state-by-state listing of fellowship recipients for this year.)
A member of the FSU faculty since 2005, Zanini-Cordi received her doctorate from the University of California at Berkeley the preceding year. NEH fellowships are fairly unusual for younger scholars; they typically go to more veteran researchers who have been active in their fields for a number of years — perhaps even decades.
"These are highly competitive fellowships, and it is not often that a younger scholar emerges from this competition above the applications of more established scholars," said Joseph Travis, the university's Robert O. Lawton Distinguished Professor of Biological Science and dean of the College of Arts and Sciences. "That alone tells you how good Professor Zanini-Cordi really is."
Zanini-Cordi's areas of specialization are Renaissance and contemporary Italian literature, with an emphasis on narrative and critical theory, feminist theory and women's writing. She says that what pleases her the most about the NEH award is that it legitimizes both her earlier and her current research.
"My first book explored the topic of abandoned women in Italian literature from the Renaissance to the present," she said. "My new research, meanwhile, focuses on the social network of the 19th century, the Italian salon. Women writers of the era were connected in a web of social intercourse through salon gatherings, letters and literary dialogue that could be thought of as a predecessor of Facebook."
With the second book, she will work to reconstruct and explore that social network and its influence on the conception and birth of the Italian nation.
While her research projects are of course important to her, Zanini-Cordi adds that one of the great joys of her job is interacting with students and fellow faculty members in the Department of Modern Languages and Linguistics.
"I love my work with my students and colleagues at FSU," she said. "Although my family was quite disappointed at first when I emigrated to the USA, they know that my adopted country — I have recently become a citizen — and The Florida State University have welcomed me and my work with open arms and warm generosity."
Those warm feelings are clearly reciprocated within her department.
"Irene Zanini-Cordi has proven to be outstanding in every aspect of her profession, as a teacher, a scholar and a departmental/university citizen," said William Cloonan, the university's Richard Chapple Professor of Modern Languages and Linguistics and chairman of the modern languages department. "The only area in which she fails is being average in anything she does."
In fact, Zanini-Cordi owns up to the fact that she takes her teaching very seriously, and that it can be an all-consuming part of her life if she allows it to. That's why the NEH fellowship is so significant to her.
"This award enables me to write my second book based on research that I was only able to undertake during my summers in Italy, as well as last summer at the FSU Florence program," she said. "I hope to return to Florence for at least part of next year; until then, my 'paradise' will be working at my writing desk overlooking (Tallahassee's) Lake Jackson, in 'Nole country.'"