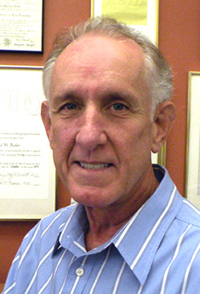 One of the interior design world's most distinguished honors has gone to Florida State University Professor David M. Butler, who for more than three decades as a licensed interior designer and as a faculty member in FSU's interior design program has exemplified and promoted his field's highest standards.
Bestowed by the National Council for Interior Design Qualification (NCIDQ), the Louis S. Tregre Award recognizes an individual's exceptional service at the grassroots level in support of the council's mission, which seeks to protect the public's health, safety and welfare by establishing standards of competence in the practice of interior design.
While past Tregre Award winners form a Who's Who in design education and practice, Butler's win may have raised the already high bar, according to NCIDQ President Kimberly Marks, who earned her Bachelor of Science in interior design from Florida State in 1981.
"In all my years volunteering for the profession with other NCIDQ volunteers, I haven't known anyone as worthy as David Butler to receive this honor," Marks said. "I believe he may have set a new standard for the award."
Butler formally accepted the 2010 Tregre Award in November during an annual meeting of the NCIDQ in Washington, D.C. The award was created in 1991 to honor the memory of Louis S. Tregre, who was a founder and the first president of the NCIDQ in the 1960s, when interior design as a profession was still in its infancy.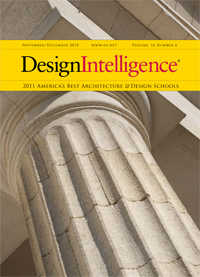 "David Butler has played a significant role in the recognition of the professional status of interior design through state licensing," said Professor Eric Wiedegreen, the chairman of Florida State's Department of Interior Design. "He has been a constant advocate of the "Three E's" — Education, Experience and Examination — that a designer must achieve to become licensed. It is fitting that as our professional examination body, the National Council for Design Qualification should so honor David's longstanding work with this prestigious award."
A Florida State faculty member since 1978 and the interior design department chairman for 19 of those years, Butler currently teaches Lighting Fundamentals, Business Practices, Materials and Methods, Portfolio Development and Graduate Studios I and III, and is responsible for supervising internships and career planning.
He is also a licensed interior designer in Florida and the owner of Design Enterprises — the first interior design business licensed through the Florida Department of Business and Professional Regulation (in 1988). Butler specializes in the design and facility management of medical care facilities, though he has been involved in a wide range of residential and non-residential work since he arrived in Tallahassee 32 years ago.
"Passing the NCIDQ examination in 1979 to become certified has always felt like my crowning professional achievement," Butler said. "Now, I'd have to say that receiving the Tregre Award from the NCIDQ for my volunteer contributions since 1979 feels even better, and more humbling."
His contributions have included helping to develop the NCIDQ examination; promoting the NCIDQ to both students and practitioners as the primary means of achieving professional status; proctoring the examination for many years at Florida State; and, ultimately, promoting NCIDQ as the leading testing authority for licensing interior designers in Florida.
Butler said the development of the NCIDQ examination over the past 50 years and the stringent education and competency guidelines that continue to shape it have elevated the interior design profession and ensured that its practices and practitioners are current.
"Being a part of the development of those standards is a privilege I wouldn't have without the support of my colleagues and the administration at Florida State," he said. "In fact, what I find most satisfying about teaching at FSU is the proactive environment. I am part of a team that strives in all we do to make a difference not only in education but also in the practice of interior design."
Butler is a member of the Council of Fellows of the American Society of Interior Designers (FASID) and a professional member of the Interior Design Educators Council (IDEC). In addition, he has volunteered on behalf of the Florida Board of Architecture and Interior Design for 23 years. An alumnus of the University of Missouri-Columbia, he earned Bachelor of Science and Master of Arts degrees in Housing and Interior Design in 1974 and 1978, respectively.
Florida State can add Butler's 2010 Tregre Award to several recent, nationally notable accolades for its Department of Interior Design.
"We just learned that, for the second year in a row, Florida State University grads have constituted the highest number of those taking the NCIDQ examination, more than from any other institution in the United States and Canada," Wiedegreen said. "This is certainly a point of pride, and one for which faculty members such as David Butler deserve substantial credit."
What's more, the 2011 Design Intelligence magazine rankings of Architecture and Design programs nationwide place FSU's interior design program in the Top 5 in each of two key categories.
"Nationally we are ranked second in 'Sustainable Design Practices' and fourth in 'Computer Applications,'" Wiedegreen said. "The fact that we performed so well in these areas is particularly significant because the survey ranked Sustainable Design and Computer Technology as the No. 1 and No. 2 compelling emerging issues in the interior design profession.
"When it comes to national perceptions," Wiedegreen said, "this puts us right at the vanguard of where we should be."
The Department of Interior Design is part of the Florida State University College of Visual Arts, Theatre and Dance, an innovative arts community of students, faculty and professionals within the environment of a major research university and numerous affiliated sites from New York to London. Learn more at cvatd.fsu.edu.