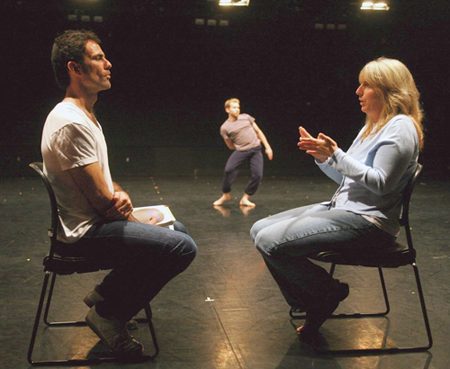 Florida State University's Maggie Allesee National Center for Choreography (MANCC) has received a significant grant from The Andrew W. Mellon Foundation to expand and improve residency support for visiting choreographers over the next two years.
"Support from the Mellon Foundation is integral to the work and reputation of MANCC," said Dean Sally McRorie of the FSU College of Visual Arts, Theatre and Dance. "Our commitment to choreographic research here at Florida State is buoyed in countless ways by the Mellon Foundation's recognition through this important grant."
The Andrew W. Mellon Foundation grant will enable MANCC to make multiyear commitments to returning artists developing new work. The grant also will enable administrative and new-media fellowships, and will provide additional assistance for the technical and production needs of new works in development at Florida State.
Since its beginnings in 2004, more than 50 choreographers have created new work at the prestigious Florida State University center in concert with performers, composers, visual artists, dramaturges, filmmakers and lighting designers alike. MANCC Director Jennifer Calienes said artists consistently call the unique support provided by MANCC "the most productive and comprehensive residency a choreographer will ever experience."
Fourteen artists from around the nation and world are slated to be in residence this coming season, including 2010 Guggenheim fellowship recipients Miguel Gutierrez and Pavel Zustiak of New York City; 2010 McKnight Fellow Otto Ramstad (Minnesota) of The BodyCartography Project; and 2010 National Dance Project award recipients Dean Moss and John Jasperse.
Moss, who will be returning for his second artist-in-residence stint at MANCC, recently spent two years as Visiting Lecturer in the Department of Visual and Environmental Studies at Harvard University. This year at MANCC, he will be developing Nameless Forrest, one of only three choreography projects in the world to receive support from the new Project Development Initiative that is part of the Asian Culture Complex in Gwangju, Korea.
Jasperse will work on a new piece for six dancers with an original score by composer Hahn Rowe. His project has been commissioned for the Brooklyn Academy of Music 2011 Next Wave Festival.
Last year, Florida State served as the host for the first National Forum on choreographic research and development. From a total of 26 states around the nation, the forum participants included MANCC alumni, leading dance presenters, and representatives from college and university dance departments, funding agencies, service organizations, and residency and retreat centers. Among those on hand were leaders from the likes of Dance/USA, the National Performance Network, the National Dance Project, the National Endowment for the Arts, the Council of Dance Administrators, and the Alliance of Artist Communities
"The inaugural National Forum held at Florida State provided an unprecedented opportunity for leaders from throughout the American world of dance to explore ways that its 'ecology' could be strengthened through the integration of research and development activities, as vital components of its overall culture and achievements," Calienes said. "Of course, we are proud that MANCC has been at the forefront of such cutting-edge activities in dance for six years."
MANCC opened at Florida State in 2004 as a new model for the support of professional choreographic research and development within a comprehensive research university. The center is housed in state-of-the-art facilities at the School of Dance at FSU, which includes seven dance studios, a 400-seat theater, a black box studio, audio and media labs, a recording studio, costume shop and a conditioning studio for dancers. For choreographers, MANCC provides resources and an environment that generate unprecedented opportunities not only for research and innovation, but also for collaboration and implementation. In turn, students, faculty and the greater Tallahassee community are able to engage with innovative artists in their creative process.
"We are grateful that the Mellon Foundation's support has enabled and nourished these activities, which are critical to advancing our work and enabling additional investments in the field," Calienes said.
To learn more about MANCC artists and ways to engage with their work and programming at Florida State University, visit www.mancc.org/home.html.