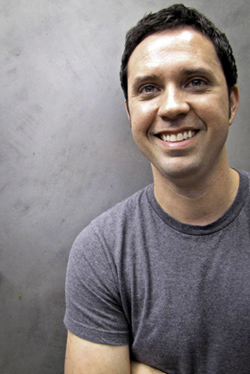 Micah Ranum may have earned his master's degree a mere two years ago, but he has already claimed one of the top honors in his profession.
Ranum, a 2008 Master of Fine Arts graduate of the Florida State University College of Motion Picture Arts (The Film School), has been recognized in the world's most esteemed screenwriting competition. He is one of five writers to be selected as winners of the 25th annual Don and Gee Nicholl Fellowship in Screenwriting, presented by the Academy of Motion Picture Arts and Sciences. Each of this year's winners will receive a $30,000 prize, the first installment of which will be distributed at a gala dinner in Beverly Hills, Calif.
"While the prize money is impressive, we are most excited by the opportunities a Nicholl Fellowship will bring Micah," said Film School Dean Frank Patterson. "This award places Micah and his remarkable talent in front of the most important executives and creative minds in the film industry."
Ranum's winning screenplay has already been read by luminaries from every area of filmmaking. The Nicholl Fellowship Committee, which selected the screenplays, is headed by producer Gale Anne Hurd and includes cinematographer Steven Poster, writer Dana Stevens and actress Eva Marie Saint, among others.
The script, "A Good Hunter," was one of 6,304 feature screenplays submitted to the competition this year. Set in an unforgiving wilderness, it tells the story of a reformed hunter tracking a vicious killer who may have kidnapped his daughter years ago.
From his first Film School project, Ranum showed a proclivity for writing memorable, jaw-dropping scripts, Patterson said. His second directing project, "Exposure," was selected for inclusion in the nationally distributed Dark Matters DVD club. Ranum's third directing project, the award-winning vampire comedy "Harvest Moon," screened at more than a dozen American and international festivals, including Clermont-Ferrand in France. And his thesis film, "First Kill," was one of four from among 240 student films chosen by Hollywood industry members to screen in The Film School's 2009 Los Angeles Screening.
"This is a tremendous opportunity," Ranum said. "The Nicholl Fellowship is wonderful validation, and the financial support enables me to continue honing my skills as a screenwriter in such an intensely competitive climate."
In winning a Nicholl Fellowship, Ranum joins the ranks of such Hollywood screenwriting luminaries as Allison Anders ("Gas Food Lodging," "Mi Vida Loca"), Mike Rich ("Radio," "Secretariat") and Susannah Grant ("Erin Brockovich," "The Soloist").