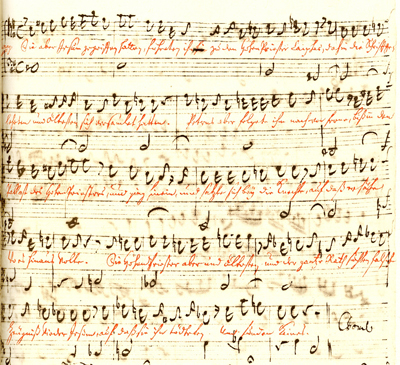 The Florida State University College of Music is the beneficiary of a $5.6 million gift from Albert H. Cohen of Sarasota. It is one of the largest gifts ever bestowed on the college.
Cohen is a classical music critic with a special interest in Baroque masterworks, particularly those of Johann Sebastian Bach. With Cohen's gift, the College of Music will enhance, expand and provide additional support for Baroque music at Florida State by establishing The Albert H. Cohen Endowed Fund for Excellence in Baroque Music Performance and Scholarship.
"Baroque music — in particular, the music of J.S. Bach — is a great legacy today that too few people understand," Cohen said. "My hope is this gift will help in that regard."
It certainly will, said College of Music Dean Don Gibson.
"Thanks to his incredible generosity, Al Cohen will ensure the highest quality performance in Baroque Ensembles and inspire broad participation in Baroque performance and scholarship throughout the College of Music," Gibson said. "The funds will provide support to undergraduate and graduate students, and to a senior faculty position with specialization in Baroque Performance Practice."
"Mr. Cohen's extraordinary gift reflects his remarkable musical sophistication as well as his recognition of the very high quality of our College of Music," said Florida State University President Eric Barron. "This gift will elevate and transform the college's approach to the performance and study of Baroque music while supporting both undergraduate and graduate students."
Cohen and his wife will be honored at a reception at the president's home on Oct. 7.
"It is our hope that Mr. Cohen's philanthropic spirit will serve as an example for others to emulate in the months ahead," said Steve Evans, interim president of the FSU Foundation.
Gibson said Cohen's interest in the College of Music began last October in Sarasota as he listened to a performance by one of its undergraduate string quartets playing Beethoven at the inaugural Ringling International Arts Festival. "Al told me he was impressed with our students' passion, communication and commitment to the music," Gibson said. "Later, this positive view of our program was confirmed when he heard the University Symphony Orchestra perform Beethoven's 5th Symphony." A classical music critic since 1976, Cohen spent 18 of those years writing for the Asbury Park Press, one of New Jersey's largest newspapers. His reviews and features also have appeared in the St. Petersburg Times, Sarasota Herald-Tribune, Orlando Sentinel, and papers in Texas and Virginia. For 12 years he was the managing director of the Music Critics Association of North America.
Cohen was the president and CEO of Edison, N.J.-based Metex Corporation from 1961 to 1987, and from 1982-1987 he also served as Chairman of the Board of the company, which provides engineered products to aviation, industrial and automotive markets worldwide. He was a member of the Board of Directors of electronic-components manufacturer Merrimac Industries, of West Caldwell, N.J., from 1997 to 2008.
Since 1987, Cohen has been self-employed as an investment management consultant and asset manager.
As one of the leading music institutions in the world and the third-largest program in higher education, The Florida State University College of Music enjoys an international reputation. It is home to a Pulitzer prize-winning composer, two Grammy award winners, a former concert master of the New York Philharmonic, a Guggenheim Memorial Fellowship recipient, a former leading tenor of the Metropolitan Opera, the world's preeminent scholar in medical music therapy — and, soon, The Albert H. Cohen Endowed Fund for Excellence in Baroque Music Performance and Scholarship.
Bach would be proud.